You Need To Listen To Obama's Interview With Prince Harry & See If You Catch This Diss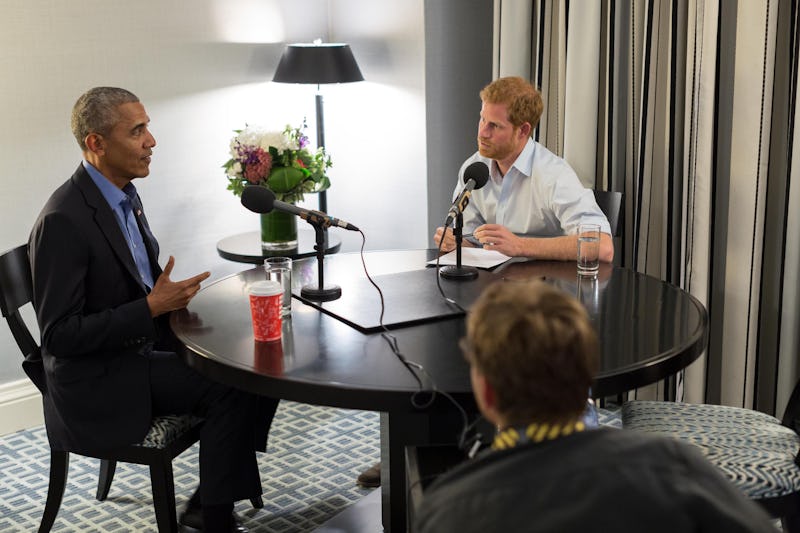 Handout/Getty Images Entertainment/Getty Images
In his first full interview since leaving office, which went live in full on the BBC Wednesday morning, Barack Obama sat down with Prince Harry to address social media, civil discourse, and much more. He didn't mention President Trump by name, but he did say that the responsibility for helping maintain a fact-filled, prejudice-free internet is held by those in positions of leadership. His comments on social media have been regarded by many as a covert message to the current president.
"All of us in leadership have to find ways to recreate a common space on the internet," Obama told Harry in the piece, taped at the Invictus Games in Toronto this September but broadcast on the BBC just Wednesday. Harry had asked Obama if he could have used the presidency to stop "trolling, extremism, fake news and cyber bullying."
Obama explained that, as a former constitutional law professor, he respected the First Amendment and the "merits of free speech." But there are steps those in power can take, he said:
The question, I think, really has to do with how do we harness this technology in a way that allows a multiplicity of voices, allows a diversity of views, but doesn't lead to a Balkanisation of our society, but rather continues to promote ways of finding common ground? I'm not sure government can legislate that, but what I do believe is that all of us in leadership have to find ways in which we can recreate a common space on the internet.
Often the target of online criticism, Obama underlined what he saw as the importance of moving online communities to in person meet-ups, of finding a way to bring the online offline. "One of the dangers of the internet is that people can have entirely different realities. They can be just cocooned in information that reinforces their current biases," Obama told Harry.
He suggested that this can be remedied by bringing the conversation to a place of worship, neighborhood, or even a pub. "When you meet people face-to-face, it turns out they're complicated," Obama told Harry. "There may be somebody who you think is diametrically opposed to you when it comes to their political views but you root for the same sports team. Or you notice that they're really good parents."
In essence, it's harder to attack someone face-to-face. As Obama put it, "It's also, by the way, harder to be as obnoxious and cruel in person as people can be anonymously on the internet."
But their conversation didn't just focus on the problems social media can bring. The two also discussed about how young people use the technology and can advance society, even if those who would prefer to perpetuate existing power structures would rather they didn't. "This generation is the most sophisticated, the most tolerant in many ways, the most embracing of diversity, the most tech-savvy, the most entrepreneurial, but they do not have much faith in existing institutions," Obama said. That is where the leadership online really comes into play, he argued.
Apart from these heavier questions, Harry tried to steer the interview into some lighter areas. Obama didn't answer whether he prefers briefs or boxers, but he did choose Michael Jordan over LeBron James and Aretha Franklin over Tina Turner, noting, "Aretha is the best."
Obama noted the Affordable Care Act as one of his greatest legacies. "What an enormous blessing it is to be able to say that 20 million people have health insurance that didn't have it before. And even a fraction of those 20 million are leading better, healthier lives, are happier, some child is fulfilling their potential," Obama told Harry. "That's a pretty good score card."
Despite those accomplishments, Obama sounded content with life after the presidency. "It is wonderful to be able to control your day," Obama told Harry. "The job entailed a wide range of responsibilities and a constantly full inbox. Now when I wake up I can make my own decisions on how to spend my time, and what to do to forward the things I care deeply about. That is obviously hugely liberating."
For the Obamas, after eight years in D.C., that must be an understatement.