Obama's Special Message To Michelle Is Incredible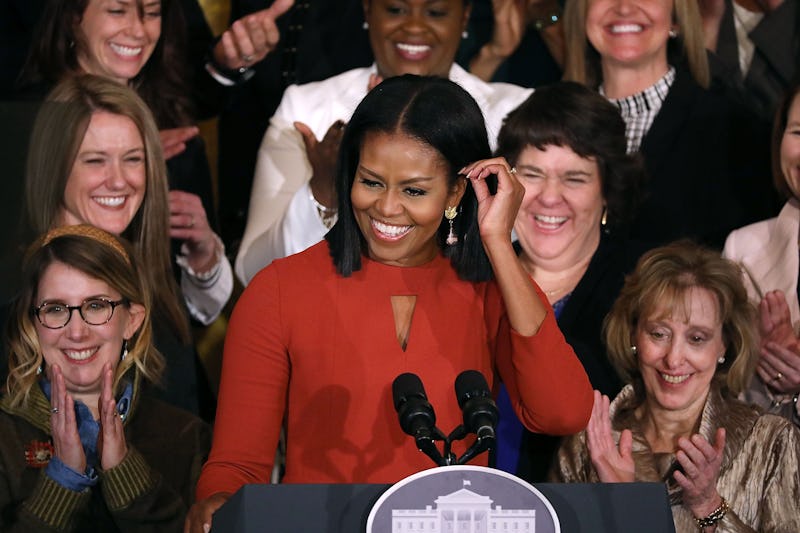 Chip Somodevilla/Getty Images News/Getty Images
Towards the end of his farewell speech on Tuesday night, outgoing President Barack Obama emotionally delivered a message to his wife Michelle, calling her his "best friend" and a "role model" and thanking her for tireless support and service to her country.
In his loving tribute, Obama stated,
"Michelle – for the past twenty-five years, you've been not only my wife and mother of my children, but my best friend. You took on a role you didn't ask for and made it your own with grace and grit and style and good humor. You made the White House a place that belongs to everybody. And a new generation sets its sights higher because it has you as a role model. You've made me proud. You've made the country proud."
Obama's tribute to his wife was one of the more emotional moments of his speech. According to ABC News, after Obama directly addressed his wife in his farewell speech, he took a few beats to pause and regain his composure, seemingly very moved in reflecting on all his wife has contributed and sacrificed throughout her tenure as First Lady and beyond.
Obama's tribute to Michelle epitomizes the loving and supportive marriage the Obamas have displayed throughout their time in the White House. Over the past eight years, photos and social media have captured a litany of touching moments between the couple, causing media outlets to sometimes characterize the Obamas as typifying the "relationship goals" to which we should all aspire.
Twitter users reacted similarly to Obama's tribute to Michelle in his farewell speech Tuesday evening, noting that his love for his wife was very evident by the words he used to describe her. Other users said that they were "touched" and "moved" by Obama's words to the First Lady, and one user indicated that the best part of Obama's speech was when he talked about his wife and daughters, calling the outgoing President a "class act."
The love demonstrated by the President for his wife both during tonight's speech and throughout his tenure as President is certainly an inspiring notion on which to reflect in the midst of a very trying and uncertain time for the country. I look forward to seeing the Obamas forge ahead together in 2017 and continue to be the loving, caring, mutually-respecting power couple to which we can all aspire, both personally and professionally. It will be wonderful to watch them continue to make their mark on the world together in the years to come.