Obama Roasted Trump's POTUS Dreams At The 2011 WHCD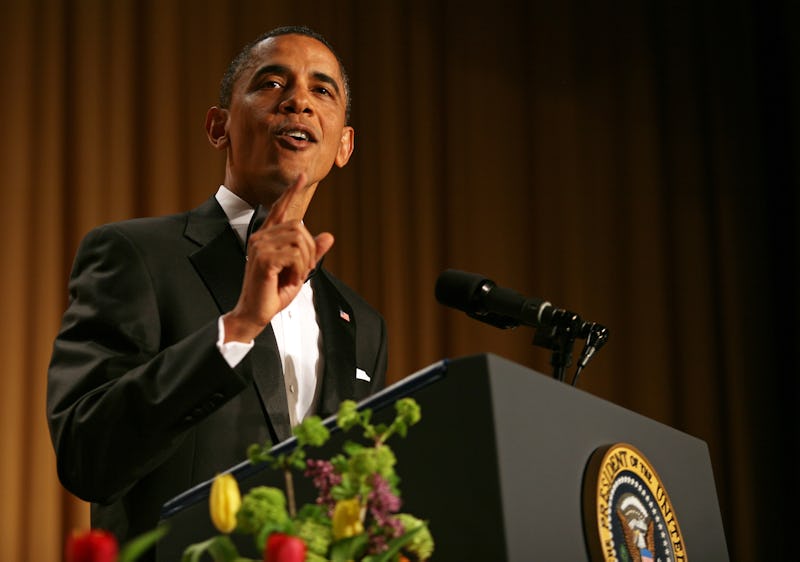 Pool/Getty Images News/Getty Images
Long before Donald Trump became president, the concept of a President Trump was a punchline. Perhaps there is no better proof of how drastically things can change in the span of a few years than the story of how Trump's presidential ambitions went from a joke to reality. In 2011, then-President Barack Obama roasted Trump for his presidential ambitions at the White House Correspondents' Dinner. Six years later, Trump succeeded Obama as President of the United States.
In the last year or so, there has been a huge amount of speculation as to why Trump, a man with no political experience, chose to run for president in the 2016 election. The answer remains a mystery, although some, like BuzzFeed's McKay Coppins, and The New York Times' Maggie Haberman and Alexander Burns, have argued that Trump's 2016 presidential campaign was a response to those who jeered and taunted him for his presidential ambitions in the past. Then, President Obama, after months of being hounded by Trump about his birth certificate, used his speech at the 2011 White House Correspondents' Dinner to poke fun at the real estate mogul.
"Now, I know that he's taken some flak lately, but no one is happier, no one is prouder to put this birth certificate matter to rest than the Donald," Obama said. "And that's because he can finally get back to focusing on the issues that matter – like, did we fake the moon landing? What really happened in Roswell? And where are Biggie and Tupac?"
President Obama then went on to cheekily compare the decisions Trump makes as the star of the reality TV show Celebrity Apprentice to those a president makes in the Oval Office. Oh, if only we'd known then what we know now.
"But all kidding aside, obviously, we all know about your credentials and breadth of experience," Obama said. "For example — no, seriously, just recently, in an episode of Celebrity Apprentice, at the steakhouse, the men's cooking team cooking did not impress the judges from Omaha Steaks. And there was a lot of blame to go around. But you, Mr. Trump, recognized that the real problem was a lack of leadership. And so ultimately, you didn't blame Lil' Jon or Meatloaf. You fired Gary Busey. And these are the kind of decisions that would keep me up at night. Well handled, sir."
But Obama wasn't quite done skewering Trump just yet. "Say what you will about Mr. Trump, he certainly would bring some change to the White House," Obama continued, before an illustration of what the White House might look like should Trump move in popped up on the screen. In the illustration the White House's neo-classical Federal style has been replaced with added stories, neon signs, bikini models, gold columns, and a chandelier so large you can see it from the street.
With his relationship with the media having become increasingly strained, President Trump announced in February that he would not attend the annual White House Correspondents' Dinner. "I will not be attending the White House Correspondents' Association Dinner this year," Trump tweeted on Feb. 25. "Please wish everyone well and have a great evening!"