Obama's White House Photographer Is Trolling Trump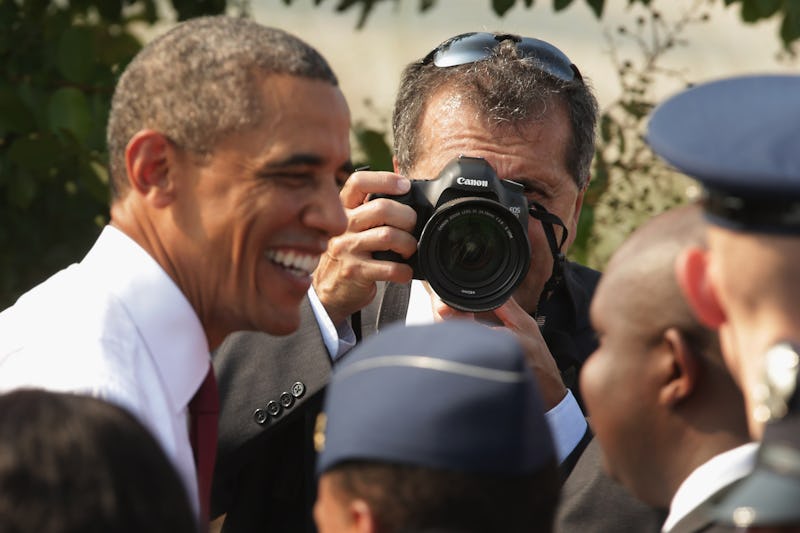 Chip Somodevilla/Getty Images News/Getty Images
You may not recognize the name Pete Souza, but you've certainly seen his work. For eight years, Souza was President Obama's official photographer, and is responsible for some of the most iconic photos of his presidency. Now, with Obama out of office, Souza is using his trove of White House photos to highlight the new president's shortcomings. That's right: Obama's White House photographer is trolling Trump on Instagram, and it's nothing short of glorious.
He's being subtle about it, so if you were just casually scrolling through Souza's feed, you might not notice the burns. But they're there.
Over the weekend, for example, Trump was caught holding a national security meeting on the patio of the Mar-a-lago hotel in Florida. This was within earshot of the hotel's waiters and in plain view of the hotel's guests, one of whom took a picture of the meeting and blogged about it. Needless to say, this alarmed a lot of people.
The following Monday, Souza posted an image of Obama and his team holding a national security meeting in El Salvador in 2011, and added a brief description of how the Obama White House handled sensitive meetings.
"When we were on the road, national security discussions and head of state phone calls were conducted in a private, secure location set up onsite," Souza wrote under the photograph. "Everyone had to leave their Blackberry outside the area. In this photo, which was taken in March 2011 and subsequently released, the President holds a discussion in El Salvador following a conference call with his full national security team."
Sure, maybe Souza was just giving some background information on the photo. But it's hard to read this as anything other than a dig at Trump's decidedly un-secure national security meetings.
In another instance, Souza posted a picture showing a crowd of supporters cheering Obama alongside the presidential motorcade — just one day after Trump's motorcade was greeted by protesters in Florida. Earlier, when Trump got in hot water with, umm, all of Australia for reportedly badgering Australian Prime Minister Malcolm Turnbull on a phone call, Souza posted a picture of Obama laughing it up with Turnbull months earlier.
This is the kind of trolling we're talking about. On an individual basis, and devoid of any context, Souza's posts seem perfectly normal. But scroll through his feed while glancing at the news, and it becomes abundantly clear what he's doing. He's using Instagram to make fun of Trump.
Part of what makes Souza's Instagram jabs so amusing is how petty they are. This is a man who once held an esteemed post in the White House, and whose photographic work will be reprinted in countless history books for years to come. Now, he's making fun of Trump's team for being unable to locate the light switches in cabinet rooms, and holding meetings in the dark as a result. Trump denied those claims in a tweet.
Then again, some of Souza's Trump-trolling posts have been more poignant, such as the time he published a picture of Obama meeting a child refugee from Syria just as Trump attempted, ultimately without success, to ban all immigration from several Muslim-majority countries.
Souza's Instagram trolling game is on point. It's almost as if the ghost of Obama's presidency is haunting the halls of the Trump White House, a proposition Obama would probably be perfectly fine with.