Obi-Wan Kenobi Is Getting The 'Star Wars' Spin-Off Film That He Has Always Deserved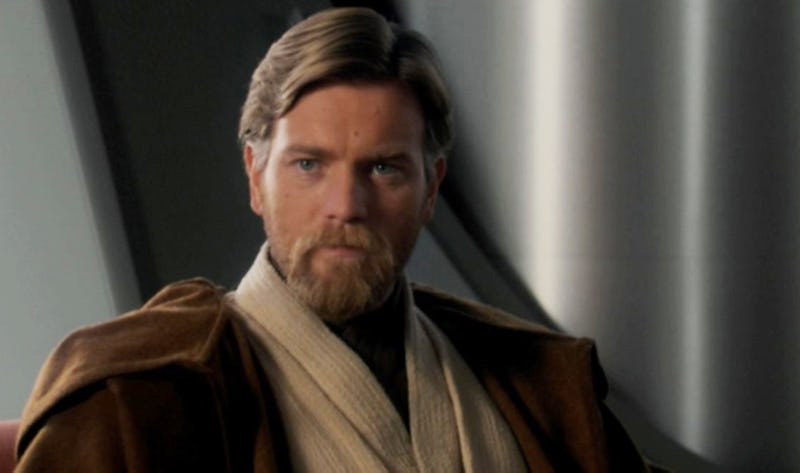 Lucasfilm/Walt Disney Pictures
Every Star Wars fan in the world really needs to sit down, because there's a rumor that Obi-Wan Kenobi is getting a Star Wars spin-off. The Hollywood Reporter broke the news that Lucasfilm might be developing a film about the Jedi Master with Oscar-, Emmy-, and Tony-nominated director Stephen Daldry. (Bustle reached out to Walt Disney Pictures and Lucasfilm for comment.)
According to THR's report, sources claim that it's unknown as of yet whether actor Ewan McGregor will reprise his role as Obi-Wan, the character he played throughout all three Star Wars prequels. (Obi-Wan's original portrayer, Oscar winner Alec Guinness, passed away in 2000 at the age of 86.) But the fact that the publication even mentioned McGregor's name in conjunction with the project raises an interesting question: when would the spin-off take place, exactly?
As fans know, the next standalone Star Wars anthology film will focus on a young Han Solo; but that character wasn't introduced until he was an adult and a full-fledged smuggler with a bounty on his head, leaving plenty of backstory to be explored. Conversely, the Star Wars franchise has already tracked most of Obi-Wan's life: through his evolution from Padawan to Jedi Master in the prequels, up to his status as an aged hermit in A New Hope, and even after death as a wisdom-dispensing ghost. How much is there left to be uncovered about his life?
The spin-off would either have to take place very early in Obi-Wan's life, chronicling his youth pre-Jedi in much the same way the prequels handled Anakin Skywalker; or, more likely, it would have to take place between the prequel trilogy and the original trilogy. Although it seems like fans already know what happened in the gap — Obi-Wan went into hiding on Tatooine to avoid being hunted down along with the rest of the Jedi, and bided his time until Luke came of age — reportedly there could be more to the character's story than just living on a sandy planet for several decades.
THR's report also mentions that Disney is still interested in pursuing standalone films about both that fan-favorite character and Yoda. But before those possible films get off the ground, Daldry and Lucasfilm would have a lot of work to do on the adventures of Obi-Wan Kenobi… starting with writing a script. May the Force be with them.