How Protesters Outside The White House Are Trying To Make Sure Trump Gets No Sleep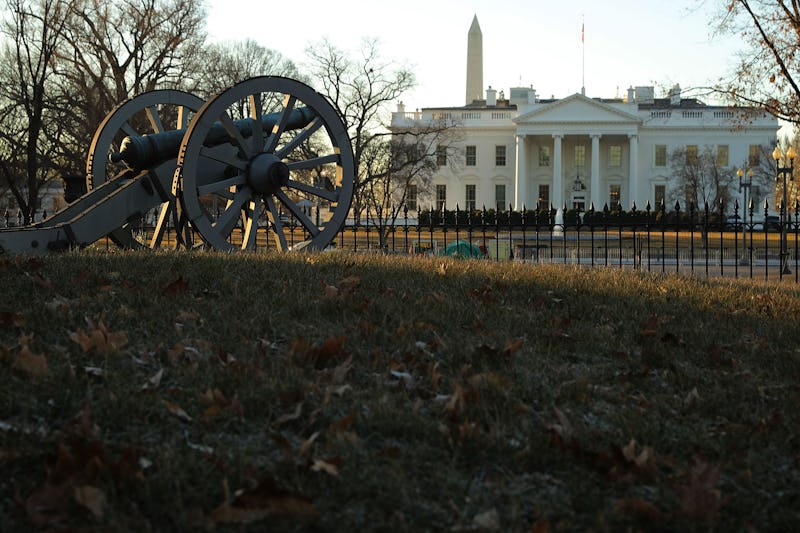 Chip Somodevilla/Getty Images News/Getty Images
President Donald Trump packed his bags, locked up the White House, and headed to his golf club in New Jersey early Friday as the anti-Trump protest that's been held just outside his front door nearly every night this week prepared to get underway, again. But Trump's absence from the White House failed to deter demonstrators. Protesters gathered Friday night in Washington, D.C.'s Lafayette Square for the fifth-consecutive night of "Occupy Lafayette Park" protests, bringing with them a hip-hop band and giant letters that spelled out the word "Treason."
Former Hillary Clinton adviser Adam Parkhomenko and former Clinton aide Philippe Reines organized what has become known as the "Occupy Lafayette Park" protest following President Trump's Helsinki summit with Russian President Vladimir Putin — and they have no plans to exchange their nightly protest for a quiet night at home just yet.
"If the White House thinks the protests are ending soon they should be aware that our new sound system arrives on Monday," Parkhomenko tweeted Friday.
While Friday's "Occupy Lafayette Park" protest featured a hip-hop band, previous nights have featured opera singers and a Mariachi band — the intent being to keep Trump from getting a good night's sleep. The protests have also seen a few different high-profile demonstrators, including actress Alyssa Milano, Stormy Daniel's attorney, Michael Avenatti, and Rep. Joaquin Castro.
On Friday, Parkhomenko joked that he and the event's other organizers were looking into translating the "Occupy Lafayette Park" protests into Russian when Trump returned from his weekend in New Jersey. "We are looking at starting to translate the protest from English to Russian when Trump gets back so him and the White House understand what we are saying," he tweeted.
According to the Hill, hundreds of people turned up Monday — the first night of the "Occupy Lafayette Park" protests — to join Parkhomenko and Reines in "welcoming" the president home to the White House. Protesters are outraged over the president's refusal to condemn Russian meddling in the 2016 presidential election.
While standing alongside Putin in Helsinki on Monday, Trump characterized Special Counsel Robert Mueller's Russia investigation as a "ridiculous" "witch hunt" and said he did not see "any reason" why Russia would be behind the election meddling and hacking. The president later attempted to walk back his statement, claiming he'd been trying to use a double negative and had misspoke. Trump claimed he'd meant to say, "I don't see any reason why it wouldn't be Russia."
But as the week went on, the president continued to make a series of confusing and conflicting remarks about Russia's election interference. On Tuesday he said he accepted U.S. intelligence agencies' findings regarding Russian meddling but added the hacking "could be other people also."
In an event listing for "Occupy Lafayette Park" on Facebook, organizers claimed the president's behavior in Helsinki amounted to "what can only be called treason against the United States and it's peoples." They urged people to gather in Lafayette Square as a means of letting Trump and his administration know they will be held accountable.