This New Collection Is Inspired By Princess Diana's Classic Style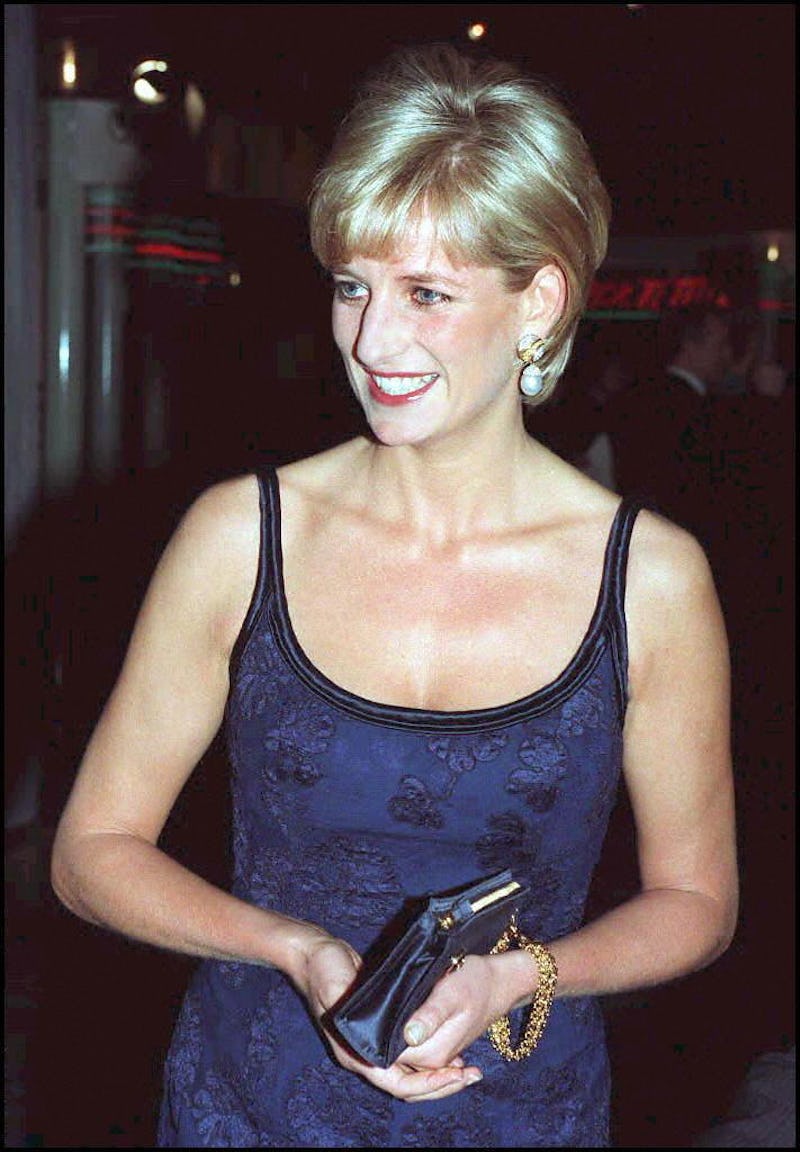 JOHN STILLWELL/AFP/Getty Images
In fashion, designers, celebrities, and enthusiasts are always looking forward while also pulling inspiration from the past. That's exactly what designer Virgil Abloh is doing for his newest collection. Off-White's Spring 2018 Collection is inspired by Princess Diana, making this street-wear brand's new line a fun, classic homage to the late princess.
Back in July 26, Off-White designer Abloh posted an Instagram of his supposed mood board for his spring 2018 collection. Filled with photographs of Princess Diana, he captioned the photo with "" one woman, 40 @off____white looks in the works come september."
Now, just a few days shy of September, he revealed a first look of the collection — showing off an invitation to Off-White c/o Virgil Abloh's Spring Summer 2018 Paris Fashion Week show.
With Princess Diana in a teal bikini sitting at the end of the boat, the invitation reads "NATURAL WOMAN." Simple and minimal in feel, it's not exactly what you'd expect from Off-White, but this new direction will presumably be loved. As his Instagram post states, there are 40 looks in total, all inspired by the "muse Diana, Princess of Wales."
Sure, designers in the past and present have done throwback inspirations and will continue to, but this one feels extremely special.
How many lewks can you get on one board? Plenty, apparently.
From the looks of the bottom left corner, this is a transparent invitation. Why use paper when you can get creative like this?
Off-White c/o Virgil Abloh's Fall 2017 runway show featured crop tops, matching separates, over-the-knee boots, and sheer dresses. And for his men's Spring/Summer 2018 collection, Abloh sent flared pants, sweater shirts, clear bags, and long rain coats down the runway.
These two collections are quite different from what you'd expect a line with Princess Diana as the muse would be. Sure, it's going to be a different direction from Off-White's past, but there's no doubt it's going to surprise and delight.
And the timing is no coincidence — in just two days, on Aug. 31, it's the 20th anniversary of Princess Diana's death. It only makes sense that in fashion week in September, this collection will be unveiled.
Based on the mood board he posted, it looks like hats, crewneck sweatshirts, killer blazer and jackets, and Princess Diana's athletic wear will have an influence on the collection. Not to mention the colorful swimsuit on the invitation.
When it comes to Princess Diana's timeless style, you truly can't go wrong.