A Texas Sheriff Apparently Wants To Punish A Driver With An Anti-Trump Sticker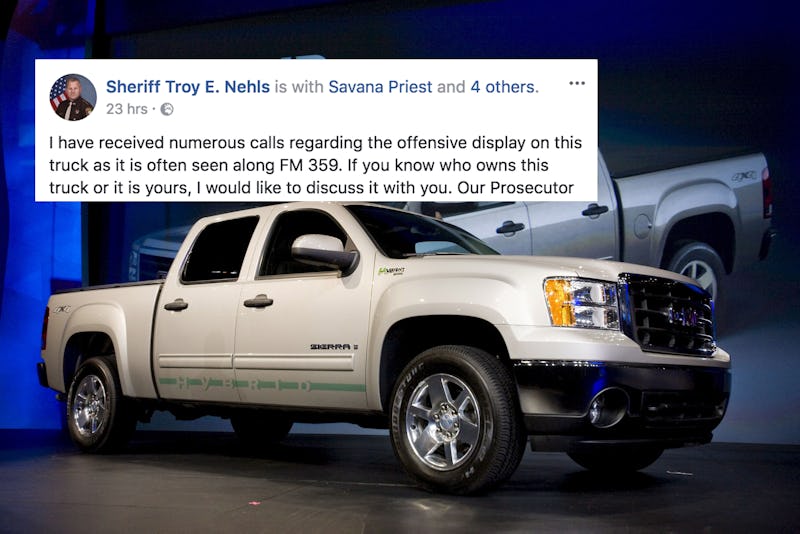 Tannen Maury/EPA/REX/Shutterstock
On Wednesday, Fort Bend County, Texas, Sheriff Troy E. Nehls posted a photo to Facebook of a truck with an anti-Trump sticker. Nehls — a Republican who is considering a congressional bid — wrote that he had "received numerous calls regarding the offensive display," and called on the trucks' owners to come forward.
If you know who owns this truck or it is yours, I would like to discuss it with you. Our Prosecutor has informed us she would accept Disorderly Conduct charges regarding it, but I feel we could come to an agreement regarding a modification to it.
The photo Nehls posted to Facebook shows a white GMC Sierra with a sticker on the back that says "F*ck Trump and f*ck you for voting for him." The Facebook post has since been deleted after receiving almost 20,000 comments and more than 10,000 shares, but no license plate number was visible in the photo. Nehls' office has said that a local press conference that the sheriff gave on Wednesday — reportedly organized due to "the high volume of interview requests" — would be the extent of his comments on the matter.
"We're not going to be arresting anybody, and we're not going to be releasing the name of the person who owns the truck, either," his office says.
However, The Houston Chronicle did name one of the truck's drivers — Karen Fonseca, whose husband reportedly owns the truck. Fonseca told the Chronicle that she often drives the truck, and that she actually used to work for Nehls at the county jail. She and her husband had the sticker made after Donald Trump was sworn into office.
"It's not to cause hate or animosity," Fonseca told the Chronicle. "It's just our freedom of speech and we're exercising it."
During his press conference, Nehls said that he wanted to have a dialogue with the truck's owners because Trump stickers on vehicles have caused road rage incidents around the country. However, Nehls also specifically cited the "offensive language" on the truck as a cause for concern.
"Many families have called that have seen that truck on our county roadways and are very offended by the language on the truck," Nehls said during the press conference. "I think they're walking a fine line."
John Healey, Fort Bend County's district attorney, disputed Nehls' suggestion that disorderly conduct charges were appropriate in this case, as did free speech advocates. The ACLU tweeted about the issue, encouraging the truck's owners to contact its Texas branch for assistance.
The ACLU of Texas went one step further, and tweeted a lesson in constitutional law for the sheriff's benefit. The ACLU of Texas tells Bustle that it is only responding to the issue via social media accounts, so the tweet was the organization's most up-to-date response.
Healey told the Chronicle that his office was not contacted before Nehls posted the photo to Facebook, and remarked that his office did not have any information about the public's reactions to the truck. But Karen Fonseca, whose husband owns the truck, told a local ABC affiliate that the sticker has certainly attracted significant amounts of attention.
"It makes people happy," she told local ABC affiliate KTRK-TV. "They smile. They stop you. They want to shake your hand."
Fonseca said that she has no plans to remove the sticker, even though people sometimes shake their head at it and officers have pulled her over before realizing they had no concrete reasons for writing her a ticket. She is passionately opposed to Trump's presidency, particularly on the subject of his proposed border wall, and people reportedly tell her that they "wish they had the guts" to post similar anti-Trump messaging on their vehicles. And while she is reportedly not planning to contact Nehls, Fonseca told KTRK that she is open to having a dialogue with him.