The 'Office' Cast Got Together For Brunch & The Photo Is EVERYTHING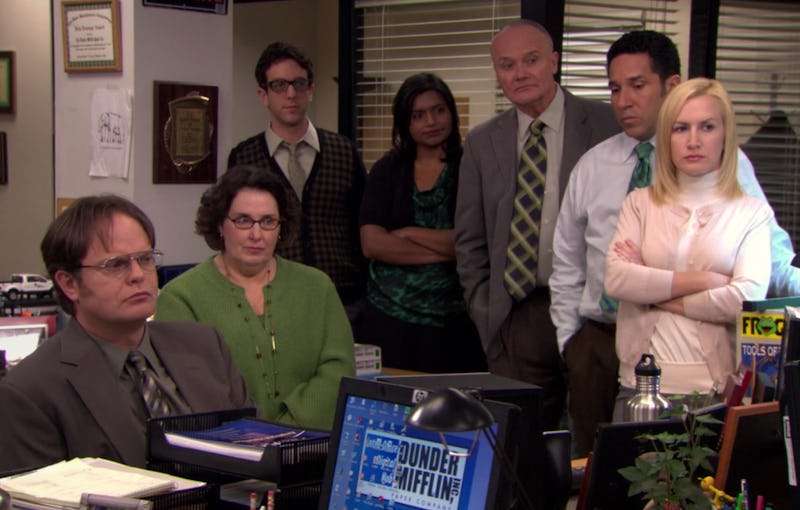 NBC
There's been a lot of buzz around a potential reboot of The Office lately, and now, there's a bit more fuel to add to that particular fire. On Sunday, the Office cast reunited for brunch, and could this mean that an actual TV reunion is on the way? So far, it's not clear what the future holds, but the photos that resulted from their get together are enough to make any fan's day.
Angela Kinsey shared a group shot, which included a lot of the show's original cast, including Jenna Fischer, Rainn Wilson, Oscar Nunez, Ed Helms, Leslie David Baker, Creed Bratton, Brian Baumgartner, Paul Lieberstein, and Phyllis Smith.
In her caption, Kinsey shared a sweet exchange that she and Helms had during their day together. She wrote:
"Some of the old gang got together today... it was so great to see everyone! I turned to Ed and said, 'I feel like we are at a family reunion.' He smiled and said, 'We are.' Thanks Greg for hosting! For those who couldn't make it... you were missed!"
Being that The Office has such a large cast, getting everyone together couldn't have been an easy feat, but that just gives fans even more reason to freak out.
In a post of her own, Fischer shared another photo of the gang, revealing that they'd gotten together for brunch — which sounds like an event the Finer Things Club totally would have organized. In her photo, the cast is recreating a Christmas photo that they'd taken years ago on set, and it's kind of perfect.
"I had brunch with these oddballs today," Fischer wrote. "Love you."
It's also important to note that when Fischer shared a shout out to the cast members who couldn't make it, she also added, "see you soon." What could that mean? Hmm...
Kinsey's Instagram story also included plenty of Dunder Mifflin amazingness, including how she and Fischer taught some of their former cast members how to do an Instagram story to begin with. She also shared this sweet photo of Wilson and Smith together:
And she also shared this shot of her and Fischer with Baker, who looks just as happy as his character, Stanley, does when it's Pretzel Day (but only on Pretzel Day).
Baumgartner got in on the social media action as well, posting a photo of him and Wilson looking very serious together:
Although rumors of an Office reboot have been circulating practically since the show's series finale aired in 2013, over the past month, they've been kicked up a notch. When Steve Carell hosted Saturday Night Live in November, his opening monologue involved cast members from The Office based around the potential of a reboot. It definitely seems like the interest is there, but what happens next is up to the cast (and the network).
Whether or not a reboot actually happens, it's nice to see that the cast formed lasting bonds during their time on The Office that bring them back together as friends, even just for brunch.