You Have To See This Mini-'Office' Reunion From Steve Carell's Monologue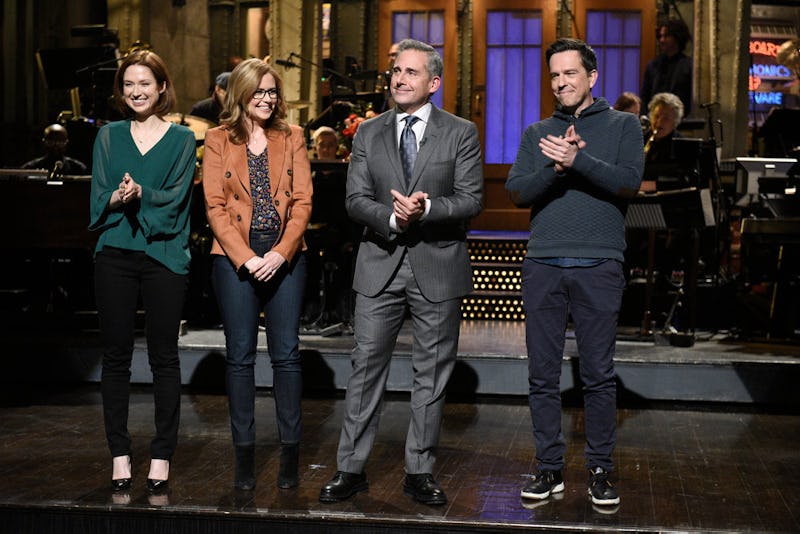 Will Heath/NBC
Steve Carell may be busy giving Oscar-worthy performances in films like Foxcatcher and Beautiful Boy, but he's still probably mosr celebrated for his performance as Michael Scott in The Office. Despite the show's passionate audience and the fact that beloved sitcoms are getting rebooted on a regular basis nowadays, Steve Carell told a live studio audience that there were no plans for a reboot during the opening monologue of the November 17 episode of Saturday Night Live. However, some members of the audience weren't happy to hear that — and those unhappy audience members turns Steve Carell's SNL monologue into a mini-Office reunion.
It's not unusual for SNL to fill any given monologue segment with staged audience questions, but it's not everyday that SNL's audience is filled with former cast members from The Office. After fielding questions about a possible Office reboot from a seemingly random audience member and SNL cast member Kenan Thompson, Carell was confronted by former Office cast member and current star of Unbreakable Kimmy Schmidt, Ellie Kemper. Kemper reminded Carell that while he may not have interest in rebooting The Office, Carell was far from the only member of the show's cast and the rest of that cast might be interested in making a lot of money through rebooting one of the most popular shows of the 21st century.
Following Kemper's plea for a return to Dunder-Mifflin, Hangover star and Office alum Ed Helms stood up to remind Carell that if he did an Office reboot he wouldn't have to make sad movies like Foxcatcher or Beautiful Boy anymore. Finally, Pam herself, Jenna Fischer, took a break from starring on ABC's Splitting Up Together to plead for a reboot of the beloved series, too. Even Carell's wife, former SNL cast member Nancy Carell neé Walls, spoke out from the audience to tell the host that it was time for him to return to The Office. After hearing everyone's pleas, Carrell invited his three former co-stars onto the stage to formally announce... that they had a great show planned and that musical guest Ella Mai was there.
The fake-out surely disappointed any fan who may have thought for a split-second that Carrell was about to reveal that an Office reboot was in the works, but the enthusiasm from the former cast members suggests that the mini-reunion may have been a test of sorts. Could NBC be using SNL to try and gauge interest in an Office reboot? Judging from fan reactions following the monologue, any sort of Office reboot would have no trouble finding a passionate audience.
With no other mention of The Office throughout the episode and no further comment on the reboot, it seems that the fake-out was not a precursor to a genuine announcement, and confirms that Carrell is going to stick to his "sad" movies for the time being. Fake as it was, the Office reunion did give fans plenty of hope that although a reboot may not be happening yet, it could happen in the future if enough of the cast wanted to work together again.