You Have To See This Photo Of 'Office' Star Angela Kinsey Visiting A Gap Kids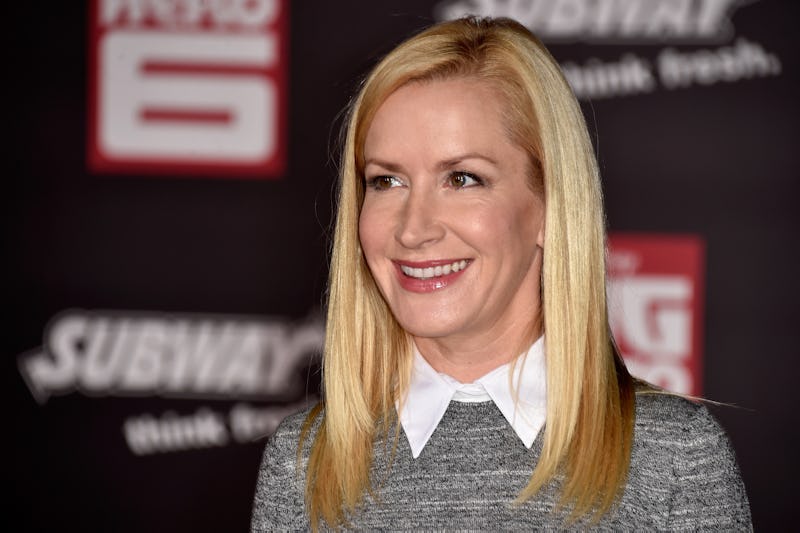 Frazer Harrison/Getty Images Entertainment/Getty Images
As much as fans have come to love The Office and watch it repeatedly on Netflix again and again, that's nothing compared to the love the cast has both for each other and the show itself. In fact, you could say they're even bigger fans of the series than we are. That's why it should come as no surprise that Angela Kinsey, who played Angela on The Office, just paid homage to her character in the best way. And it will make fans want to rush to the mall ASAP.
The image in question is a selfie of Kinsey standing next to a Gap Kids store sign. However, it's her caption that really sells the joke, as it reads: "Too flashy..." This may not seem like a big deal to some, but diehard Office fans are sure to have no trouble understanding the reference Kinsey is making to Dunder Mifflin's most uptight, cat-loving accountant.
But just in case you need a little help making the connection, here's a refresher on what she's talking about: back in The Office Season 3, there's an episode titled "Women's Appreciation" that involves Michael taking all of his female employees to the mall to buy them each something so that they feel appreciated. That's when Angela divulges an interesting detail about herself when it comes to her shopping habits: "Sometimes the clothes at Gap Kids are just too flashy," she tells the cameras. "So, I'm forced to go to the American Girl store and order clothes for large colonial dolls."
Hence why Kinsey's felt the desire to take a photo when she came across this particular store.
This isn't the first time Kinsey has toyed with Office fans, either. Back in September she uploaded a photo on Instagram that saw her reuniting with her former fellow accountants, Oscar Nuñez (Oscar) and Brian Baumagartner (Kevin), from their Dunder Mifflin days. As if it could get any better, her caption also suggested an accountant-focused spinoff series that absolutely needs to happen for real. "The Accountants spin off... thoughts @nbc?" the caption read. "DM me." Seriously, don't tease us about this unless you can make it happen!
She also helped her former costar Nuñez recreate The Office fire drill scene a few months back, which has to be one of the most iconic scenes in the show's history. And the list goes on and on and on. Suffice it to say, Kinsey enjoys reminiscing about her times on The Office as much as we enjoy watching her do it. So having her reference another beloved episode is just par for the course at this point, but by all means, keep them coming. No complaints from over in this direction.
It may not be an Office reboot or revival, but we can probably all agree that Kinsey's Office-themed posts are basically the next best thing. Perhaps Kinsey's ongoing tributes to the series will even help inspire more reunions, and maybe even an Office movie. (Hey, a girl can dream, right?) Either way, any callback to the show is guaranteed to leave fans satisfied and smiling. (That's what she said.)