Ohio Republicans' 6-Week Abortion Ban Bill Just Cleared The House & This Is What's Next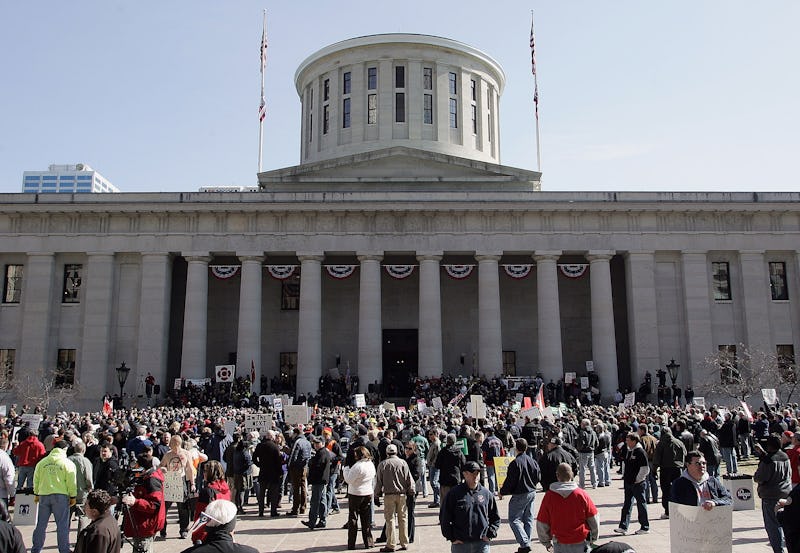 Mike Munden/Getty Images News/Getty Images
Despite facing opposition from reproductive rights groups, Democrats, and even their own governor, Ohio Republicans voted to pass a "heartbeat bill" on Thursday, which would ban abortion after the first six weeks of pregnancy — when a fetal heartbeat is typically detected for the first time. The Ohio House of Representatives voted 58-35 to pass the bill, even though GOP lawmakers know it is unlikely to become law.
Doctors and reproductive rights advocates have routinely criticized the term "heartbeat bill" as medically inaccurate, primarily because the first detection of a fetal heartbeat — which occurs roughly five or six weeks into a pregnancy — does not guarantee fetal viability. As the Huffington Post reported last year, being able to detect a fetal heartbeat does not mean that a pregnancy will continue to be healthy and without complications. Moreover, a six-week ban poses a problem for people who are not actively planning to become pregnant, or who have irregular menstrual cycles.
Per the Columbus Dispatch, this is nonetheless not the first time Ohio legislators have attempted to pass such a bill. In 2016, both the Ohio House and Senate voted in favor of a six-week abortion ban, but Ohio Gov. John Kasich vetoed the measure. At the same time, CNN reported, Kasich signed a 20-week abortion ban into law, on the premise that a six-week ban would result in an expensive legal battle he did not expect to win.
Now that the Ohio House has once again passed the six-week ban, it will proceed to the Senate. It is not yet clear how the Senate will vote on the measure, but if it passes, it will once again end up on Kasich's desk — and he is almost certain to veto it. If the Ohio House hopes to override the governor's veto, Republicans would need at least 60 votes. But even if they are able to override Kasich's decision, they will likely face the same problem he was worried about two years ago — costly litigation that could take years. North Dakota, for example, spent more than $491,000 defending a similar bill.
According to ThinkProgress, Ohio Republicans don't just expect to face a legal battle — they are hoping for one. Anti-abortion lawmakers believe that if the six-week abortion ban is challenged in court, they can appeal the case until it lands in the Supreme Court, where Justice Brett Kavanaugh is expected to be a crucial fifth vote. Prior to Kavanaugh's confirmation, reproductive rights groups warned that Kavanaugh could endanger Roe v. Wade, which determined that no state can ban abortion before a fetus is viable. A case like the six-week ban in the hands of conservative justices, however, could challenge that determination.
Data from the Ohio Department of Health indicates that nearly 44 percent of abortions in 2017 were performed at least nine weeks into a pregnancy. None of these abortions would have been legally possible had a six-week ban been in place, prompting significant concern from reproductive rights activists both in Ohio and across the country.
Correction: A previous version of this headline did not provide a full characterization of the state of the bill. It was updated on Nov. 16 to more accurately reflect the state of the bill.