Ohio Women Protest Anti-Abortion Bill In True 'Handmaid's Tale' Style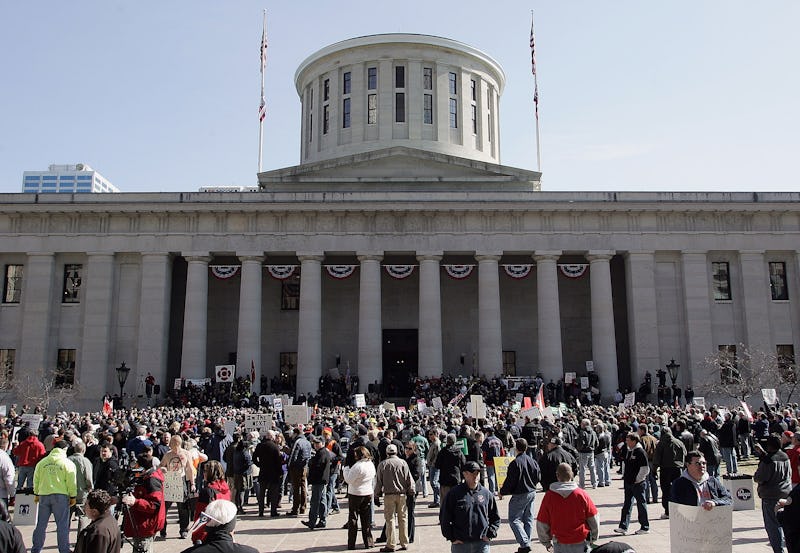 Mike Munden/Getty Images News/Getty Images
In Ohio, Senate Bill 145 seeks to ban a common abortion method known as dilation and evacuation, which is reportedly used for most second-trimester abortions between 13 and 24 weeks of gestation. If passed, the policy would be a significant blow to the state's abortion accessibility. As the bill's merits were debated in the statehouse on Tuesday, a group of women opposed the Ohio bill with a Handmaid's Tale-style protest.
According to Cincinnati.com, the dilation and evacuation method was used to carry out nearly 3,000 abortions in Ohio in 2015. Senate Bill 145 would make such abortions illegal within the state, despite abortion's legal status at the national level. Senate Bill 145 uses the phrase "dismemberment abortions" to refer to the dilation and evacuation method. The phrase "dismemberment abortions" has become common in anti-abortion legislation, as it seems to paint a disturbing picture of the common procedure.
In protest, women gathered at the Ohio statehouse Tuesday wearing red robes and white bonnets. The outfits resembled the fictional wardrobe of fertile women in The Handmaid's Tale, a novel by Margaret Atwood. The story, which was recently adapted into a Hulu series, takes place in a dystopian future where women have no rights, and fertile women are used for the purpose of procreation.
Despite the visibly poignant protest, which went viral on social media, it's not clear if the action was successful. The bill still has a long way to go before becoming law. According to the Ohio state legislature's website, the bill was introduced in the Senate on April 15 and was referred to a committee on April 22, where it has remained ever since.
Ohio's Senate is controlled this year by Republicans. There, the GOP enjoys a 24-9 majority over Democrats. Similarly, Republicans outnumber Democrats in Ohio's House of Representatives 66-32. In other words, the numbers are ripe for Republican successes, which could spell trouble for Ohio's pro-choice activists.
Beyond the Buckeye State, similar protests elsewhere in the country have also used styling from The Handmaid's Tale. In Texas, for instance, protestors gathered in the state legislature in May to oppose a series of anti-abortion restrictions that had been proposed in the state. There, activists spoke out against potential legislation that would require fetal tissue to be buried or cremated, among other proposals. Also in May, demonstrators in Missouri donned red robes and white bonnets to oppose legislation that would cut funding for abortion-providing facilities and programs. As such proposals make their way through Republican-led states across the country, The Handmaid's Tale offers a visually powerful way for pro-choice advocates to fight back.