Your Favorite Dating App Is Kicking White Supremacists Off For Good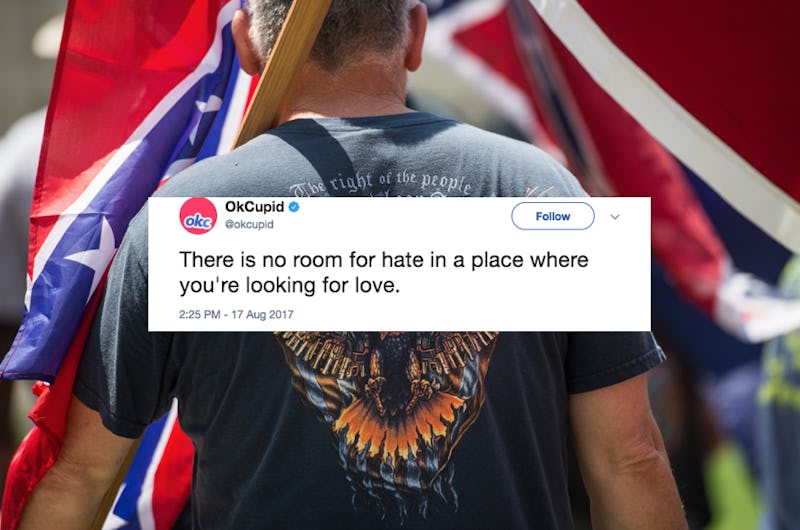 Sean Rayford/Getty Images News/Getty Images
After a VICE News documentary gave viewers an inside look at the individuals involved in the deadly "Unite the Right" rally in Charlottesville, Virginia, this weekend, the country was introduced to an alarming new figure: Chris Cantwell, an armed white supremacist that made disparaging comments about minority groups and then openly stated that he would "kill these people" if he "had to." Since then, things have understandably gone South for Cantwell. He currently has a warrant out for his arrest, has been banned from Facebook, and, on Wednesday afternoon, Chris Cantwell was even kicked off of OkCupid.
After the dating website was alerted of Cantwell's profile by other users, the company's leadership promptly banned him for life. "There is no room for hate in a place where you're looking for love," OKCupid wrote in a tweet. The site went on to urge users to report any members who appear to be involved in a hate group, making it clear that the company plans to make it just a little bit harder for other white supremacists across the country to find love.
The site's chief executive, Elie Seidman, further explained the company's decision in a statement to Gizmodo:
OkCupid has zero tolerance for racism. We make a lot of [decisions] every day that are tough. Banning Christopher Cantwell was not one of them.
Cantwell has not yet commented on the ban, but given that he posted a YouTube video the same day in which he tearfully discusses how terrified he is about the warrant for his arrest in Virginia, it's safe to say his dating profile is probably the least of his concerns.
OkCupid is just the latest company to start cracking down on white supremacists after the violent rally in Charlottesville. The home-sharing app Airbnb has permanently barred white supremacists from using its services, Go Daddy and Google both cancelled the domain for the Daily Stormer, a neo-Nazi website, and even Soundcloud has kicked the white supremacist leader Richard Spencer's podcast off of its platform.
Of course, silencing hate groups online does not necessarily change their views, or even come close to fixing the racial divide in America. Although the Facebook pages of many hate groups were also taken down this week, neo-Nazi groups will no doubt find other ways to communicate and create online and in-person communities. Still, making it harder for these individuals to spread their views and organize rallies and protests is certainly a step in the right direction.