Olive Garden Just Came Out With The Pasta Version Of Nachos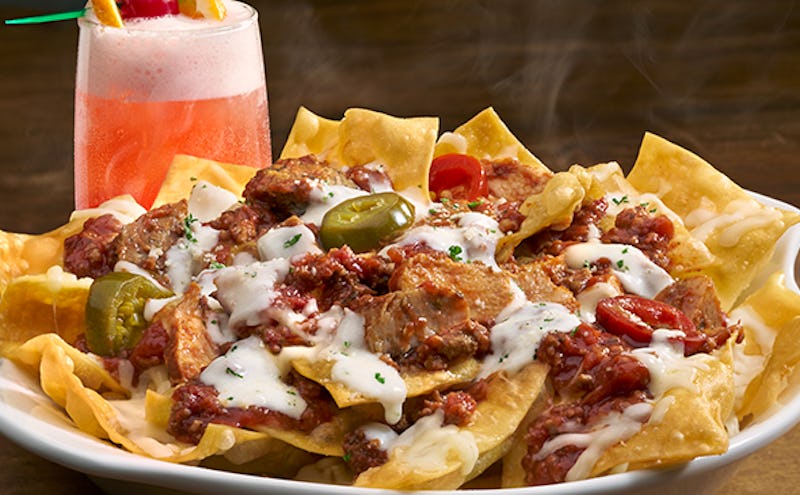 Olive Garden
No disrespect to your crockpot, but coming up with a bunch of Super Bowl dip recipes and cooking them yourself is so 2018. People who are living in 3018 are the ones who take advantage of Olive Garden's latest menu addition, Loaded Pasta Chips — which is essentially a nachos and pasta hybrid that, until this moment in time, humanity was not aware that it needed. According to Olive Garden's website, the dish is comprised of "Homemade pasta chips, lightly fried and layered with Italian cheeses and a hearty meat sauce. Topped with cherry peppers and an alfredo drizzle." In the words of mere mortals: um, YUM.
So what exactly does this twist on your favorite dish taste like? Olive Garden apparently manages to separate itself from the pack. According to FoodBeast, the dish is "basically Italian nachos, with actual pieces of lasagna as a substitute for chips". Basically if you're the family member who sneaks into the kitchen while the lasagna is cooling off and chips off the exposed noodle part when nobody's looking (guilty, y'all), your most delicious dreams just came true. FoodBeast also clarified that it isn't spicy, but more "savory," and that it's real heavy stuff — you may want to enlist the help of a friend if you're going to go all in on this one.
Olive Garden's latest creation may be here just in time for the Super Bowl, but for those of you who are already overwhelmed with side dishes for the big game, never fear — the new chips will be available until April 1. If you do want to partake in them this weekend, you can either enjoy them in an Olive Garden location, or order them online for restaurant pickup so you can enjoy yelling at football players in your sweatpants in peace. People who are truly committed to the full Olive Garden experience can even put in catering orders (dreams on dreams). The Loaded Pasta Chips currently retail for $10.79 a pop.
Since the news of the nachos hit Twitter yesterday, the reactions have been — well, mixed. There are some that are excited to see the popular chain mixing things up.
Others were not exactly *thrilled* at the prospect.
It's worth noting, however, that most of the people who have sampled them have said they're worth the trek — in addition to FoodBeast, the staffers at Business Insider gave it a try, and said, "Amazingly, they're weirdly tasty and not as gross as expected." (New Tinder bio, anyone?)
The menu addition may be a bit of a surprise, coming from Olive Garden, as CNN notes that the chain had recently had success with its shift to a "back-to-basics approach" — relying on its traditional Italian fare, like pastas, salads, and breadsticks to get customers in the door. The Loaded Pasta Chips, already colloquially dubbed "Italian nachos," are decidedly more gimmicky than their more standard menu items, so only time will tell what kind of success the pasta chips will have. Seeing as the closest Olive Garden to the Bustle office is in the hellscape of Times Square, this is one mystery that I personally am unwilling to tackle.
Regardless of whether or not the "Italian nachos" prove to be a hit, we can always respect the now timeless tradition of Olive Garden's never-ending pasta pass, a promotion that happens every year so the brave and lucky few can spend seven weeks eating as much pasta at Olive Garden as their hearts, stomachs, and souls can take. For an Italian restaurant, serving loaded nachos and providing the public with a literal pass of bottomless food is about as American as it gets.