Olive Garden Has A S'mores Cake & It's A Grownup Upgrade To Your Childhood Fave
by Callie Tansill-Suddath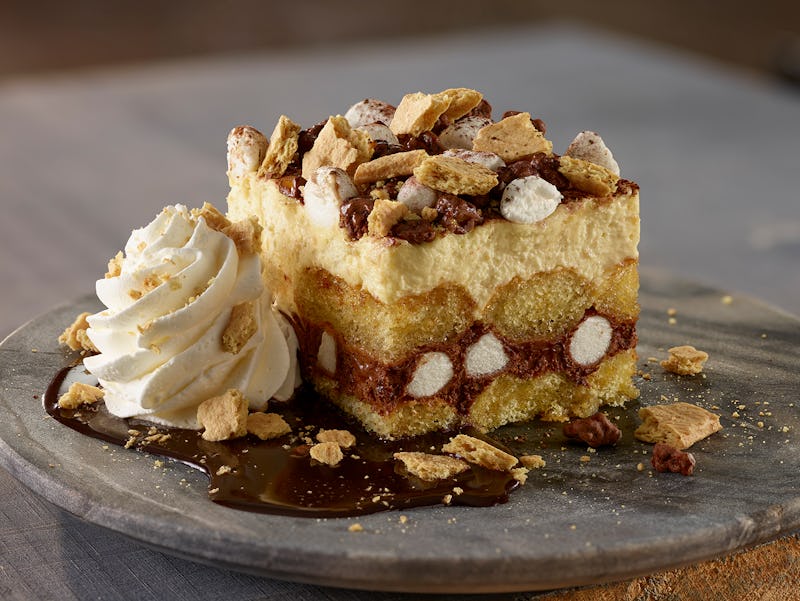 Olive Garden
When you think about Olive Garden, chances are dessert is not the first meal to come to mind. The beloved Italian chain is known for its indulgent and inventive takes on favorites like alfredo, lasagna, and scampi. Plus, where else can you get as many breadsticks as you can eat in one sitting? Olive Garden has Italian-American eats mastered, but what about Italian-American sweets? It might not be the restaurant chain's advertised specialty, but Olive Garden's new S'mores Layer Cake may land it a title of a dessert destination.
Olive Garden's S'mores Cake is the newest addition to the chain's summer menu. While s'mores are typically viewed as all-American fare, the construction of Olive Garden's new dessert gathers some clear inspiration from the fare for which OG is known. Rather than a traditional crumb cake, the s'mores cake is composed of lady fingers, just like a quintessential Italian dessert (and other menu staple), tiramisu. The ladyfingers making up the s'mores cake are soaked in vanilla (rather than espresso, like in tiramisu), then layered with chocolate mousse and marshmallows. The final product is topped with the s'mores essentials: crumbled graham crackers, toasted marshmallows, and a chocolate crunch. It's all the fun of a campfire treat without getting smoke in your eyes.
Jim Nuetzi, Olive Garden's Executive Chef, looks forward to seeing how customers receive the new dish. "We're excited to introduce this new dessert because it gives our guests the craveability they look for in our dishes mixed with the timely nostalgia of a summertime classic," said Neutzi in a statement.
It would appear Olive Garden is looking to expand its repertoire beyond a destination for all things pasta. Earlier this year, the chain added a new rosé to its menu — because what complements a breadstick better than wine? Happy hour only gets happier with the addition of carbs, of course. The chain began pouring glasses of its new house rosé, Head to Head rosé, in late May. It was crafted by Giulia and Andrea Zingarelli, a sibling team with the Rocca delle Macíe winery in Tuscany, Italy. Talk about authentic! Delish reports the wine has fruity notes of apple and cherry, and serves as the perfect accompaniment to pretty much anything on the Olive Garden menu.
Robyn Albert, the director of beverage strategy at Olive Garden, gave some insight onto the decision to add a pink drink to the lineup. "Rosé is trending now," she explained in a statement. "We wanted to launch our new wine in summer because rosés are refreshing in hot weather. And bringing in Giulia, a female millennial herself, made for a perfect partnership to develop the new wine."
If the idea of treating yourself to something sweet to go along with your pink drink sounds appealing, make sure to head into your nearest OG soon. Olive Garden's S'mores Layer Cake sells for $6.79, and will be available through September 23. Chances are theres a restaurant near you as Olive Garden has expanded to more than 800 locations since first opening in 1982. To find an Olive Garden location near you, you can use the store locator on the restaurant's website.