Olivia Colman Just Won Yet Another Award For Her New Film With Emma Stone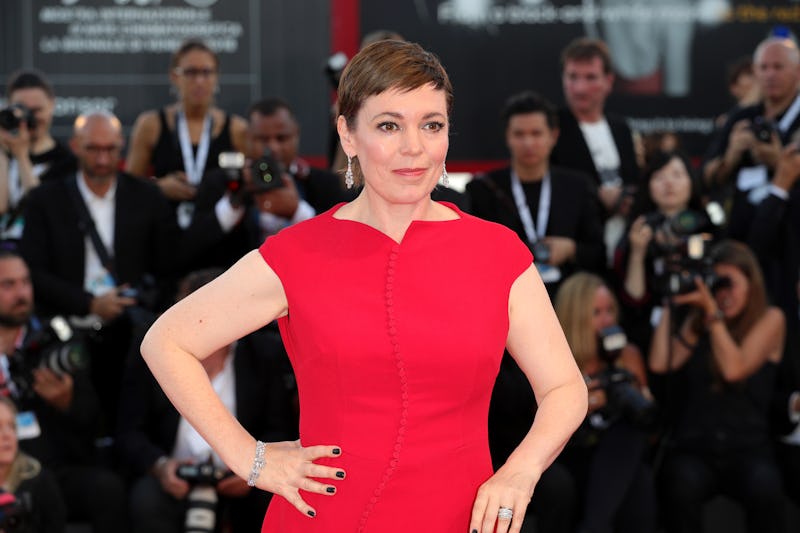 Andreas Rentz/Getty Images Entertainment/Getty Images
Gather round, friends, and allow me to tell you a tale: one afternoon, sitting in a London coffee shop, I convinced myself that the woman two tables away was acclaimed actor Olivia Colman. So overcome was I by her presence that I slid into a state of panic, proceeding to stare numbly at the side of her face for approximately eight hours. Then I realised that it was not Olivia Colman, but just a lady whose peaceful coffee was ruined by my incessant gaze. Anyway, the actual Olivia Colman was named best actress at the Venice Film Festival for her role in The Favourite, as the Guardian reports, while I have resolved to stop staring at people in coffee shops.
Colman plays the "needy and emotionally wounded" 18th-century monarch Queen Anne in The Favourite, according to the Guardian; it's directed by The Lobster's Yorgos Lanthimos, and also stars Emma Stone and Rachel Weisz as scheming cousins competing for the queen's affections. The film scored two awards at the Venice Film Festival, where it premiered in August, as Variety reports. Alongside Colman's award for best actress, The Favourite also won the grand jury prize — the second most prestigious prize of the festival, topped only by the Golden Lion which was awarded to Alfonso Cuaron's Roma.
The Guardian called The Favourite "a souped up and sweary quasi-Restoration romp full of intrigue and plotting," a description that's whole-heartedly sold the film to me. Colman's performance, meanwhile, is reportedly "uproarious," and has attracted widespread critical acclaim beyond Venice, with the Times tipping her for a best actress Oscar.
According to Colman, playing Queen Anne, as Deadline reports, was "a joy because she sort of feels everything." The Favourite, which also stars Nicholas Hoult and Joe Alywn (yes, that's Taylor Swift's boyfriend), is set for a January 1, 2019 release in the UK.
Unhappy monarch aside, which other roles does Olivia Colman have lined up? Well, she'll play Madame Thénardier to Adeel Akhtar's Monsieur Thénardier in the BBC's upcoming TV adaptation of Les Misérables, which also stars Dominic West in the role of Jean Valjean, David Oyelowo as Javert, and Lily Collins as Fantine. It'll air in 2019, the BBC says, but there's no specific air date yet.
And then there's a certain Netflix drama known as The Crown, which previously starred Claire Foy as Queen Elizabeth II. Colman will take over Foy's central role for the show's third season, as the Radio Times reports, while Tobias Menzies will succeed Matt Smith as Prince Phillip (again, there's no official air date as of yet). Colman told the Radio Times, "I have remained ridiculously excited since [she found out she had got the part]. I'm trying to be cool."
How much further can Olivia Colman's career accelerate? She's won a BAFTA for her role in Broadchurch, and a Golden Globe for The Night Manager; now she'll be clearing a spot in her trophy cabinet for her Venice Film Festival award. Could an Oscar for Ms Colman be next?