Olivia Munn's New Comments On 'The Predator' & Her Co-Stars' Silence Are Incredibly Brave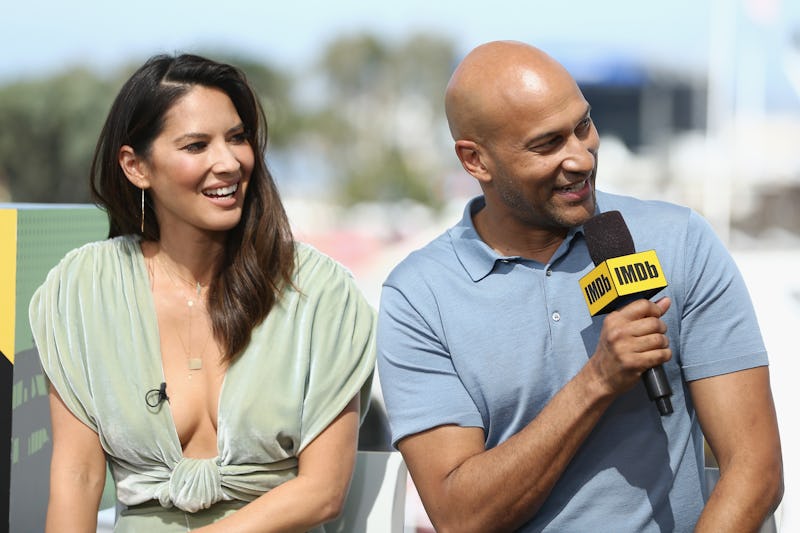 Rich Polk/Getty Images Entertainment/Getty Images
As The Predator's Sept. 14 release date looms closer, star Olivia Munn has continued to do press for the film after it was reported that she fought to have a scene deleted which featured a registered sex offender. The story, which dominated her press engagements at the Toronto International Film Festival, only grew when it was reported that some of Munn's male co-stars had backed out of doing press with her to avoid the issue, causing the actor to feel isolated. On Tuesday, Olivia Munn opened up about promoting The Predator without the support of her co-stars in a new interview with Ellen DeGeneres. And the actor alleged that she had been reprimanded by Twentieth Century Fox for taking the issue public (the studio has not commented in response).
On Friday, prior to the film's TIFF premiere, the Los Angeles Times reported that Munn had been instrumental in getting 20th Century Fox to remove a scene featuring actor — and friend of Predator director Shane Black — Steven Wilder Striegel from the final cut of the film. According to the report, Striegel pleaded guilty in 2010 to allegations that he attempted to lure a 14-year-old girl into a sexual relationship via the internet and served six months in jail after pleading guilty to two felony charges — risk of injury to a child and enticing a minor by computer. (In a statement to the L.A. Times, Striegel denied that his relationship with the girl, who he said was a "distant relative," was ever sexual.) Munn was the only Predator cast member to provide a comment for the article, and has thus been met with the brunt of questions and media speculation on the matter.
As Munn recounted during her appearance on The Ellen DeGeneres Show, the entire ordeal has felt very isolating for her. "Nobody said anything to me about it," Munn told DeGeneres in regards to how her castmates acted after the news of Munn fighting to take out the Predator scene featuring Stiegel went public. "Nobody talked to me. Nobody reached out that whole day." And, while she wondered if they didn't make statements because they didn't know what to say, "Privately," she said, "I did feel iced out."
In her interview, Munn also revealed that it was an "acquaintance" who told her that Striegel was a registered sex offender. The actor recounted how she then called the studio to implore them to delete Striegel's one scene, which featured him playing a jogger who repeatedly hits on Munn's character. The studio complied, but Munn told DeGeneres when she then called her Predator co-stars individually to tell them "so they wouldn't be blindsided like I was," she was allegedly reprimanded for it. Munn alleged that the response from the studio was, "Why am I not just keeping quiet?"
The actor knew that denying what had gone on would be dangerous. "When we do movies we have this reach. It goes everywhere," Munn told DeGeneres. "There's people all over the world that see what we do. And just that tiny drop of fame can be used to hurt an impressionable person and that's just not OK." Munn also added that, while other actors might be worried about speaking up against a studio — a move that could negatively affect one's career — she feels that this particular issue is not worth her silence. "I don't care if this movie gave me all the money in the world and all the power. If it costs one person's life, they can take it," she told DeGeneres. "I don't want this career."
Munn also stressed that she's hoping to bring the focus to a system that is broken and still needs to be fixed. "The reality is the people who collude to keep people like this in positions of power that's the real problem," she explained. "The people who keep turning blind eyes."
It's why Munn has been disappointed by the slow response or lack thereof entirely by her male co-stars like Keegan-Michael Key, Boyd Holbrook, Thomas Jane, and Trevante Rhodes. Munn was notably the only Predator cast member who gave a statement to the L.A. Times, and she has continued to speak out about the issue while promoting the film at TIFF. Many of her male co-stars, however, avoided the subject, only speaking about it when directly asked. Moreover, reports alleged that some of her co-stars had dropped out of doing press with Munn in an effort to avoid the subject. Holbrook admitted as much in an Instagram statement shared on the night of Sept. 10. "It is true that I pulled out of a small amount of press on Saturday, as this type of social commentary is new to me," he wrote in his statement. He also apologized for taking so long to speak out, and offered his support to Munn, writing:
"I want to start by apologizing for this statement coming late in the current conversation.... I have stated before, and I will state it again, I am proud of Olivia for the way that she handled a difficult and alarming situation, and I am grateful that Fox took the information seriously and took action swiftly."
Holbrook's statement comes after co-star Sterling K. Brown, who was not at TIFF, expressed his support for Munn via Twitter, while Key denied backing out of press in a statement to Slate. "Keegan reached out to Olivia privately last week to let her know how proud he was of her, and echoed that sentiment in many interviews since then," read the statement. Munn later confirmed on Twitter that Key was not one of the co-stars who had backed out of a scheduled interview, but stood by her statement that he had not reached out to her personally after the L.A. Times article was published. She also added that it was the cast's public reaction to their director at the film's premiere that gave her pause, writing, "it was the cast's public and private silence since the story broke and their decision to be the only ones at the premiere to give Shane a standing ovation that made me feel isolated."
Black has issued an apology, as obtained by Bustle, following the release of the L.A. Times story stating he was "misled by a friend I really wanted to believe was telling me the truth." However, in an interview with the L.A. Times at TIFF, Munn emphasized that she had not heard personally from the director and did not accept his apology.
Despite the upsetting recent events, Munn did tell DeGeneres that the support from fans has been helping her feel less alone. "The public, social media, fans, strangers on the street, all of the news outlets have been extremely supportive," she said. It's clear Munn doesn't regret speaking out, but she did make sure to say that you can't expect others to always have your back, especially in Hollywood. "When you see something, you have to say something," she added. "However it's not going to be easy. And there will be people that just get mad at you for not playing the game."
It takes bravery to speak out in the way Munn did and she deserves support not only from fans, but from those in Hollywood. After #MeToo, Hollywood patted itself on the back for taking steps to change its workplace culture to make it safer for its female stars. But the silence on this issue speak volumes about how much work the men in Hollywood still need to do when it comes to supporting their female costars.
If you or someone you know has been sexually assaulted, call the National Sexual Assault Telephone Hotline at 800-656-HOPE (4673) or visit online.rainn.org.