Olivia Munn's Male Co-Stars Are Starting To Respond To The 'Predator' Controversy — Finally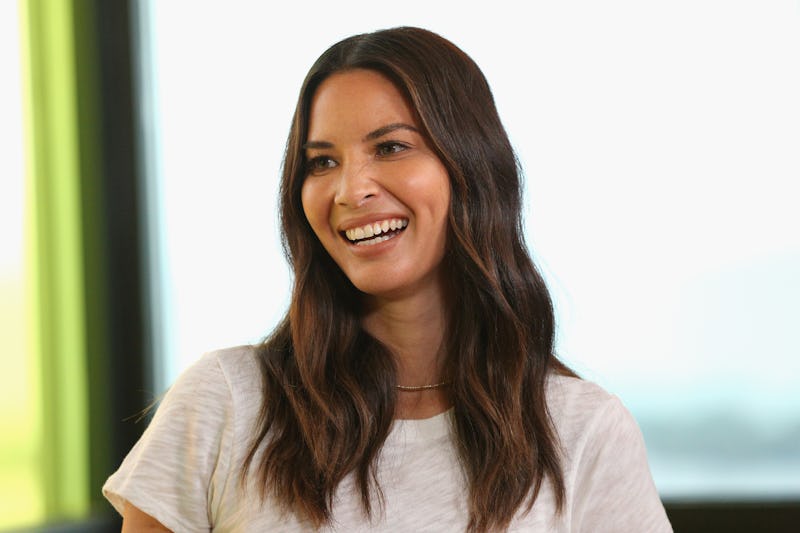 Rich Polk/Getty Images Entertainment/Getty Images
After a period of silence, several of Olivia Munn's The Predator co-stars have finally addressed the controversy that has been dogging the film. Initially, in an interview with Vanity Fair while promoting the movie at the Toronto International Film Festival, Munn alleged that she'd been abandoned by her male co-stars to do press on her own in light of her insistence that a registered sex offender be removed from The Predator. However, after her comments, co-stars Keegan-Michael Key and Sterling K. Brown have spoken out in statements that run the gamut from defending themselves to supporting Munn.
When Munn first alleged that some of her male co-stars had distanced themselves from her at press engagements following her statements about sex offender Steven Wilder Strigel's presence in a Predator scene, reports swirled that one of these engagements was an interview with The Hollywood Reporter. Senior staff writer for THR, Chris Gardner, who interviewed Munn over the weekend, claimed that several of her castmates backed out of appearing alongside her, writing on Twitter, "she did it alone." Munn indeed tackled the controversy by herself, a fact which she mentioned during her interview. When asked about how she was holding up amid the controversy, the actor said, "It's a very lonely feeling to be sitting here by myself when I should be here with the rest of the cast."
Gardner did not provide any names as to who might have allegedly canceled the interview, but other actors from the film doing interviews with other outlets that day included Trevante Rhodes and Augusto Aguilera. Boyd Holbrook, Thomas Jane, and Keegan-Michael Key, meanwhile, also conducted interviews at TIFF that weekend, though it's unclear who among them, if any, was scheduled to speak to THR.
Key, who previously participated in an interview with Munn for Variety, issued a statement via his publicist, telling Slate on Sunday, Sept. 9, that he was "never booked to do an interview" with THR. The publicist claimed that "Keegan reached out to Olivia privately last week to let her know how proud he was of her, and echoed that sentiment in many interviews since then." The only other actor to speak out on their own that weekend was Brown, who was not at TIFF. In a series of five tweets, Brown explained his absence from the film's premiere, and threw support behind Munn for coming forward with her concerns. The This Is Us actor said, in part:
"I'm sorry you're feeling so isolated, my dear. And I'm sorry you've been the only one to speak up publicly. I was not at #TIFF so I didn't have an opportunity to be there with you."
He noted that he believed Munn "did the right thing" in taking action, and added that he appreciated her decision not to "leave well enough alone."
Prior to Munn's interview with Vanity Fair, Rhodes and Aguilera did appear in a group interview with the Los Angeles Times alongside their co-star, where they added their voices to hers. Rhodes told the outlet he was "disappointed in the situation," and Aguilera added, "There's a serious issue here that Liv was able to point out," referring to Munn. "I don't think you need a platform to call this [type of behavior] out," he finished, while Rhodes added, "Call it out. Live it out." This conversation, it is important to note, appears to have taken place before Munn spoke to Vanity Fair, which reported that she felt some of her male co-stars were leaving interviews with her after the topic of the controversy was brought up.
This all began on Thursday, Sep. 6, when the L.A. Times reported that Munn had successfully pushed for the removal of a scene from The Predator that featured Striegel. According to the Times, the actor discovered in August that Striegel had been required to register as a sex offender after a 2010 conviction on two felony charges: risk of injury to a child and enticing a minor by computer. Striegel denied those allegations in a statement, saying, "The only thing I was ever charged with were words in an email." The 47-year-old pled guilty to the felony charges listed above, and served a six-month sentence.
Through all of his legal issues, Striegel had maintained a friendship with Predator director Shane Black, and after his release and with knowledge of his conviction, Black cast his friend in a series of his films. First was a role in 2013's Iron Man 3, followed by 2016's The Nice Guys, and, ultimately, 2018's The Predator, for which Striegel filmed a three-page scene with Munn in which he plays a jogger who repeatedly hits on her. When asked about his decision to hire Striegel in the initial report from the L.A. Times, Black released a statement, which read in part:
"I personally chose to help a friend. I can understand others might disapprove, as his conviction was on a sensitive charge and not to be taken lightly."
Munn is the only member of the film's cast who shot scenes with Striegel, so when she discovered his past, she contacted the studio to report her unwillingness to promote the movie while Striegel remained a part of it. Fox promptly pulled the scene from the completed film, but Munn told Variety that she wasn't updated on the situation. The actor told the outlet:
"When I called, [Fox] was silent for two days. I did have to reach out again and say I didn't feel comfortable presenting at the MTV Awards with Keegan [Michael Key] unless this guy was out of it. I'm not saying they weren't working on it behind the scenes. I just didn't hear anything about it."
Munn noted that she was pleased with the response from the studio, but told The Hollywood Reporter on Saturday that she was still waiting for the response of the individuals associated with the film to catch up, notably calling out the film's director. After the L.A. Times story broke, Black issued another statement, expressing his regret. "Having read this morning's news reports, it has sadly become clear to me that I was misled by a friend I really wanted to believe was telling the truth when he described the circumstances of his convictions," Black said in a new statement released to Bustle. He apologized to his cast and the audience, writing, "After learning more about the affidavit, transcripts and additional details surrounding Steve Striegel's sentence, I am deeply disappointed in myself."
But, while speaking to The L.A. Times at TIFF, Munn alleged that Black never reached out to her directly with any kind of apology, instead skipping the film's premiere and refusing to do any press thus far. It seems that many of Munn's male co-stars are following his lead, choosing not to address the topic head-on, only mentioning it when specifically asked.
While it's nice to hear some of her castmates beginning to chime in now, one can't help but wonder if it's too little, too late. Even with Brown and Key's statements, Munn's voice still rings loudest and clearest. And until more of her male co-stars step up, she will continue to be forced to act alone when she shouldn't have to.
If you or someone you know has been sexually assaulted, call the National Sexual Assault Telephone Hotline at 800-656-HOPE (4673) or visit online.rainn.org.