Olivia Munn Helped Get A Sex Offender Removed From Her New Movie, But She Shouldn't Have Had To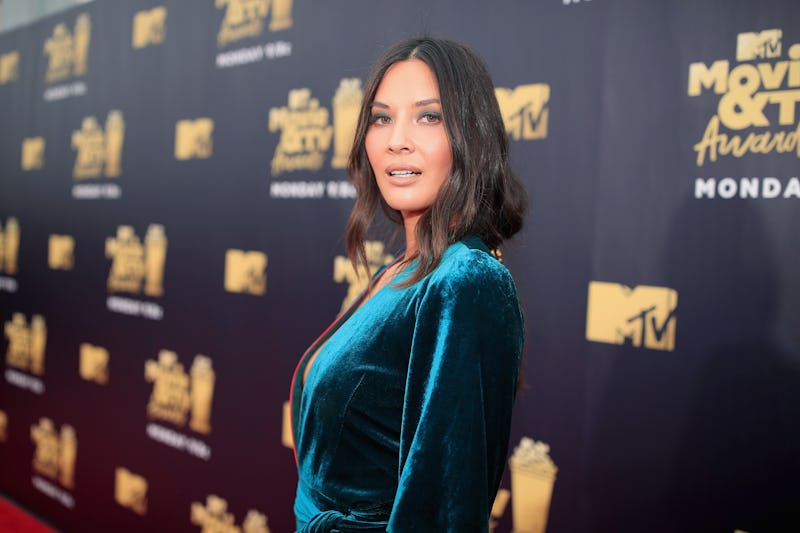 Christopher Polk/Getty Images Entertainment/Getty Images
The Los Angeles Times reported that Olivia Munn fought to have a registered sex offender removed from The Predator — and won. Just weeks before the film is set to hit theaters, Twentieth Century Fox reportedly deleted a scene featuring Steven Wilder Striegel, who pleaded guilty in 2010 to allegations that he attempted to lure an underage girl into a sexual relationship via the internet. According to the L.A. Times, the 47-year-old Striegel was given a part in the film by Predator director Shane Black, who is the actor's friend and did not disclose details about his past to anyone working on the film. This included Munn, who appeared in the now-removed scene with Striegel. Once Munn became aware, she knew she needed to take action so that this wouldn't happen again.
UPDATE: On Thursday afternoon, Black issued an apology to Variety. Bustle later received the same statement. The director's message reads, in part:
"Having read this morning's news reports, it has sadly become clear to me that I was misled by a friend I really wanted to believe was telling me the truth when he described the circumstances of his conviction. I believe strongly in giving people second chances – but sometimes you discover that chance is not as warranted as you may have hoped."
Black's apology continued, "After learning more about the affidavit, transcripts and additional details surrounding Steve Striegel's sentence, I am deeply disappointed in myself. I apologize to all of those, past and present, I've let down by having Steve around them without giving them a voice in the decision."
EARLIER: Munn reportedly realized Striegel was a registered sex offender last month and immediately shared the information with the studio, who revealed in a statement to the Los Angeles Times that they were "not aware of Mr. Striegel's background when he was hired" because of "legal limitations that impede studios from running background checks on actors."
However, Black did know about Striegel's past and chose not to share the information with the studio. "I personally chose to help a friend," Black wrote in a statement to the L.A. Times. "I can understand others might disapprove, as his conviction was on a sensitive charge and not to be taken lightly."
Bustle reached out to Twentieth Century Fox, Striegel, and Black for additional comment, but did not receive an immediate response. Munn's rep stated in an email to Bustle that "the only statement will be the one she provided to the Los Angeles Times."
In a series of emails with the L.A. Times, Striegel stated that his 14-year-old accuser was one of his "distant relatives," who spoke to him about "a multitude of problems she was facing, including being a truant, being pressured to do drugs and alcohol, and that she had started having sex, as well as many other things." Striegel denied that their relationship was ever sexual, but admitted that he "made the the very bad judgement call of telling her in these emails that she was attractive, and sexy, and not a failure, etc." Striegel reportedly served six months in jail after pleading guilty to two felony charges — risk of injury to a child and enticing a minor by computer. "The only thing I was ever charged with were words in an email," Striegel stated.
But according to the L.A. Times, a March 2009 arrest warrant affidavit stated that Striegel allegedly inappropriately touched the girl, who is identified as "Jane Doe," accusing him of "kissing, touching Doe's breast over her clothing, rubbing her legs and stroking her neck."
Striegel told the Los Angeles Times that Black, who he's known for "14 years, well before this incident" was "aware of the facts." "Shane can speak for himself," Striegel wrote, "but I'm quite certain that if he felt I was a danger in any way to have around, he would not have" cast him in the part.
Black, who had previously cast Striegel in small roles in two of his other films — 2013's Iron Man 3 and 2016's The Nice Guys after he served his sentence — stated that he thought his friend had been "caught up in a bad situation versus something lecherous." But no matter what Black thinks about his friend's allegations, he put others in an uncomfortable position, specifically Munn, by not being open about Striegel's past.
In casting Striegel, Black put his friendship before the safety of the women on his set, who deserved to know that Striegel is a registered sex offender. It appears that Black never considered how Munn might feel about sharing a scene with Striegel, who reportedly played a jogger in the movie who repeatedly hits on her character. Worse, Black didn't give Munn a chance to decide for herself how she felt about Striegel's casting because he never talked to her about it. Instead, she had to come to this discovery on her own and make the tough choice to speak out.
Munn told the L.A. Times that it was "both surprising and unsettling that Shane Black, our director, did not share this information to the cast, crew, or Fox Studios prior to, during, or after production." But, she also commended the studio for taking swift action. "I am relieved that when Fox finally did receive the information, the studio took appropriate action by deleting the scene featuring Wilder prior to release of the film," she said.
Shortly before the Los Angeles Times story was published, Munn tweeted a message that seemed apropos of what fans would learn about her latest film: "Wrong is wrong, even if everyone is doing it. Right is right, even if no one is doing it."
Munn also wrote how her mom taught her speak up, even when it's difficult to do so. "It's not our job to stay silent so that others can stay comfortable," she continued. "Use your voice to shape the world or others will shape it for us."
It's unclear if Munn was referring to what she experienced with The Predator, but it's clear this is an example of her speaking up so that she could shape a world in which this wouldn't happen again. In the age of #MeToo and Time's Up, women are fighting to make the workplace safer for everyone. But Munn's story shows how hard it is to do that when some in the industry are choosing friendship over safety. It's also another example of just how far Hollywood still needs to go to keep women safe.
If you or someone you know has been sexually assaulted, call the National Sexual Assault Telephone Hotline at 800-656-HOPE (4673) or visit online.rainn.org.