Mirai Nagasu Shared What It's Like To Figure Skate On Your Period & It's Too Relatable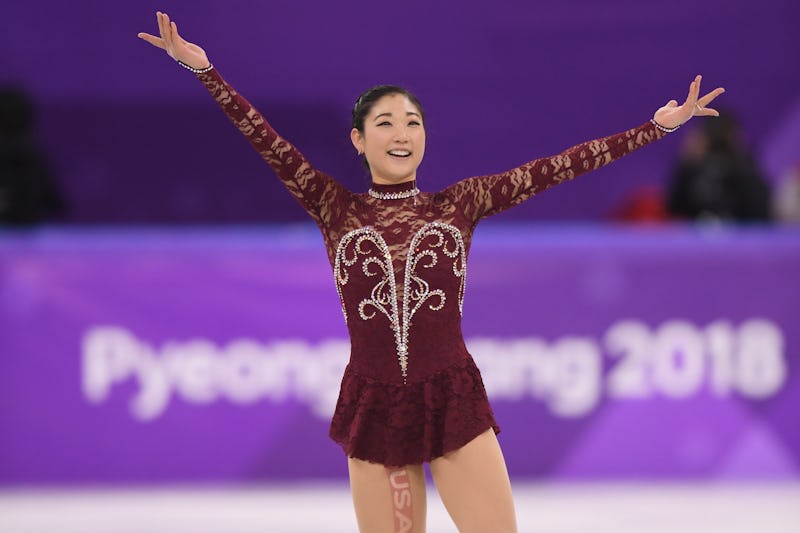 Harry How/Getty Images Sport/Getty Images
If you have been following the Olympics in PyeongChang, you already know the women who are competing in the games have been making history. Mirai Nagasu, a figure skater for Team USA, is among those athletes who have accomplished groundbreaking achievements since the winter Olympics began at the beginning of February: She became the first American woman ever, and only the third woman ever, to land the notoriously difficult triple Axel during the 2018 Winter Olympics. Despite the fact that the 24-year-old is a world class athlete, she still has to deal with day-to-day annoyances — like the possibility of getting her period while she competes. In a hilarious interview, Nagasu shared what it's like to figure skate on your period, and it's all too relatable.
When asked by Cosmopolitan about getting her period while on the ice, Nagasu's answer was short, straightforward, and funny AF: "It's really not that big of a deal. You just stick a tampon up there," she said.
Nagasu added that exercising during that time of the month actually soothes her period-related pain, saying that, "Periods can induce cramps for me, which I find exercise helps [alleviate]." And Nagasu is not alone: According to menstrual cup maker Ruby Cup, studies have shown that exercising while on your period not only delivers a dose of mood-boosting endorphins, but it also helps ease cramping and symptoms of PMS.
Moreover, Nagasu told Cosmopolitan that while she's never experienced any period leakage while participating in competitions, she wouldn't let it embarrass her or impede her success she did have a menstrual mishap. "You just have to pretend like it never happened," she said.
Nagasu's candidness about dealing with her period while working and competing is super refreshing, not to mention super relatable. Most people who menstruate don't have the luxury or ability to call off work, and relax when it's time for, well, that time of the month. You often have to deal with PMS, or accompanying period pain while still completing work tasks and other day-to-day activities — similar to, you know, if you get your period right before you're set to compete in the Olympics. (For what it's worth, while it's not a common practice, some countries — including Japan, South Korea, Taiwan, and Indonesia — allow people to take paid time off for period pain.) But, like Nagasu, most of us just stick in a tampon or menstrual cup, or slap on a pad, and it is time to go.
Fortunately, Nagasu told Cosmo she had her period right before the winter games, so she didn't have to deal with it while competing. However, I don't think being on her period would (or could) keep Nagasu from killing it in PyeongChang. As People reported, Nagasu became the first female figure skater competing for the U.S. to ever land a triple Axel jump — instantly making history. The triple axel jump requires three-and-a-half rotations in the air before landing, and is widely considered one of the most difficult and technical moves in figure skating. Meaning, it takes exceptional skill and practice to achieve the move — both of which Nagasu seems to have in spades.
Nagasu's take on getting your period while you're active or busy AF is an experience almost anyone who deals with their period can relate to, no matter your level of athletic ability. Sometimes, the only option is to grab the period product of your choice, "stick [it] up there," and keep on going about your day — whether you're an Olympic athlete or work in an office. Hopefully, Nagasu's words will serve as serious menstrual inspo next time you're caught off guard with your Aunt Flo.