You Need To Watch Mirai Nagasu's Triple Axel Before You Do Anything Else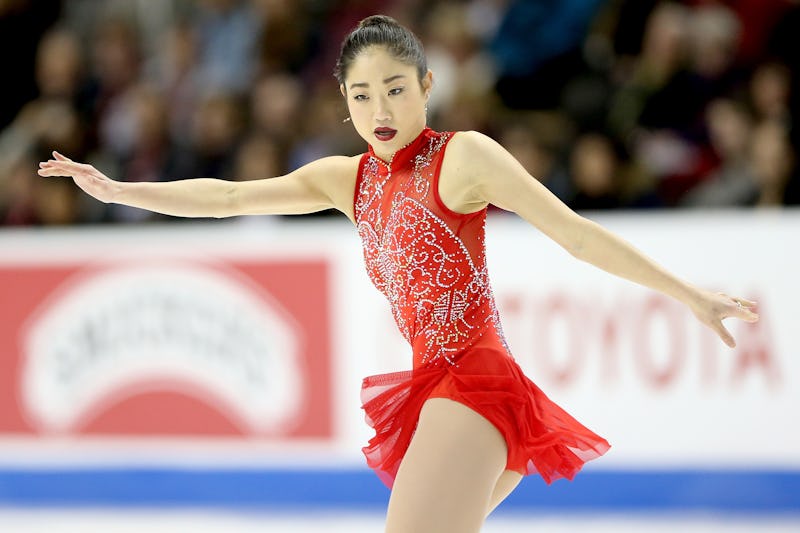 Matthew Stockman/Getty Images Sport/Getty Images
You can always bet on the fact that the Olympics are a place where history happens — no matter where they take place, no matter what sport you're watching. If you're a figure skating fan, then you've already seen that happen in PyeongChang, with Mirai Nagasu's skate in the team event. But even if you already watched it live, the video of Mirai Nagasu's triple axel will leave you grinning from ear to ear.
It may look like figure skaters' jumps are all the same, but that couldn't be farther from the truth. In fact, they range in difficulty and technique, and the axel is the most difficult figure skating jump. Because of this, only a few women have even attempted the vaunted triple axel in history, much less landed it. When Nagasu landed the triple axel in PyeongChang, she became only the third woman — and the first American woman — to do so at the Olympics.
What makes the axel so difficult is its entry — skaters have to enter it head-on and then they land going backwards, so a triple axel actually involves three and a half rotations. If it looks like Nagasu simply becomes a spinning blur while she's in the air, it's because she has to fit those rotations in before gravity pulls her back to the ice.
The two women that have previously accomplished this impressive feat at the Olympics are both Japanese skaters, Midori Ito and Mao Asada. Two American women have also landed triple axels in the past, although not at the Olympics — Tonya Harding in 1991, and Kimmie Meissner in 2005.
Nagasu has actually busted the jump out in competition before, at the U.S. International Figure Skating Classic in 2017. Prior to that, she had let it be known on her social media channels that she was working on getting the triple axel into her routine.
Even competing in PyeongChang is a real dream come true for Nagasu, who was excluded from the 2014 Sochi team because they decided to include Ashley Wagner. Wagner placed lower than Nagasu in the qualifying events, but officials believed she had a stronger resume internationally speaking than Nagasu.
Now, eight years after she first stepped onto Olympic ice at the 2010 Vancouver Games, Nagasu is back, and she came prepared. In fact, the triple axel and the numerous other difficult jumps that she landed in her team event routine earned her a personal best score.
In the team event, though, each skater or pair's personal scores only contribute to the fate of the team — and in Nagasu's case, her personal success became a big part of Team USA's second straight bronze in the figure skating team event.
"This is definitely history, or herstory, whatever way you want to put it," Nagasu told Team USA. "I felt a lot of pressure, because it's a responsibility and a job and I owe it to my teammates as well."
After her skate, Nagasu told the Associated Press:
I feel really great. Going into it, I was like a train and I was like, "Get on the tracks and get some speed." And, I tripped a couple times. I don't know if you could tell. It was more something I could feel, but to nail it the way I did, even out of the corner of my eye, I could see my teammates standing out of excitement. And at that moment, I wanted to stop the music and get off, but I still had my whole program ahead of me.
By landing the jump successfully, Nagasu definitely upheld her part of the bargain. She's still got the individual competition ahead of her, but now she can enter it with a bronze already under her belt and the knowledge that she's capable of landing that triple axel on figure skating's highest stage.