Omarosa Claims Betsy DeVos Had This To Say About Black College Students Who Booed Her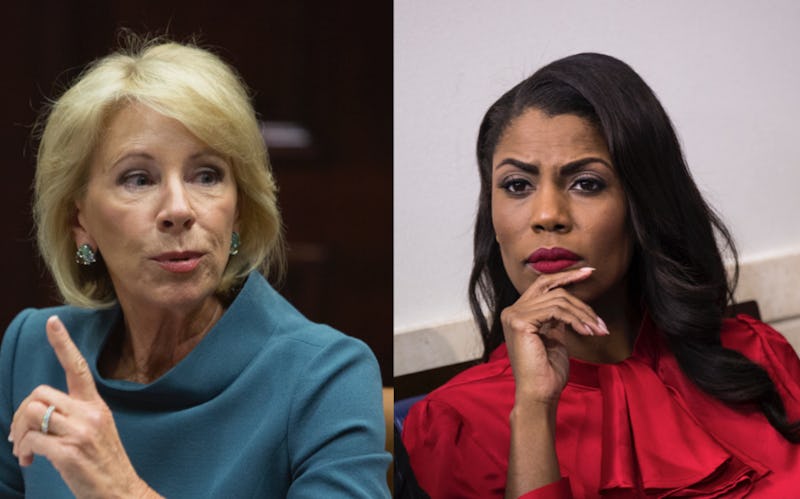 Drew Angerer/Getty Images News/Getty Images and Pool/Getty Images News/Getty Images
The Trump administration's latest whistleblower has stories to share about the U.S. Secretary of Education. In her new book Unhinged: An Insider's Account of the Trump White House, Omarosa Manigault Newman claimed Betsy Devos disparaged the students at Bethune-Cookman University, an HBCU in Florida. After her commencement address there in May, DeVos allegedly told Manigault Newman that the students lacked "the capacity to understand" her agenda.
Liz Hill, a spokesperson for DeVos, told Politico that Manigault Newman's allegations about the education secretary are not true. "This disgraced former White House employee is peddling lies for profit," she said. "The book is a joke as are the false claims she's making about Secretary DeVos." "The Secretary absolutely never said that," Hill adds in response to Bustle.
Many Bethune-Cookman students protested DeVos' appearance this spring, with one student reportedly getting 60,000 signatures on a petition requesting the university rescind its invitation, according to CNN. DeVos' address proceeded as planned, but not without dissent: Large numbers of graduates stood and turned their backs to the education secretary, and so many students booed her that the president threatened to stop the ceremony and mail out degrees, per CNN.
Suffice it to say, the speech did not go over smoothly. Manigault Newman was surprised, then, when DeVos allegedly told her after the event, "I did great!" In Unhinged, Manigault Newman writes that "I must have looked stunned." She says that DeVos added, "They don't get it. They don't have the capacity to understand what we're trying to accomplish."
According to Manigault Newman, DeVos was implying that "all those black students were too stupid to understand her agenda." She says she replied, "Oh, no, Madam Secretary. They get it. They get it, and they aren't happy about you or your goals."
That's not all that Manigault Newman has to say about DeVos in Unhinged. According to Politico, she also calls the education secretary "woefully inadequate and not equipped for her job." She blames DeVos for the Trump administration's decision to downsize an HBCU conference last September, claiming that she was the "number one driver for cancellation."
Manigault Newman also alleges that President Donald Trump criticized DeVos in private, suggesting that he would fire her and referring to her "Ditzy DeVos." Although the president and education secretary seem to have occasionally disagreed on policy, there haven't been many reports of tension in their relationship — especially not in comparison to other members of the administration. Mike Cohen of the education nonprofit Achieve told Education Week in March that he didn't expect Trump to fire DeVos because "she's just not visible or important enough for him to worry about."
Manigault Newman — who was the most senior black advisor to the president until she was fired in December — herself attended two HBCUs, Central State University in Ohio and Howard University in Washington D.C. She writes in Unhinged that she "was on a mission for increased education funding for HBCUs" at the White House.
While Unhinged contains plenty of stories about the education secretary, it focuses more on the president. Manigault Newman alleges, for example, that a tape exists of Trump using the n-word (the the White House has not specifically said that this allegation is false) and that she had to tell him not to call a black audience "you people" during a Black History Month speech.
For his part, Trump has tried hard recently to discredit Manigault Newman and her book. He's tweeted insults at her several times this week, calling her a "crazed, crying lowlife" and a "dog."
Editor's note: This article has been updated to include input from Liz Hill to Bustle.