Gia On 'Fuller House' Turned Out The Way Marla Sokoloff Hoped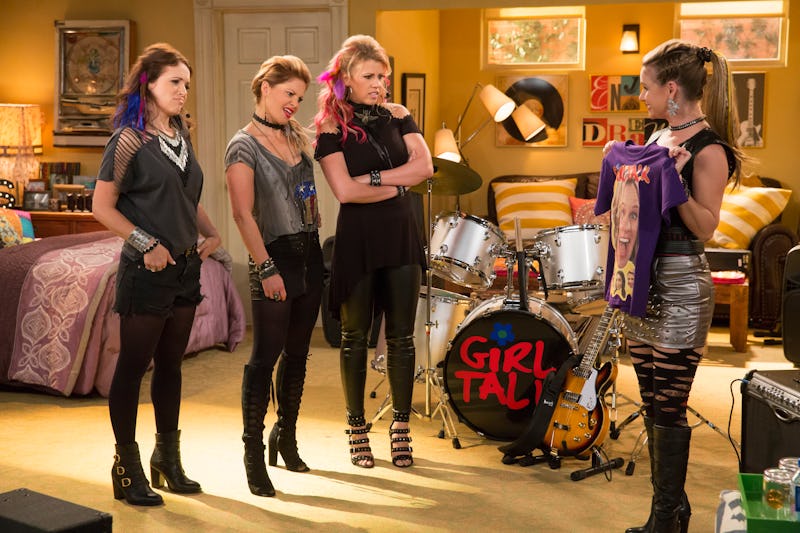 There are SPOILERS ahead for Fuller House Season 2. Marla Sokoloff first appeared on the classic '90s sitcom Full House at age 12 as Gia, Stephanie Tanner's rebellious friend. Fast forward to 2016: the comedy series has a spinoff on Netflix — and Marla Sokoloff guest starred as Gia on Fuller House Season 2. The seventh episode of the season showed Stephanie and Kimmy reviving their old band Girl Talk, and reconnecting with Gia, who is now a charity walk-loving mom who is too cool for her trademark cigarettes these days. In an interview with Bustle, Sokoloff tells me that her highly-anticipated appearance on Fuller House has been in the works for awhile.
"I was so psyched that they asked me to come back," Sokoloff says. "During the first season, everywhere I went, people seemed to ask me if Gia was going to come back. I didn't really have a straight answer for anybody." She recalls that when the show was in its early stages, Fuller House had told her representatives that if the show got a Season 2, they had plans to include Gia.
"I had hoped that I would and that I would get to revisit the character, but I didn't really know," Sokoloff continues. "But when I found out that I would be in Season 2, it was super exciting, but I wasn't allowed to say anything, so I had to keep it quiet."
But at last the long-awaited episode dropped on Netflix earlier this month and it was quite a nostalgia trip, even for Sokoloff as she was filming it. "When I got there, it was very surreal," she says. "The energy was really great, because everybody was so happy to be back and so grateful to have this experience again. It didn't feel like so much time had passed."
It's been 23 years since her first Full House appearance (really) and, like Gia, Sokoloff is now a mom — and she says that her character's evolution was realistic as a mother and a woman. "I think it's so great that she runs for nine charities and has all these kids, but she's going through a messy divorce, and still smokes," Sokoloff says. "She's still herself, because we all really are just flawed human beings, doing the best we can."
Sokoloff is married to composer Alec Puro and they have two daughters, Elliotte Anne and Olive Mae, who she says are too young to watch or know about Full House yet. But some of her friends' children have gotten into the classic series — and have now become starstruck around her. "It's so funny to think that now Gia has become something to these new fans, years later," she says.
As for the longtime fans, Sokoloff admits that she was nervous to find out their reaction to the episode — but she was pleasantly surprised by all of the positive feedback she received on social media when Season 2 premiered on Friday, Dec. 9.
"Full House and Fuller House have some of the nicest, most supportive fans, and most excited fans. I feel like the energy is nothing I've experienced before," she says. "I was scared to go on Twitter, because I wasn't sure what people were going to say, but it was a really fun Friday, hearing from people and really excited fans."
And if Fuller House gets renewed for a third season, fans will have to wait and see if Gia returns for more episodes in the future.