Why '2 Dope Queens' Wants You To Ask The Questions You're Not "Supposed" To Ask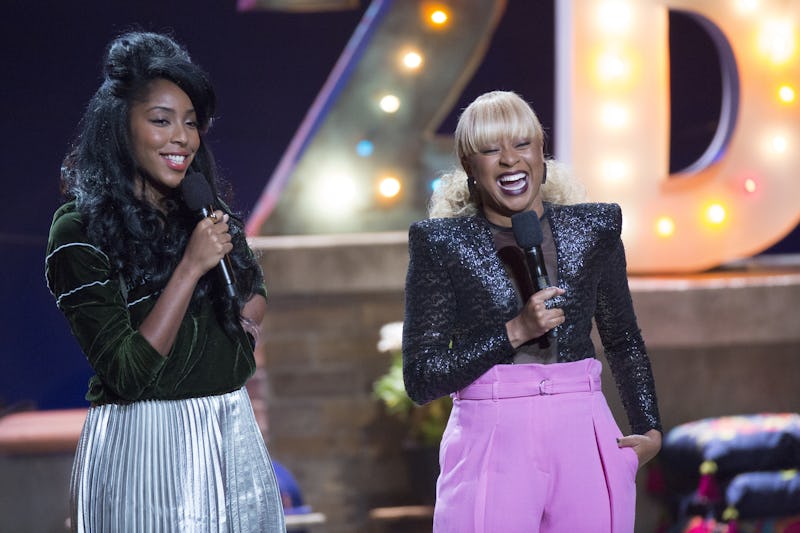 Mindy Tucker/HBO
When Sarah Jessica Parker is the guest on a episode of 2 Dope Queens (the Tig Notaro-directed HBO standup series based on the podcast) titled "Hair," everything seems pretty straight forward. After all, 2DQ executive producers and hosts Jessica Williams and Phoebe Robinson are not shy about how much they adore her; and Parker's iconic coifs on Sex & The City (writer: Candace Bushnell) made women everywhere envy her perfectly tousled curls. So, naturally, she's a hair expert on the hair episode, and that's all this cute little guest stint about, right? Not so much. In Episode 2 of the HBO series, when Parker steps on stage at the King's Theater in Brooklyn, New York, the titular Dope Queens make a point of asking her if she has any questions about a type of hair she may be less familiar with — namely, black hair. And with that, the audience hushes, Parker's eyes drift upward, and things get awkward. But if you ask Robinson, one architect of this potentially precarious conversation between a white woman and two women of color, the moment was actually everything she'd hoped for and more.
"Chatting with [SJP] about black hair, I was like, this is a dream come true, this is something I didn't know I needed in my life. It was wonderful and it was definitely a highlight," says Robinson. She's curled up on a couch in the Waldorf-Astoria lobby in Park City, Utah after having just finished her first morning at the 2018 Sundance Film Festival, and she's feeling pumped for fans to finally see the televised series based on her beloved WNYC podcast with Jessica Williams when it premieres on HBO Feb. 2.
... Sometimes people can make you feel like if you don't know something, you're an idiot or you're bad...
She's also pumped for audiences to see this moment with Parker, because it's a result of the two Dope Queens' particular, though (to Robinson) inexplicable, knack for making celebrities feel at ease.
"I think one of the things — I don't know how Jess and I do it — but whenever we have celebrity interviews on, we just get people to feel like really comfortable and relaxed. Because they realize I don't have to promote something and have all these soundbites ready, [they're] like, 'I can just ... be my goofy silly self,'" she adds. It's something audiences will also see when the first of four specials premieres and Jon Stewart takes the guest chair. On the episode, he asks for an explainer of the duo's self-appointed moniker: Cocoa Khaleesis. Robinson and Williams explain the "Cocoa" half, which leads to Stewart referring to himself as a "Lox Khaleesi" (clearly missing the Game of Thrones reference to Queen Daenerys Targaryen, aka Khaleesi). They don't call Stewart out, but Williams and Robinson do giggle at his expense (a bit). It's adorably awkward without being shamey or embarrassing for Stewart — it's simply all in good fun.
Then comes Parker. She attempts a few times to answer Williams' and Robinson's prompt by asking questions about black women's hair. But she can't get far without the audience balking or laughing uncomfortably to the point where Williams playfully tells everyone, "Shut your mouth, this is a safe space." But the hosts were aware — and happy — that the questions were making the audience squirm.
"The audience is like, 'Is this going to be offensive?' And like, no. She's just asking questions that anyone not familiar with black hair would ask, which I totally get, and she was great," says Robinson when we speak. But for a podcast-turned-TV special that typically appeals to a coastal, liberal audience, stepping out of line or asking a non-politically correct question can often seem like the biggest possible faux pas.
But according to Robinson, anyone who thinks that way is looking at the world all wrong.
"Beforehand, Jess and I were just like, you know what would be funny? ... If we were to be like, 'Hey, Sarah, do you wanna learn about black hair?' She was just like, 'Sure, yeah,'" says the comedian, as casually as can be. "And then she was just asking questions, and I was like, 'This should be what happens in the real world.' Because there are so many things that I don't know, but sometimes people can make you feel like if you don't know something, you're an idiot, or you're bad, as opposed to, 'I don't know something but I want to learn.'"
And in a world where, according to an Oct. 2017 Pew Research Study (and every recent visit to your own Facebook feed), America is more divided than ever, perhaps reversing this idea that uncomfortable questions are bad, or wrong, isn't such a terrible idea. Perhaps, if we all gave each other the room to ask the questions you're not supposed to ask, we just might start, oh I don't know, understanding the answers a little better.
And the best part? If you're not a beloved celebrity or a comedic duo with a television deal, you don't even have to attempt this not-so-easy feat while on stage at a packed Brooklyn theater, for all of HBO's millions of viewers to see.