On Thanksgiving, The Water Crisis Isn't The Only Issue Flint Families Face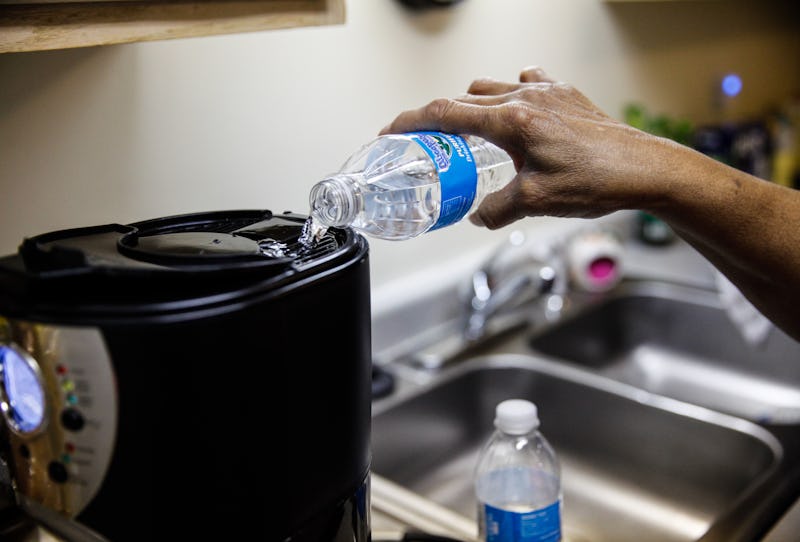 Sarah Rice/Getty Images News/Getty Images
Thanksgiving 2017 will mark the 1,308th day of the Flint Water Crisis, which began in April 2014 when the city switched its water supply from the city of Detroit to the Flint River to save money. The untreated water from the Flint River was reportedly corrosive and caused lead to coat city pipes, leading to contaminated tap water for the residents of Flint, MI.
While Flint may not make the news as much these days, its residents are still drinking, rinsing off their produce with, and cooking with bottled water everyday — including on Thanksgiving. But not only is Flint in the midst of a water crisis, making Thanksgiving dinner more difficult to prepare, but, according to City Lab, it is also a food desert. A food desert is an area in which more than 33 percent of the population lives more than a mile away from the nearest grocery store — which, between that and the ongoing water crisis, makes it "harder to do simple things," Jade Robb-Cosby tells Bustle. Robb-Cosby would know — the 27-year-old management consultant's family lives in Flint, and she has experienced the crisis firsthand.
It has been over three years since the beginning of the water crisis, and Flint's tap water is still not safe for people to consume. On its official website, the Environmental Protection Agency (EPA) states: "There is still a citywide water emergency in Flint and everyone, including pets, should drink filtered or bottled water until further notice." A press release posted to the city of Flint's official website on Nov. 22 announced that, "After months of meetings and mediation, Tuesday night the Flint City Council voted 5-4 to approve a 30-year contract for the Great Lakes Water Authority to serve as the City of Flint's primary water source, and utilize Genesee County as a backup water source." This means Flint will no longer get its water from the contaminated Flint River, but it doesn't mean the water is safe yet.
Despite Flint's water supply still being contaminated, the Flint Water Interagency Coordinating Committee, a group created by Michigan Governor Rick Snyder to address the public health crisis in Flint, has only met twice and cancelled its meeting for the fourth time in a row this month, stating "no agenda items" were received from FWICC members.
Some suggest that it is no coincidence that a city that is majority Black (over 50 percent) with many residents living below the poverty line is also a city where residents have been subjected to drinking and bathing in water that contains enough lead for the EPA to categorize it as "toxic waste." "Would more have been done, and at a much faster pace, if nearly 40 percent of Flint residents were not living below the poverty line? The answer is unequivocally yes," the NAACP said in a statement.
"While it might not be intentional, there's this implicit bias against older cities — particularly older cities with poverty (and) majority-minority communities," Democratic U.S. Rep. Dan Kildee, who represents the Flint area, told CNN in 2016. "It's hard for me to imagine the indifference that we've seen exhibited if this had happened in a much more affluent community," he said.
As a management consultant who lives between Flint, MI, and Washington, D.C., Robb-Cosby is used to traveling, but tells Bustle that after living through the water crisis, she doesn't drink tap water no matter what state she's in. Despite this environmental crisis having real implications on how Robb-Cosby lives her life, she tries to maintain a sense of normalcy. One of the ways she does this is by cooking for her family.
"I'm the cook of the family," she tells Bustle. "I don't shy away from cooking food that requires water. I don't want to give the situation that much power."
This Thanksgiving, Robb-Cosby says she will likely cook for her nuclear family and her step-father's five children who live outside of the home. One person cooking for 10 people can be a daunting task in any situation, but Robb-Cosby faces obstacles that those not living in the midst of a water crisis couldn't fathom.
"Flint doesn't actually have any grocery stores in the city limits," Robb-Cosby tells Bustle. Instead of stopping into a grocery store in their neighborhood, Robb-Cosby and her 56-year-old mother make the trek to the Super Walmart in Grand Blanc, a South Detroit suburb that's 15 miles away. The closest grocery store is 10 miles away, but according to Robb-Cosby, her mother doesn't like going there because the closer Walmart allegedly "checks receipts like you're robbing the place."
In addition to buying the food for the meal, Robb-Cosby always picks up about four jugs of water to add to the family's water stockpile. "Jugs are easier than water bottles to cook with," she says. The family typically budgets around $30 to $40 for water bottles and jugs each week. (The Flint government continues to provide bottled water to its citizens, but has reduced the number of distribution centers to only four, one on each side of town, which is less accessible for many residents.) "That's money that can't go to fruits and vegetables. It has to go to water," Robb-Cosby says.
The vegetables the family does buy are always rinsed off with bottled water. Robb-Cosby enlists the help of her brother to rinse and cut the vegetables. "When the news first broke, we didn't wash our dishes in the tap water, but we've become more relaxed," she tells Bustle. Despite being less strict regarding how the dishes are cleaned, Robb-Cosby is always mindful about how she prepares food when cooking in Flint. As someone who visits Flint frequently but lives in D.C., it's easy to slip up.
Robb-Cosby recalls Thanksgiving 2015 when her mother was recovering from a surgery that removed a noncancerous tumor, and she had to cook the meal all alone. She remembers going through "a ton" of water during Thanksgiving that year — seven jugs and 26 bottles to be exact. "We kept having to go back to the store for water," she says. "That was before we started stock piling."
"I don't shy away from cooking food that requires water. I don't want to give the situation that much power."
The water crisis is more than an inconvenience; research shows that lead has serious, negative health effects on the body. Camille Jones, the assistant health commissioner for the Cincinnati Health Department, tells Bustle,"There is no safe level of blood lead [...] Even at a blood lead levels of five ug/dl, which used to be considered in the normal range, we have found that the effects of lead exposure include decreased thinking ability, shorter attention span, increased tendency to hyperactivity, developmental delays, and reduced educational attainment." She continues, "At higher blood lead levels, effects include hearing losses, kidney problems and increased risk of high blood pressure as an adult, increased risk of involvement with the criminal justice system as an adolescent, and at very high levels, even death."
Robb-Cosby worries about younger people who have been exposed to lead, too. "These kids have been to exposed to lead and that impacts their cognitive reasoning," she says. "Will there be programs in place for children in Flint who have been poisoned, who may be more likely to commit a crime?"
The science is there, and the negative health consequences are already beginning to show. So why are the people of Flint still subjected to lead-contaminated water? "Nobody talks about it or complains about it anymore," Robb-Cosby says. "Even the people here. They've just accepted it as normal." People who know Robb-Cosby is from Flint often offer sympathy. "People give sympathy but never follow up with actions. People can't drink sympathy."
Most people haven't been to Flint, MI. It's not a popular tourist destination, and with news of the water crisis, those who would have visited the city are thinking twice. But just because you may not have a personal connection to Flint, it doesn't mean the ongoing water crisis shouldn't move you to action. "Eventually, things bleed over; whatever doesn't affect you today can be your reality tomorrow. When people begin to accept bad things as normal, it spreads," Robb-Cosby says.
Robb-Cosby encourages folks who want to help out those in Flint to donate water this Thanksgiving and throughout the year. "It helps when people donate. The water section in every grocery store looks like it would before a snowstorm in Atlanta." And water gets used quickly. Between cooking, drinking, bathing, washing clothes, and brushing teeth, a million water bottles can be used quickly when spread across an entire city.
If you observe Thanksgiving, be sure to give thanks for something we often take for granted — clean tap water. And show your thankfulness by giving to the people of Flint, people who have been in need of clean water for 1,308 days.