Team Adam Gets A New 'Voice' Contestant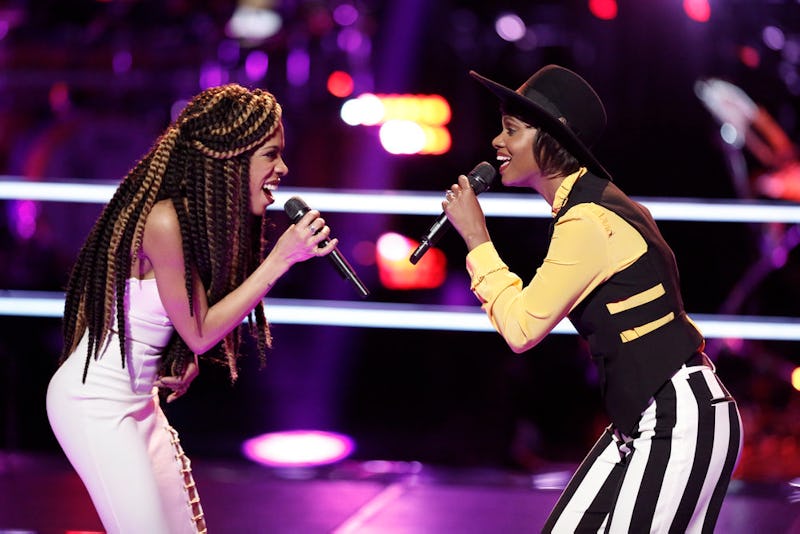 Tyler Golden/NBC
In a thrilling moment during the first half on Monday night's episode of The Voice, Autumn Turner went Team Adam. She didn't start out as a member of Team Adam and watching her get stolen by the Maroon 5 frontman for his team was one of the most thrilling moments to watch. While her former teammate Vanessa Ferguson stayed on Team Alicia, it looked like Turner would delay her return back to life as a figure skating coach for a little while longer.
At the beginning of Turner's battle segment, we got to see the rehearsal process for between she and Ferguson. Going into this battle, coach Alicia Keys noted that both of the singers had voices tailor-made for R&B: While Turner's voice was R&B-influenced with pop tinges, Ferguson's voice was the kind of soulful R&B that hit you right in the feels. This was going to be a tough battle.
Both Turner and Ferguson came in and ready to sing "Killing Me Softly" by Fugees. In rehearsals, guest coach DJ Khaled was there to keep the spirits up and help bring out the best qualities in Turner and Ferguson's voices. He also emphasized the importance of bringing something fresh to the song while remaining true to the essence of the song; this was no problem for either singer. Even in rehearsals, these two amazing singers were consistently neck-and-neck.
In the battle, Turner and Ferguson harmonized perfectly. As the song played on, it was clear that while Ferguson was deep in the soul, Turner was not going to hold back. She was there to show her vocal range. She went high, she went low. She soared when she had the chance to perform some amazing vocal runs and she was able to sing the heartbreaking chords of "Killing Me Softly" almost as well as Lauryn Hill did when she sang it. Turner's vocal acrobatics were on full display and it became apparent very quickly that if this was her last night on The Voice, it would be a crying shame.
Luckily, while Ferguson remained on Team Alicia, coaches Levine and Gwen Stefani wanted to steal her so darn badly. With the choice up to Turner, for her it was a no-brainer: Team Adam all the way.
Now that she's found a new coach who leans a bit more towards the pop side of the music industry, Turner can finesse those pop instincts while keeping her R&B edge. This is definitely a match made in heaven.