One Man Is Challenging Hateful ISIS Graffiti In Iraq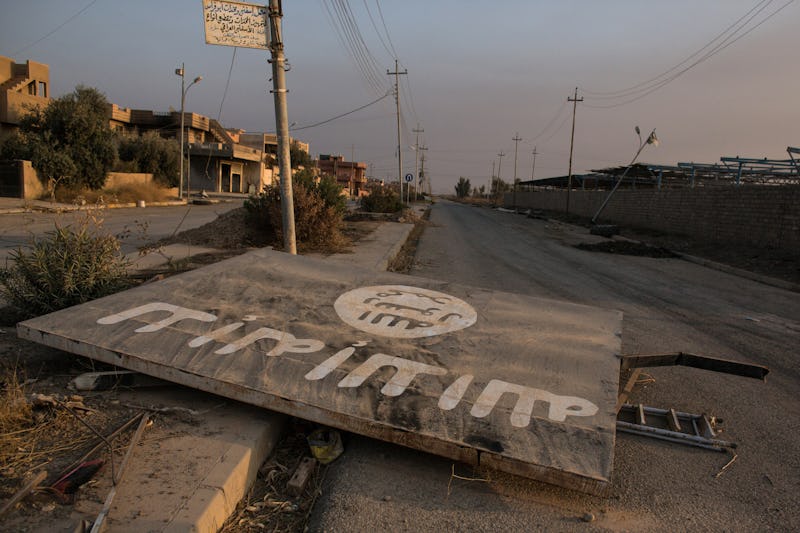 Chris McGrath/Getty Images News/Getty Images
As U.S. and Iraqi forces continue to push the Islamic State out of Mosul, Iraq's second largest city, residents in the city's liberated east are finding creative ways to remove the hateful graffiti left behind by the terrorist organization. A correspondent for the New York Times recently stumbled upon one man who, at the request of a senior citizens group, was turning Islamic State graffiti into beautiful thought-provoking art.
"All over liberated areas of Mosul, 1 of the 1st things people are doing is painting over ISIS graffiti. Some are being artistic about it," New York Times correspondent Rukmini Callimachi tweeted Saturday. One such person, Callimachi reported, is 39-year-old Sadoun Dhanoun, whom she spotted painting over hateful Islamic State graffiti with messages of peace and wisdom in a liberated area of the city.
According to Callimachi, a senior citizen group hired Dhanoun to paint over graffiti promoting violence and the Islamic State. While Dhanoun could have simply erased the Islamic State graffiti by covering them with plain paint and left it at that, he chose to counter the Islamic State's hateful messages with a few of his own. According to Callimachi, Dhanoun visited an internet cafe to research "wise sayings."
In bright magenta paint, Dhanoun replaced graffiti encouraging violence against infidels with the proverb, "In life, be like a cube of sugar, so that when you are gone you leave a sweet taste." Dhanoun reportedly told Callimachi he'd chosen the saying "because ISIS left everyone with a bad taste in their mouth."
With donations totaling less than $200, Dhanoun plans to paint a series of different "wise sayings" over Islamic State graffiti on at least seven walls in a liberated suburb of Mosul with the aim of bringing beauty back to the city, Callimachi reported on Twitter. "It'll be so pretty when he's done, he said, maybe drivers will be distracted," Callimachi tweeted.
U.S. and Iraqi forces have been working for months to drive the Islamic State out of Mosul, which has been the terrorist organization's most important stronghold in the country since mid-2014. After a more than three-month offensive, Iraqi forces managed to recapture eastern Mosul in late January, driving the Islamic State across the Tigris River and into the western section of the city. More recently, U.S. and Iraqi forces have been aggressively working to push the Islamic State out of western Mosul in a bid to completely liberate the city.
But the battle over Mosul has come at a high price for civilians, many of whom have been injured, displaced, or killed due to the fighting. Nearly 300 people were killed in an apparent airstrike targeting an area of western Mosul on March 17. If the death toll is confirmed it would reportedly be the largest civilian death toll recorded since the United States began fighting the Islamic State in 2014.
You can read Callimachi's entire tweet thread here.