The Women Of 'One Tree Hill' Have Accused Showrunner Mark Schwahn Of Sexual Harassment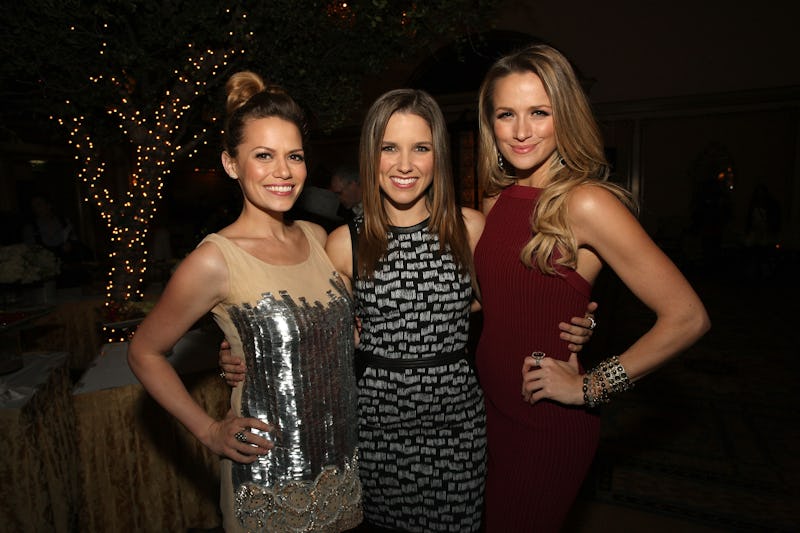 Frederick M. Brown/Getty Images Entertainment/Getty Images
It's never easy to hear someone share their story of sexual assault, and finding out that it allegedly happened on set of a beloved teen TV show is heartbreaking. On Monday, cast and crew from One Tree Hill wrote a letter accusing Mark Schwahn of sexual harassment during the time the show aired on The CW from 2003 to 2012. This letter comes just one day after a former writer from the show, Audrey Wachope, shared her story of harassment from Schwahn in a series of tweets. Bustle has reached out to an agent and lawyer for Schwahn for comment, but did not receive a response at the time of publication.
In the letter, 18 of the show's female cast and crew members — including Sophia Bush, Hilarie Burton, and Bethany Joy Lenz — banded together to share a joint statement about the way they were allegedly treated and spoken to when they worked with Schwahn, claiming that some of the women have been so deeply affected by the alleged experience of working with him that they are still receiving treatment for post-traumatic stress more than five years after the series ended. The letter claimed that these women felt they needed to be able to physically fight back against Schwahn's alleged advances when supervisors allegedly "were not the protectors they were supposed to be," and that they claims they unsafe in his presence.
The women claimed in the letter:
Many of us were, to varying degrees, manipulated psychologically and emotionally. More than one of us is still in treatment for post-traumatic stress. Many of us were put in uncomfortable positions and had to swiftly learn to fight back, sometimes physically, because it was made clear to us that the supervisors in the room were not the protectors they were supposed to be. Many of us were spoken to in ways that ran the spectrum from deeply upsetting, to traumatizing, to downright illegal. And a few of us were put in positions where we felt physically unsafe. More than one woman on our show had her career trajectory threatened.
And it wasn't just their careers that were allegedly threatened — according to the letter, the women also claim they were told that if they told anyone what allegedly went on between them and Schwahn, they'd be putting the show's future at risk, which could jeopardize the livelihood of the entire cast and crew.
"Many of us were told, during filming, that coming forward to talk about this culture would result in our show being canceled and hundreds of lovely, qualified, hard-working, and talented people losing their jobs," the women claim. "This is not an appropriate amount of pressure to put on young girls."
Considering the fact that all three female leads on the show were between 21 and 22 when One Tree Hill first began filming, it makes sense that they'd be easily persuaded to keep quiet about any alleged misconduct. Although, they also mention in the letter — which can be read in full at Variety — that the alleged harassment is something they've always remained open about behind closed doors, acting as a support system to each other. And after Wauchope shared her claims, they felt compelled to "stand together in support of Audrey Wauchope and one another."
And it's not just the women who are speaking out — several of OTH's male cast members have also come forward to show their support, including James Lafferty and Chad Michael Murray. Murray retweeted Hilarie Burton's tweet about the situation and link to the full letter, while Lafferty released the following statement on Twitter:
Today, Schwahn works on the E! show The Royals. In response to the claims made by Wauchope and the women of OTH, Universal Cable Productions and Lionsgate Television released the following statement to Variety:
We are monitoring the information carefully. E!, Universal Cable Productions and Lionsgate Television are committed to providing a safe working environment in which everyone is treated respectfully and professionally.