You Need To Read Former 'One Tree Hill' Writer Audrey Wauchope's Tweets About Sexual Harassment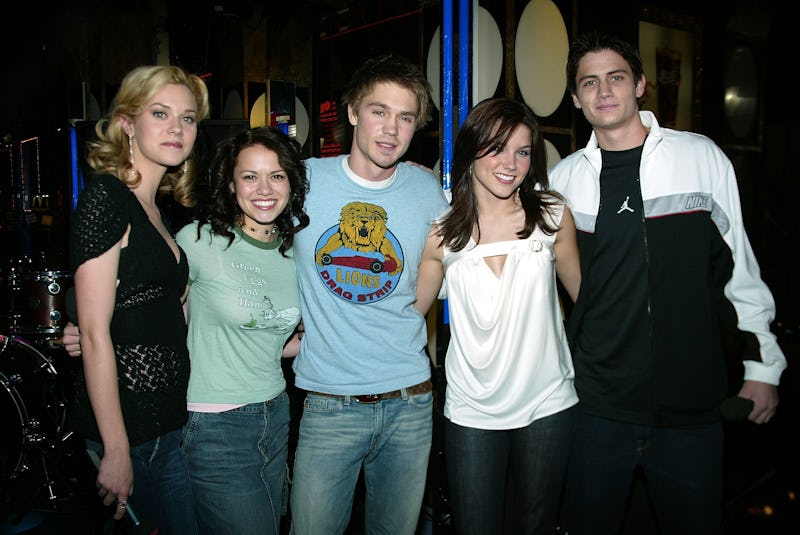 Frank Micelotta/Getty Images Entertainment/Getty Images
As more and more people come forward with their stories of sexual harassment and abuse in and outside of Hollywood, one thing becomes clear: no matter how much time passes, the effects of sexual harassment never fully fade away. On Saturday, former One Tree Hill writer Audrey Wauchope became the latest person to share her story of alleged harassment in the workplace. Her Twitter thread is a heartbreaking reminder of the lasting impact that sexual harassment has on people.
Wauchope was inspired to share her alleged experiences after the allegations against Arrow and Supergirl producer Andrew Kreisberg surfaced. Wauchope declined to name anyone in her claim nor the workplace in which it happened, but her allegations of verbal abuse, degradation, and demoralization appear to have occurred during her time spent in the writers' room of One Tree Hill, on which she and her writing partner Rachel Specter have been credited writers. Although she doesn't mention the series by name, One Tree Hill stars Sophia Bush, Hilarie Burton, and Bethany Joy Lenz have all tweeted their support. Additionally, Wauchope clarified in a tweet that the working environment at her second job, Cougar Town, was a positive one. The creator and showrunner of One Tree Hill was Mark Schwahn, but in her twitter thread, Wachope declines to mention any name. Wauchope tweeted of her alleged experience,
"In light of the Andrew Kreisberg reporting, a couple thoughts about my first writing job that I've wanted to say for years but have never had the guts to. When I was 29 my writing partner @RachelSpecter and I were hired as staff writers. To say we were excited was an understatement. To say we left that job demoralized and confused is also an understatement. One of the 1st things we were told was that the showrunner hired female writers on the basis of their looks. That's why you're here — he wants to f*ck you."
Because Wauchope was allegedly told that she was hired based on her looks, she tweeted that she's spent years questioning her talent. She also went on to say that she now tells people that she doesn't like to be touched, because it's the only way she knows how to avoid unwanted advances.
Not only was Wachope allegedly made to question her abilities as a writer, she claims that she and the other female writers in the room were made to feel unsafe by the showrunner. Wachope notes that her male colleagues would allegedly often try to sit next to the showrunner in an attempt to keep him from touching the female writers. Her Twitter thread continues,
"The staff sat on couches. Female writers would try to get the spot where the showrunner wouldn't sit as to not be touched. Often men would help out by sitting next to him, thus protecting the women. Sometimes we wouldn't luck out and he'd just squeeze his disgusting body in between us and put his arms around us, grinning. He pet hair. He massaged shoulders. I know he did more but not to me so they're not my stories to share. Ever since then I just state "I don't like to be touched." This often makes me sound angry or not warm. It's just that I don't know anther way to make it clear I don't enjoy your unwanted touch."
For people who go to work each day fearing sexual harassment, there's no relief. It's a situation where a predatory person exerts their control over another person in an attempt to make them feel lesser. Despite the years that have passed since her first job in a writers' room, Wachope is allegedly still having to find ways to protect herself — even in places where she should feel safe.
One thing the stories of the women and men who have come forward with allegations against people like Harvey Weinstein, Louis C.K., and Kevin Spacey illustrates is that it doesn't matter how much time passes, the effects of harassment don't go away. Once a person has been violated or made to feel unsafe or lesser than, those memories remain fresh. They carry them with them every single day, and for some, it affects how they interact with the world as they try to go on with their lives.
Wauchope continued,
"I'm furious and sad and everything else for the women who have sat on that couch next to that man. And I'm furious and sad and everything else that years later I don't feel safe to be able to do anything real about this and that it seems to be happening all over this town. I write all this to say that there are trickle down psychological effects to all this bullshit and the town is littered with the collateral damage of abusers who have been given free reign. If you're sitting on one of these staffs please know whatever you are feeling is real."
The movement of calling out these people who feel that they can use their positions of power to manipulate, intimidate, and hurt other people is one that will not be ignored. People shouldn't have to suffer in silence or carry the scars of abuse, and the only way to stop the cycle is to force the abusers into the spotlight.
Let Wauchope's claims serve as a reminder that there is no time limit on how long harassment can leave a person's confidence shaken or their self-worth feeling threatened. As a result, there should be no time limit on when and how a person chooses to come forward with their story.
Despite everything that she's allegedly been through, Wauchope still found the strength to come forward for herself and others. Like so many other people, she's acknowledging the effects of harassment, taking a stand against the cycle of abuse, and most importantly, letting all those who may be blaming themselves for what's being done to them know that they are not alone.
If you or someone you know has been sexually assaulted, call the National Sexual Assault Telephone Hotline at 800-656-HOPE (4673) or visit online.rainn.org.