Oprah Spilled The Beans Like Crazy About Mindy Kaling's Pregnancy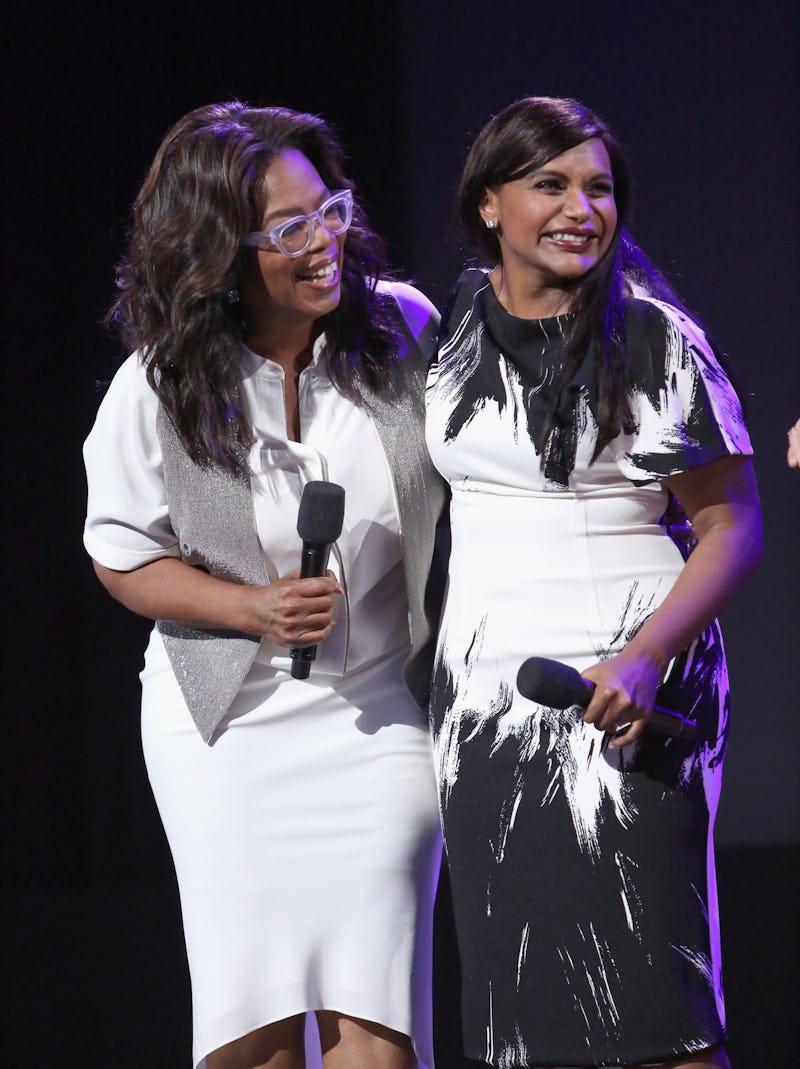 Jesse Grant/Getty Images Entertainment/Getty Images
For those who have been dying to know if the news is true, it looks like Oprah has your back. Oprah confirmed Mindy Kaling is pregnant in an interview with People. The former talk show host said her A Wrinkle In Time co-star revealed the exciting news to her at Disney's D23 expo in July.
UPDATE: Kaling confirmed her pregnancy in an interview with Today.
EARLIER: "That's when she told me," Oprah said. "My mouth dropped. 'What did you just say?' she said, 'Oh, Oprah, I don't think you know. I'm 5 months pregnant.' And I said, 'WHAAAAT?!'" Well, there you have it. If Oprah says she's pregnant, then she's pregnant.
The 63-year-old star didn't stop there and added, "That was it, and we just kept smiling. And then I said to [Reese Witherspoon], 'Did you know?' and she said, 'I just found out, too.' And then I said to [Ava DuVernay], 'Did you know?' And she said, 'I just found out.'" Per Oprah, "none" of the A Wrinkle In Time cast and crew knew. Oh, and the Oscar-nominated actor is, of course, "excited" for Kaling's new journey.
Who knows how Kaling feels about the one and only Oprah making this huge announcement when she hasn't even commented on the reports herself, but her The Mindy Project character, Mindy Lahiri, would totally love it. As fans of the Hulu comedy know, Lahiri knows the ins and outs of pop culture, so to have someone as huge as Oprah tell the world that she is expecting? Yeah, she so wouldn't be mad at that. Lahiri would revel in it.
On July 17, news broke of Kaling's pregnancy, but nothing had been confirmed at that time. E! News reported that the comedian was pregnant with her first child and that the pregnancy was "an unexpected surprise." Bustle reached out to Kaling's rep for comment at the time and regarding Oprah's statement, but did not receive a response.
It'll be interesting to see if the former star of The Office comments on her pregnancy or Oprah's statements, but, either way, it's important to remember that it's totally up to Kaling when and if she wants to discuss it herself.