Even Oprah Wasn't Prepared For The Grandness Of Prince Harry & Meghan's Royal Wedding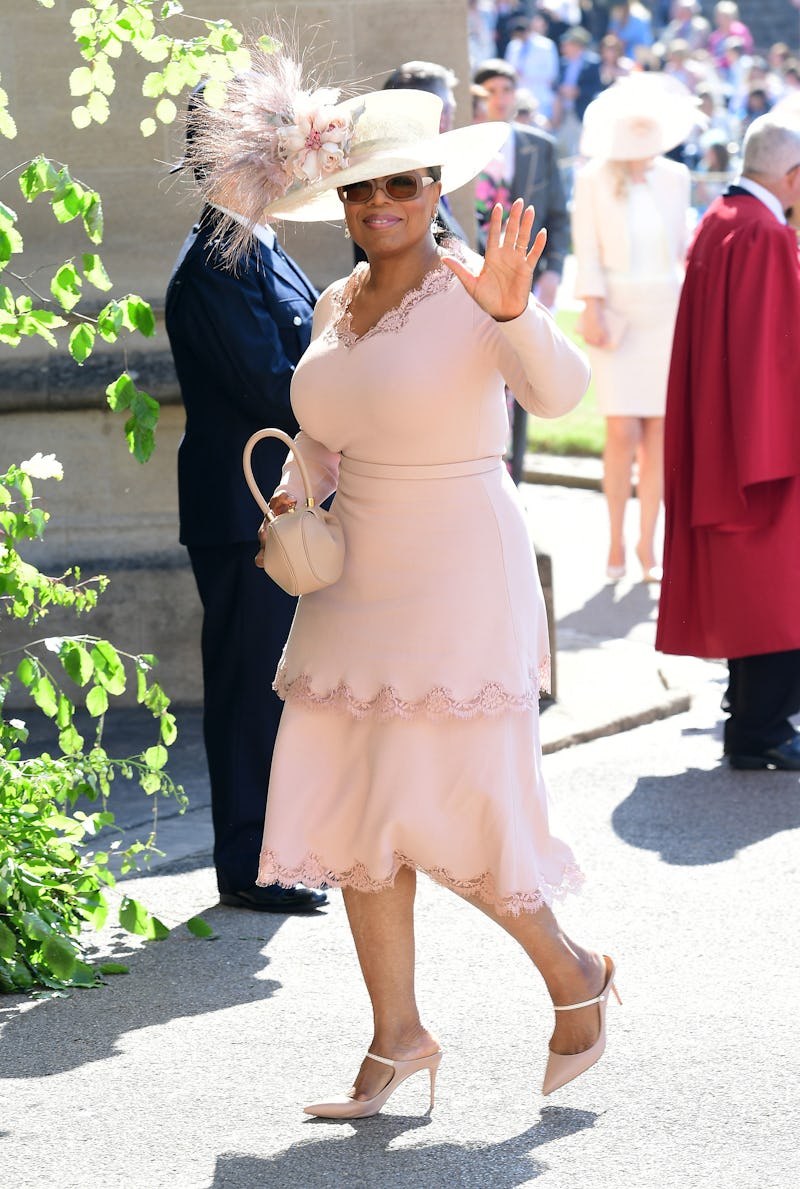 WPA Pool/Getty Images Entertainment/Getty Images
There's no question that the royal wedding made the world stop and experience all sorts of feelings. But apparently, being inside for the historical ceremony was emotional on a whole other level. In the upcoming issue of O, The Oprah Magazine, Oprah discusses attending Prince Harry and Meghan Markle's nuptials. The media mogul was in attendance for the May 19 wedding at St. George's Chapel at Windsor Castle, and now she's recounting her unforgettable experience so fans can feel as if they were there too.
As soon as she arrived at St. George's Chapel, Oprah said the view alone left her stunned. (And surely it takes a lot to leave Oprah in such awe.) "I was unprepared for the depth of emotion I felt stepping onto the grounds of Windsor Castle. It literally took my breath away," she recalled. "I exclaimed out loud to no one in particular: 'Whoa! This right here is a whole 'nother level!'"
But what Oprah experienced, and probably what many viewers around the world experienced, was the magic of Markle, an actor-turned-royal. "I thought immediately of the history, the legacy, the astounding moment Meghan Markle was stepping into. And what it would take to be prepared for such a moment," she said. "The life she was leaving behind and the new world to which she was rising — all part of a destiny she helped design." Markle's destiny to be part of history is not only romantic, it's hopeful and inspiring.
In a time when heartbreaking news stories bombard the world daily, the royal wedding was a story of pure love and hope, which Oprah even acknowledged when she was present that day. She claimed "the power of love" between Harry and Meghan could be felt by everyone witnessing their nuptials and that it "gave [them] hope."
The royal wedding was definitely a real-life fairytale, but the love Oprah experienced was one people can take away from, strive for, and channel in their daily lives. Oprah explained, "We all want to feel as radiant, joyful, and alive as Meghan looked on her way down the aisle to meet Harry. Both of them were glowing with happiness."
Love conquered all on that day in May, especially when you consider the long-standing traditions that Prince Harry and Markle broke and turned into their own. One, of course, was the bride herself, a divorced American, Catholic-raised, biracial woman. That in itself left Oprah and the rest of the world feeling optimistic about what's possible, for themselves and society at large. "I can't wait to see the goodness that will come from their union," Oprah wrote. "Goodness that I know for sure will help change the way the world thinks about what is possible, even more than it already has."
According to Forbes, the love was felt across the world, with about 29 million people tuning into the royal wedding. Of course, before this, there have been major royal family moments in the last few decades people have witnessed, from Princess Diana's tragic and untimely death in 1997 to Prince William and Kate Middleton's wedding in 2011. But Prince Harry and Meghan's wedding made history for its own reasons.
According to Reader's Digest, Markle was the first American to ever be engaged to a British royal. Even the cake was nontraditional, as the couple chose a lemon elderflower-flavored cake with buttercream frosting verses the multi-tiered fruitcake typically chosen by royal bride and grooms before them. Further, the two opted out of the classic kiss on the balcony of Buckingham Palace, 2,640 members of the public were invited, and Markle broke protocol with a reception speech. It was definitely a day Oprah won't forget, and one the world won't forget either.