9 Ways This Royal Wedding Was Way More Modern Than Past Ones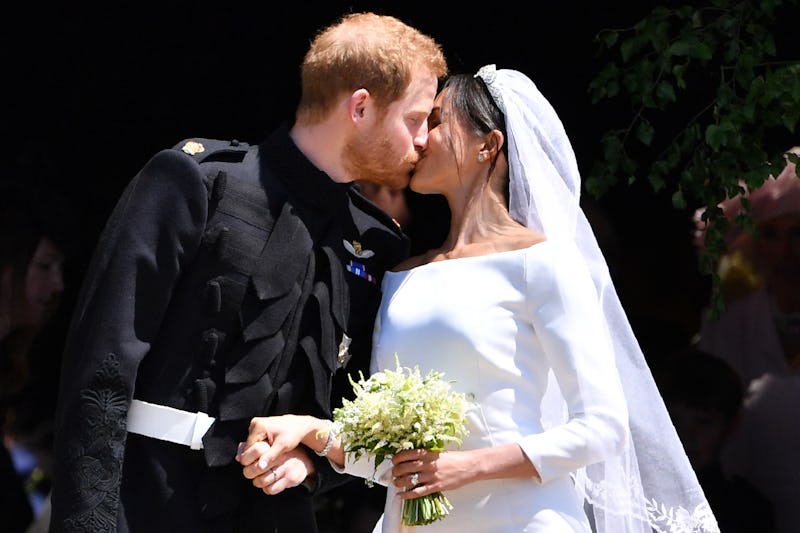 WPA Pool/Getty Images Entertainment/Getty Images
The newly named Duke and Duchess of Sussex, Prince Harry and Meghan Markle, made history with their storybook courtship and wedding. What's more, there are myriad ways the royal wedding 2018 was more modern than previous royal weddings. From deciding against being "given away" to forgoing the fruitcake, Markle and Prince Harry are ushering the royal family into the 21st century by opting to marry longstanding royal-wedding traditions with their own style and values.
While the couple did adhere to several traditions like Prince Harry wearing a military uniform, the bridal party containing children, and embracing a new title upon marriage, the Duke and Duchess of Sussex also decided to go their own way. One meaningful tradition Markle did incorporate into her wedding is the inclusion of a sprig or myrtle in her bridal bouquet.
"Myrtle, which represents love, fertility and innocence, has been grown at Osborne House, Queen Victoria's holiday home on the Isle of Wight, for about 170 years," Kensington Palace noted on its official website. "It was first given to Queen Victoria in a posey by Prince Albert's grandmother in 1845. The descendants of this plant are still in the grounds of the house today."
As an advocate for political participation and leadership for the women's agency of the United Nations, some of Markle's other wedding decisions reflected her commitment to women's rights and maintaining her identify, which are just some of the ways in which the 2018 royal wedding was more modern than previous royal weddings.