Stacey Abrams Will Be Getting A Serious Boost From One Of The Most Powerful Celebs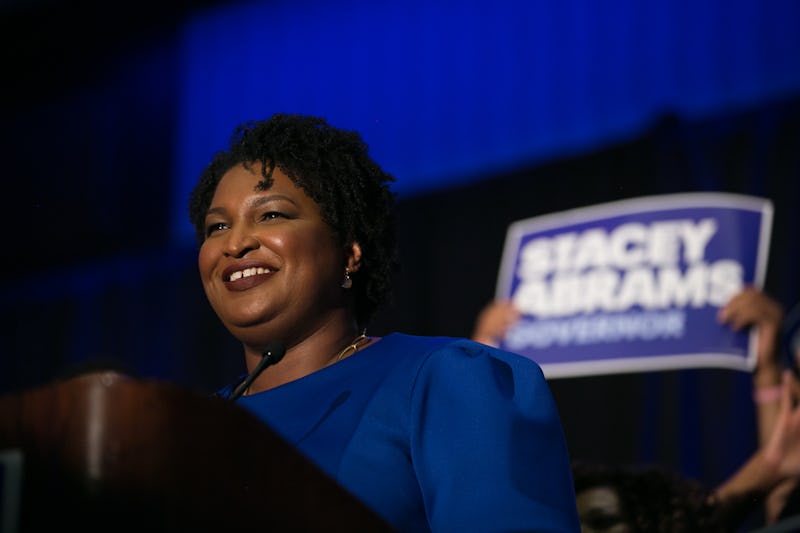 Jessica McGowan/Getty Images News/Getty Images
There are a number of important races taking place on Nov. 6, but one that has garnered an extraordinary amount of attention is taking place in Georgia. The gubernatorial race in the Peach State has become so high-profile that none other than Oprah will campaign for Stacey Abrams in Georgia, attending two different town halls and helping to canvass, according to multiple reports.
Abrams, a Democrat, was the state's House of Representatives minority leader until 2017, and she's facing off against current Republican Secretary of State Brian Kemp. If Abrams is successful, she will be the first black woman to be governor of any state in the United States, Georgia's first black governor, and the first Democratic governor the state has had in 15 years.
"Oprah Winfrey has inspired so many of us though the years with her unparalleled ability to form real connections and strengthen the bonds of family and community," Abrams said in a statement provided to NBC News. "I am honored to have Oprah join me for uplifting and honest conversations with voters about the clear choice before us in this election and the boundless potential of Georgians."
The race is incredibly close, according to FiveThirtyEight, and in turn, a number of high-profile figures have campaigned for both Abrams and Kemp, respectively. Oprah is slated to visit Georgia on Thursday, and on the same day, Vice President Mike Pence will be in town to stump for Kemp, BuzzFeed reports. President Trump will do the same several days later.
But Kemp isn't the only one receiving support from high-profile politicians. Former President Barack Obama will also visit Georgia within the next week, NBC News reports, for the purpose of supporting Abrams.
Last week, actor Will Ferrell visited Georgia to canvass for Abrams. During his visit, he visited Kennesaw State University, according to footage shared to Facebook. He encouraged students at the school to get out and vote in the upcoming midterms.
"We keep asking ourselves, how can we help? What can we do locally being in California? Should we be knocking on doors?" His wife, Viveca Paulin-Ferrell, told The Hollywood Reporter earlier this month. "So we're going to go knock on doors for Stacey Abrams. You never know in Hollywood if it helps or hurts, but we're trying get out the vote and drive people to the polls."
Kemp has found himself at the center of a controversy regarding voter registration in his state, which he formally oversees as part of his position. Tens of thousands of voters, most of whom are black, have been removed the state's voter rolls, according to NBC News, under the premise of voter registration maintenance. Kemp has maintained that he is not attempting to suppress voters. However, the issue has become a sticking point in the final week before the election.
Former President Jimmy Carter even called on Kemp to step aside from his position for the duration of the campaign, arguing in a letter that "the key requirements for a fair and trusted process is that there be a nonbiased supervision of the electoral process," according to NBC. If Kemp resigned, Carter wrote, it "would be a sign that you recognize the importance of this key democratic principle and want to ensure the confidence of our citizens in the outcome."
With the election less than a week away, both candidates are accepting campaign assistance from celebrities and politicians with large, influential followings. All of these high-profile visits only serve to emphasize how important the election truly is.