Oprah's New Book Club Pick Is Both A Love Story & A Look At Racial Injustice In America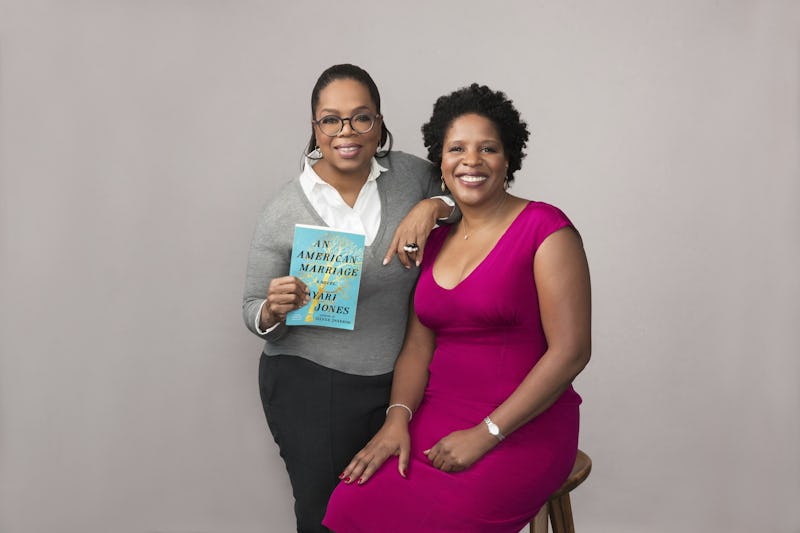 Harpo, Inc./Victoria Will
Oprah may not be ready to run for president, but she is ready to recommend another remarkable read to the horde of hungry book-lovers who have, time and time again, taken her suggestions to heart and turned unknown titles into national bestsellers. Next up for Oprah's Book Club is An American Marriage by Tayari Jones, a profoundly moving love story and examination of racial injustice that is sure to be one of the best novels of 2018.
An American Marriage tells the story of Celestial and Roy, two African American newlyweds in Atlanta who are living out the dream of the New South. Their lives, which revolve around a loving relationship and two successful careers, are nearly picture perfect. That is, until Roy is arrested for a crime he did not commit and subsequently sentenced to 12 years in prison. While her husband is behind bars, Celestial searches for comfort and stability that she finds in an unexpected place: the company of Andre, Roy's childhood friend and the best man at their wedding. After over a decade in prison, Roy is finally released to find that his life — and his marriage — might never be the same again.
An American Marriage by Tayari Jones, $16.17, Amazon
According to Oprah's announcement about her book club's latest pick, An American Marriage "redefines the traditional American love story. You'll come away with greater empathy and understanding but even if you don't, it's just a really great read. It's the perfect book to read along with a friend or family member. You're going to want to have someone else reading it because it's so juicy."
Announced the same day as the book's publication, Oprah's seal of approval on An American Marriage could mean big things for the book's author, Tayari Jones, and her publisher. In the past, Oprah's Book Club selections have gone on to become hugely popular bestsellers capable of delivering massive book sales. Over the course of a mere decade, branded special editions of Oprah's Book Club picks — which include literary classics like Night by Elie Wiesel and East of Eden by John Steinbeck, as well as lesser-known titles like The Story of Edgar Sawtelle by David Wroblewski and the now-infamous A Million Little Pieces by James Frey — have sold more that 22 million copies. But to Jones, having her book picked by the media mogul means so much more that increased sales.
"Every author fantasizes about being chosen for Oprah's Book Club, I know I did," Jones said in a statement about the announcement. "Through her selections, I discovered so many books that expanded my heart and challenged my mind. To be selected for this list is not just an honor, it's a responsibility to join Ms. Winfrey in her work to connect readers to books, and to connect readers to each other. I can't wait to heed this call."
As with all of her selections, An American Marriage is getting the full Oprah Book Club treatment across multiple platforms. Oprah's interview with author Tayari Jones, which is already online, will run in the March issue of O, The Oprah Magazine, which hits stands February 13. On Oprah.com, readers will find a reading guide to and select quotes from An American Marriage, as well as a special video from Oprah in which she discusses what inspired her to choose Jones's new novel as her latest book club pick.
If you don't want to miss out on the book everyone will be talking about this season, make sure you pick up a copy of Oprah's latest book club pick, An American Marriage, from your favorite retailer today.