Oprah Launched A Line Of Cauliflower Crust Pizzas In 4 Flavors That Legit Sound Delicious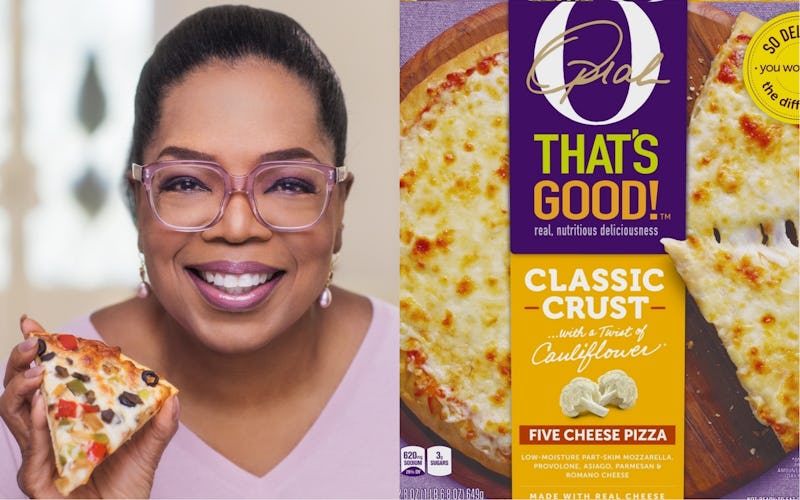 O! That's Good/Remixed by Bustle
Queen of all that is good and meme-able Oprah Winfrey has released a line of cauliflower crust pizzas, and thus, we all must succumb to having vegetables with our pizza. Oprah said it and so we have to do it. Sorry, but those are the rules.
In collaboration with Kraft Heinz, Oprah's food brand O, That's Good! — necessary moment of pause for that brand name — has launched four new frozen pizzas, all with cauliflower baked into the crust: Pepperoni, Five Cheese, Supreme, and Fire Roasted Veggie. Per the product description, one serving of pizza has less than one-half cup of vegetables. So, unless you're eating all five servings in each box (a feat that is doable if not commendable), you'll still need a few more veggies to hit the recommended daily dose.
Just in case saying the words "cauliflower" and "pizza" in the same sentence were causing you to panic, these new frozen pizza crusts aren't made solely with cauliflower. According to the box description, the crust made with "⅓ cauliflower." So, there's still some of the pizza crust carbs you've come to know and love. Just slightly fewer.
The product description for the new pizza also claims, "It's pizza that loves you back," which is perhaps the story that we should be telling. All I've ever wanted is to be loved by my pizza.
In a statement for the new product, Oprah said, "Pizza is a favorite, fun and easy food to share with family and friends." O! My God she called us friends!. "I am always looking to add a nutritious twist to my foods, so we made part of the crust in my new pizza with cauliflower while maintaining that classic, cheesy pizza flavor you and your family love."
The new pizzas are available at most major grocery chains nationwide, including Target, and they're also available on Amazon. For $6.99, you can try the new cauliflower crust pizzas and see whether they hold a cheesy, carby candle to the cauliflower-less crusts you know and love.
Apparently, Oprah has been betraying, I mean subbing out bread and carbohydrates for cauliflower in previous products. The line of O! That's Good mashed potatoes also incorporates mashed cauliflower in the mix rather than keeping it strictly potato. However, the product description claims that the subbed in veggies haven't sacrificed the taste. We all know Oprah loves bread. Perhaps she will bless us will a pep talk on her love for cauliflower next.
Not only will you be adding a few more vegetables into your diet when you buy this new pizza, you'll also be helping out a few worthy causes. Mealtime Stories, the partnership between Oprah and Kraft Heinz, is also donating some of its profits to hunger-related causes. Ten percent of this partnerships' profits will be split equally between Rise Against Hunger and Feeding America. According to their mission statement, "a donation of at least $100,000 will be contributed to these organizations."
You've got plenty of options if you're looking to try cauliflower crust pizza but don't want to spend the necessary hours grating cauliflower. You could buy Trader Joe's riced cauliflower and save your time and knuckles from grating. Because they know what the people want, Trader Joe's also launched their own pre-made cauliflower pizza crust, ready for you to bake and top with whatever ingredients bring you personal joy and fulfillment. Cali'Flour foods also selling packs of cauliflower pizza crusts, which run a little pricier but are significantly heavier on the cauliflower, if that's a thing you want.
Live your cauliflower crust dreams to their fullest. If not for you, then for Oprah.