Trader Joe's New Cauliflower Pizza Crust Is Actually GOOD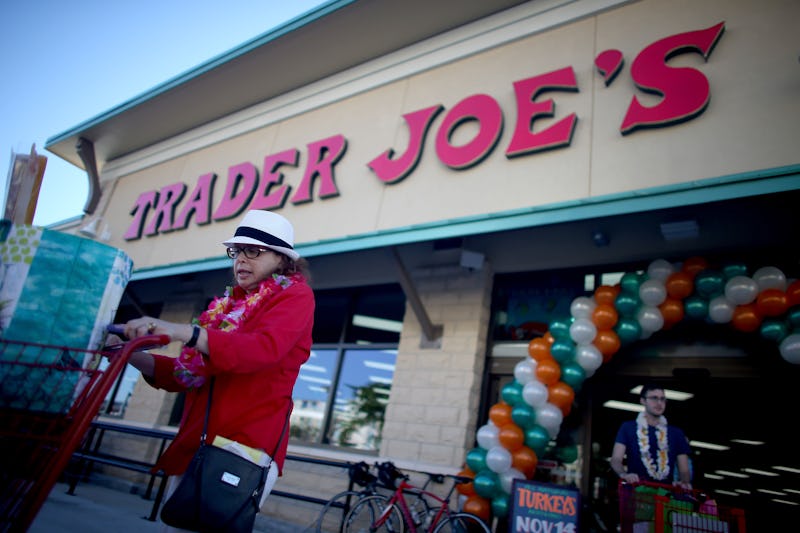 Joe Raedle/Getty Images News/Getty Images
The patron saint of Trader Joe's has shone upon us! In an amazing turn of events, Trader Joe's just rolled out cauliflower pizza crust in stores across the U.S., and the internet is losing its collective pizza mind. If you've ever tried to make your own cauliflower crust pizza (or any kind of cauli snack, really) from scratch — we're talking slicing, dicing, grating, and egging, none of that short-cut cheating — you know what a complete and total production it can be. Between chopping up the cauliflower, shredding it over the cheese grater, and pounding it out with a mallet, there's plenty of room for error — and injury. Those scars on my knuckles? They're from trying to grate cauliflower for a cauliflower crust pizza. Clearly, things did not go well.
But thanks to TJ's new cauli crust, the days of slaving away with the kitchen gadgets for a cauliflower crust are over! Now all you'll have to do is decide what type of 'za you're feeling, sprinkle your toppings of choice, stick in the oven and wait for the cheese to get melty, and enjoy.
The crust comes frozen, meaning you can grab it from the freezer and defrost it any old time you like. As for the consistency, it's light and crisp — similar to a type of flatbread.
Trader Joe's tends to attract fairly rabid fans, and the advent of the cauli crust is no exception. Dedicated TJ customers have been waiting months to get their hands on a box of this crust, but the new product has been selling out left and right. Still, shoppers remained hopeful, and seem pretty stoked to get their hands on the gluten-free delicacy...
Like this user, who was so thrilled, she practically ripped the box to shreds in her excitement to try it out:
And this food blogger, who couldn't wait to get a taste:
And this one, who gives the cauli crust a 10/10:
This user already wants another:
This customer, who calls it "plant perfect":
You be the judge! Check it out at Trader Joe's.