Oprah Is SO Excited About Her 'Wrinkle In Time' Character's Barbie Doll & The Video Will Make You Smile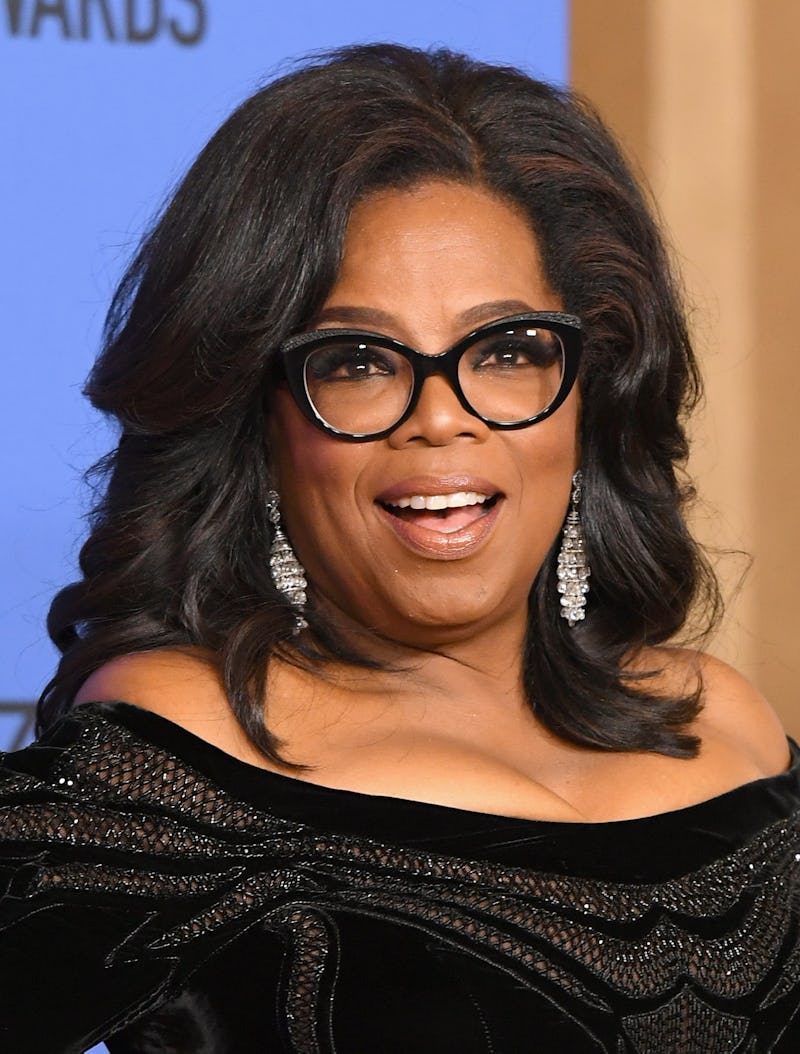 Kevin Winter/Getty Images Entertainment/Getty Images
It's highly unlikely that fans will catch Oprah Winfrey tossing her hat into the ring and announcing a presidential run for 2020, but coming to terms with that reality isn't such a bad thing anymore, because at least now we have the next best thing. Oprah's Wrinkle in Time character is now a Barbie doll, and she is super excited about it. If you are too, you might want to go grab your purse and be prepared to shell out all of your money for it.
Last week, Mattel rolled out three doll-sized versions of Oprah Winfrey, Reese Witherspoon, and Mindy Kaling's characters in the upcoming film adaptation of A Wrinkle in Time. The three actresses play the characters Mrs. Which, Mrs. Whatsit, and Mrs. Who, respectively in the film. The film's director Ava DuVernay took to Twitter on Wednesday night to announce news with an emotional tweet that subtly pointed out the importance of representation. She wrote,
"When Disney makes Barbies of your movie's characters and you just want to stare at them all day in disbelief because you loved Barbies as a girl but never had any like these. #WrinkleinTime."
A Wrinkle in Time's release later this Spring is a big deal for many reasons, one of which is the fact that the project features an all-star cast led by a diverse group of women. So, just in case you weren't excited enough about the film, the roll-out of these dolls pretty much just adds some fuel to the fire.
Oprah posted a video on Instagram with her doll, sharing her excitement and saying, "This makes me so happy."
The dolls are modeled to look like the characters in the new film, not necessarily the actors themselves. Kaling's Mrs. Who doll sports a floor-length blue-and-gold gown, a sleeve of symbolic tattoos, and a high bun atop her head held in place with a golden rope. Mrs Which, Oprah's character, wears a long, brown skirt with a silver blouse underneath a silver, wire corset. Her hair is styled in a gorgeous long, blonde braid, which is complemented by her metallic makeup. And lastly, Reese Witherspoon's Mrs. Whatsit is seen sporting long red hair that flows all the way down to her hips, along with a dramatic wavy, blue skirt and an elegant peach top.
In essence, the dolls appear to be just as stunning as their real-life counterparts, so feel free to throw all of your money in Mattel's direction before these beauties sell out. After all, you'll probably need something to bring along with you when A Wrinkle in Time officially makes it way into theaters on March 9.
The lack of diversity and female representation in toys and the entertainment industry as a whole is still pretty astounding, despite the fact that it's been part of an ongoing conversation for years now. So it goes without saying that this is yet another huge step for Mattel, just months after the toy company introduced its first Muslim Barbie doll celebrating American fencer Ibtihaj Muhammad. The company has recently taken major steps to update its selection of dolls, making sure that the toys represent women of all backgrounds and experiences. That includes rolling out dolls that depict women of color as well as Barbies that accurately depict the shapes and sizes of real women.
It's groundbreaking that Mattel is doing the work it takes to make sure young women of color can see accurate depictions of themselves when they scour through the toy sections, but it's a shame that it took so long for it to happen. As far as representation in toys is concerned, we obviously still have a long way to go, but the launch of these A Wrinkle in Time-inspired figures are still a big deal.