An Oregon Candidate Basically Called Melania A Prostitute & The Backlash Was Swift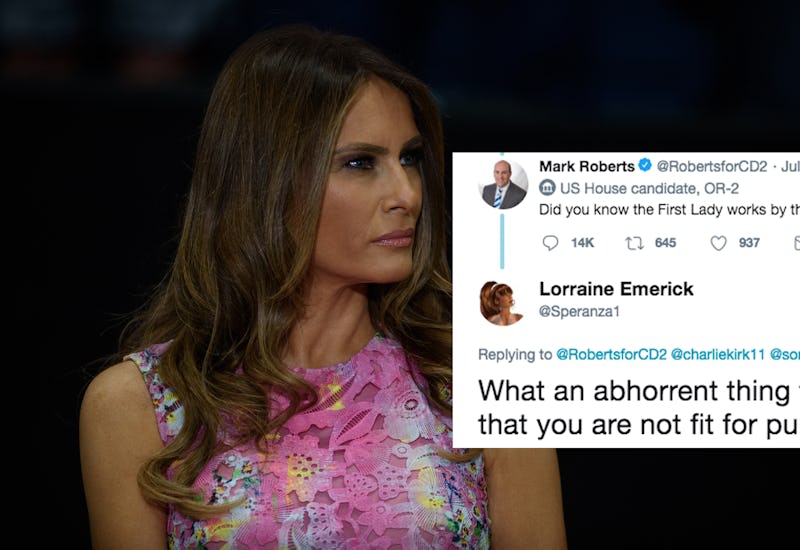 Justin Merriman/Getty Images News/Getty Images
An Oregonian running for Congress as an independent may have just jeopardized his chances. In a Monday tweet that has since gone viral, Mark Roberts compared Melania Trump to a prostitute, and the backlash began.
"Did you know the First Lady works by the hour?" Roberts tweeted out, and added the hashtags: "#thinkdirty #hoebag."
As of this writing, the post had received around 14,000 comments. A majority of them seemed to be condemnations of his remark, which many users insisted was sexist and inappropriate. "What an abhorrent thing to say- underscores that you are not fit for public office," wrote one user. "This is utterly unacceptable and misogynist," another person said, adding, "As a woman and lifelong Democrat, I don't want someone who thinks like you purporting to represent my interests."
House Majority Leader Kevin McCarthy immediately spoke out about the post, writing, "this attack on @FLOTUS is disgraceful. Comments like these have no business on any platform. This account should be banned ASAP." The Oregonian called it "weird" and "provocative."
Rather than walk back his comment, Roberts has since doubled down. When one user asked, "Did you REALLY say this," he replied, "You bet! Do you need to see the naked pix to prove it? #googleisyourfriend." He also wrote that "the shoe fits."
Many people joined McCarthy in asking that Twitter block Roberts' account, and it appears that some people did report his tweet. Roberts posted a screenshot of a message he says came from Twitter, reading, "We have investigated the reported content and could not identify any violations of the Twitter Rules or applicable law."
It noted that the platform had decided not to take action against him. Roberts celebrated by pronouncing, "It's that whole 1st amendment thing."
Roberts is one of nine candidates vying to replace Republican incumbent Greg Walden, who has represented the district since 1999. He's the only independent running; there's also a single Republican and seven Democrats.
But he's not a centrist. Roberts describes himself as "a conservative and a disgruntled life-long Republican." According to Central Oregon paper The Bulletin, he decided to run to disrupt the two-party system. In Herald and News, another local outlet, Roberts described his platform as pro-business and emphasized that he wants to increase forestry jobs.
Walden's district is the most conservative in Oregon and the only one currently represented by a Republican. Roberts seems to have little chance of winning; political science professor Jim Moore told The Oregonian that his campaign hasn't been active enough to effectively reach voters, and joked that, "If he wins, I'll sell my house and donate to charity."
According to the Oregon Public Broadcasting network, the Democratic frontrunner is Jamie McLeod-Skinner, a former city manager who's been endorsed by the state's largest teacher's union. All the candidates will have to fight an uphill battle to replace Walden, who won over 60 percent of the vote every time he ran for U.S. Congress in the past. Walden also has a good relationship with President Trump, whom his district voted for by 20 points in 2016, according to FiveThirtyEight.