Oregon Wants To Guarantee Abortion Coverage For Women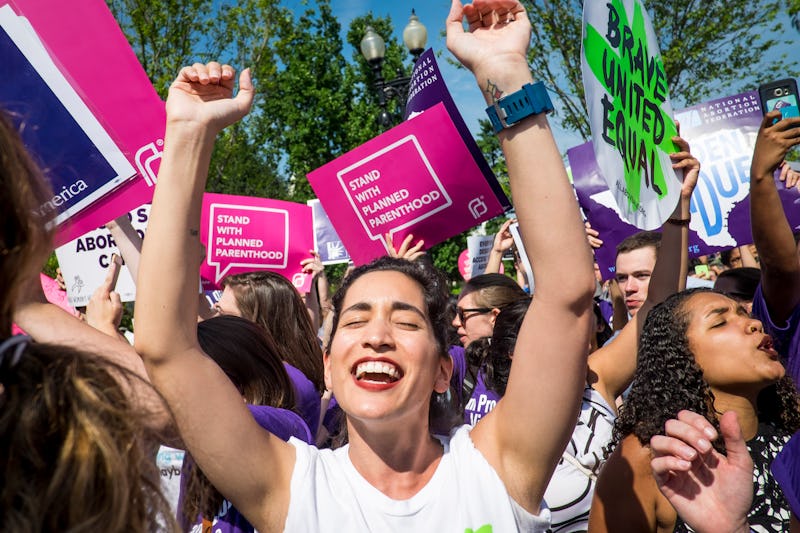 Pete Marovich/Getty Images News/Getty Images
The release of the Better Care Reconciliation Act, the Senate Republicans' bill to repeal and replace the Affordable Care Act, has caused concern over the future of reproductive rights. The bill in its current form would withhold Medicaid funding from Planned Parenthood for one year and prohibit federal tax credits from paying for plans that cover abortion. However, there are some states willing to fight. Namely, an Oregon bill would require no-cost abortion coverage, as well as post-natal care. It would also mandate that insurers in the state cover the ACA-era essential health benefits.
The Statesman-Journal reported that House Bill 3391 B (also known as the Reproductive Health Equity Act) would cover exams, drugs, devices, products, procedures, access to post-natal care, and vasectomies. The Oregon House of Representatives passed the bill 33-23 on Saturday, and it will now go to the Democrat-controlled Senate for debate and a vote.
According to The Hill, the bill would set aside about $10 million to cover the costs of the care. And insurance holders aren't the only ones eligible for the coverage: an estimated 22,000 undocumented immigrants in the state who are not currently eligible under the state's plan would be able to get coverage, too.
The bill also includes a religious exemption for employers. However, the Oregon Health Authority would be in charge of providing coverage in the case of an exception.
According to the Guttmacher Institute, Oregon does not have any major restrictions on abortions. In fact, The Hill notes that Oregon has the most liberal abortion laws in the nation. And as of 2014, Oregon abortions represent 1 percent of all abortions in the country.
But that doesn't mean that restrictive abortion bills have not been proposed in Oregon. In February, the House introduced a bill that would have prohibited abortions after 20 weeks. The piece of legislation has not advanced.
If the BCRA passes, it would allow states to opt out of essential health benefits established by the ACA without an alternative plan to provide those benefits to people. The essential health benefits include doctor's services, inpatient and outpatient hospital care, prescription drug coverage, pregnancy and childbirth, mental health services, and others.
Bill sponsor and state Rep. Julie Fahey told The Hill that through the Reproductive Health Equity Act, "If the ACA goes away, people in Oregon will still be able to access those essential health benefits." Oregon joins states like Delaware that have moved to protect abortion rights for citizens in case national abortion rights are repealed.