Oreo Iced Coffee Exists & It's About To Become Your New Summer Staple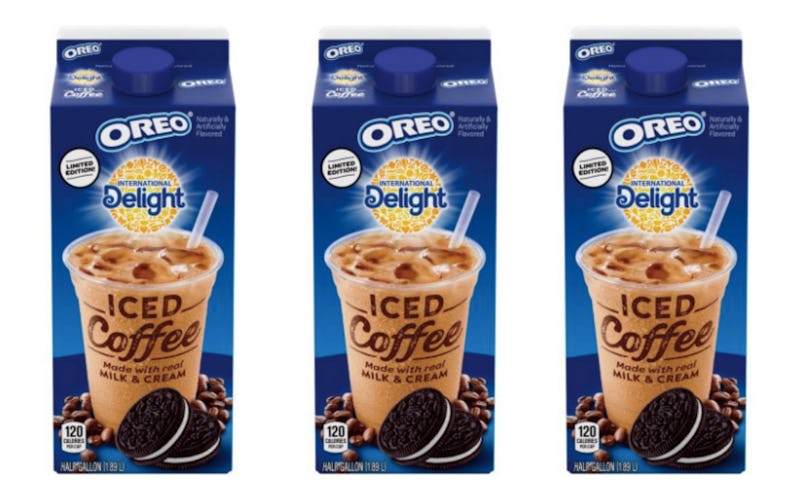 Walmart
Be still, my caffeine-and-cookie-loving heart: International Delight now makes Oreo iced coffee. This is not a drill. Your summer morning cup of joe can now involve milk, cream, and the sweet, sweet taste of chocolate and cream sandwich cookies — and all you have to do to enjoy it is pour it out of a regular ol' carton. It's true that if you prefer your coffee to taste like, well, coffee, this tasty-sounding beverage might not be quite your speed… but, I mean, hey. We all deserve a treat every now and again, right? Right.
It looks like The Impulsive Buy was the first of the big snack food sites to publish something about it; according to their Instagram post, which is dated June 7, and their blog post, which is dated June 8, it was spotted at Walmart by a reader named Carla. The Junk Food Aisle also posted an image of the carton to Instagram on June 8, noting that it had been pointed out to them by Instagrammer @pottyplant8. According to The Junk Food Aisle and @pottyplant8, they, too had found it at Walmart; however it also appears that the drink is available at Meijer, a retail chain that operates largely in the Midwest, according to Candy Hunting.
Candy Hunting also appears to be one of the few snack food bloggers/Instagrammers who has actually tried the stuff. According to them, International Delight's Oreo iced coffee "does taste like chocolate cookies, not like generic mocha" — which, y'know, is nice to know; if I'm going to be drinking Oreo coffee, it had better taste like actual Oreos — although the "crème" flavor is a little lacking. Noted Candy Hunting, "I'm assuming if they played up the crème flavor, it would drown out the cookie." The post about the drink concluded, "Overall, a good take on an Oreo coffee flavor," giving it an eight on a scale of 10.
It's worth noting, though, that you might have a little trouble locating International Delight's Oreo iced coffee for the time being; according to one tweet from the company itself, the drink is so new that it hasn't actually been programmed into their online locator yet. But, I mean, hey, given that we know two different retailers at which it can be found, you can always call up your local Walmart or Meijer and ask if they've got it in stock. At least that'll save you a fruitless trip if it turns out they don't yet.
The good news, though, is that there are plenty of ways to make Oreo-flavored ice coffee on your own if you can't get a hold of International Delight's version yet. Coffee-Mate makes a cookies and cream creamer, for example; if you whip up your own batch of iced coffee, you can combine in it with this creamer, customizing the ratio of Oreo-to-coffee flavor as you go. Or, you can try this handy hack:
Yep. It's that simple. Just crumble up some Oreos, stick 'em in an ice tray with some milk, freeze the whole thing, and then drop the milk-and-cookie cubes in your next glass of iced coffee. Voila: Oreo iced coffee. Heck, you could even stick 'em in the blender with some coffee and make yourself a frozen cookies-and-cream-and-coffee slushy kind of thing.
What's more, if Oreo doesn't quite do it for you, there are plenty of other baked good-flavored coffee options to choose from. Remember when Dunkin' Donuts started offering Girl Scout Cookie-flavored coffee? Good times. Coffee-Mate also has a couple of cheesecake-flavored options, courtesy of a partnership with the Cheesecake Factory. And International Delight does a Cinnabon-inspired creamer. You've got options, is what I'm saying, so if you like a little sweetness with your morning or afternoon pick-me-up, have fun.
Now if you'll excuse me, I have a phone call to make.