Michelle Keegan Added A Personal Tribute To Elvis In New 'Our Girl' & Fans Will Be Shook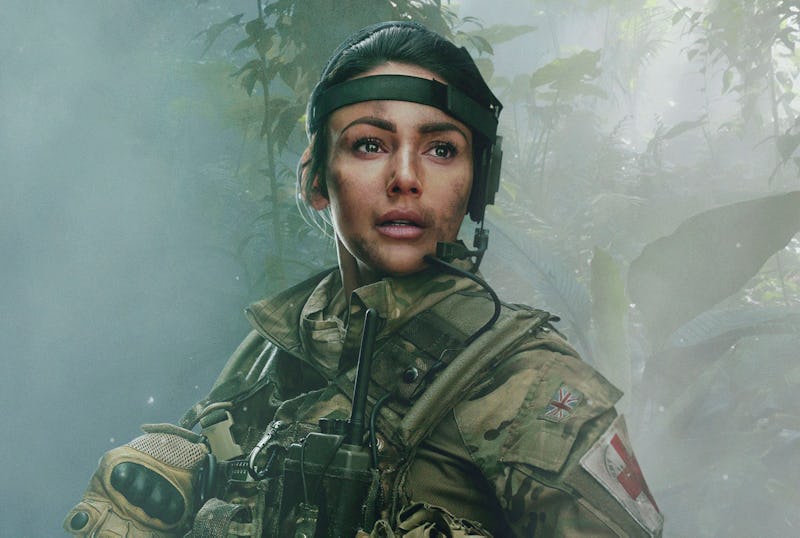 BBC
Fans who found it difficult to come to terms with the death of one of Our Girls biggest characters, Elvis Harte, will be comforted to know that the show's leading actress also struggled. Ahead of Our Girl's return, Michelle Keegan, who plays Corporal Georgie Lane, has opened up about just what it was like filming without Luke Pasqualino, who acted opposite her as Elvis for three seasons. Spoiler alert — it wasn't easy.
As fans will know, the last season ended with a seriously unpleasant surprise. While viewers were busy hoping that the will-they-won't-they love interests Elvis and Georgie would finally overcome their differences and get back together, writers had another idea entirely. Much to everyone's shock and horror, they decidedly to kill off the army medic's on-off fiancé in devastating scenes, ending any hopes of a relationship revival.
But while it certainly made for heart-rending viewing, Our Girl has always been about much more than Georgie's love life. Remember when faced with the option of ex-boyfriend Elvis or current partner Jamie? She ditched them both and instead opted to head out alone, finding solace in her work as part of 2 Section. So what can fans expect from the next series?
Well, it shouldn't be too much of a surprise to viewers that Georgie will be putting on a brave face in the aftermath of Elvis' death, and throwing herself into her work. Ahead of the show's return for Season 3, part 2, Keegan, who plays the fearless medic, shared some details about how her character is coping and just what it was like filming without Pasqualino on set for the first time.
After taking a break from her duties for six months, Georgie is back on the job, but that doesn't mean she's processed the loss. "She's had six months out for grievance purposes and is now throwing herself into work," Keegan explained in a BBC press release. "She's definitely not over Elvis at all and you'll see throughout the episodes that his death has really affected her."
You might think that like her character, Keegan would get some time off to come to terms with the finale of Our Girl: Nepal Tour. But, well, you'd be wrong. The actress was back filming scenes without him just a day after Pasqualino left.
"It was really, really strange [filming without him]. Luke and I started on the series at the same time together and it was so odd when he left. It was like a hole and I definitely missed him," Keegan continued. "We literally started the next episode the day after Elvis died. Luke left on a Thursday and on a Friday we started to film episode 5. It took a long time for me to adjust as all our storylines were always based around Georgie and Elvis and the 'will they, won't they' situation. So when he wasn't there, I had to have a different mind-set."
But that's not to say that Pasqualino's absence will mean Elvis is totally forgotten. Keegan went on to reveal that Georgie will be keeping his memory alive in a seriously emosh way. Our Girl mega-fans, you may want to grab the tissues before you read this. It turns out that the medic is keeping the engagement ring he gave her with her at all times. Sniff. "She still wears his engagement ring around her neck, which was my idea, as she loved him so much and he was the love of her life. I thought it was a nice idea to have a part of him with her at all times," Keegan added.
The former Coronation Street actress also admitted that she'd been surprised by the fan reaction on social media after scenes of Elvis' death were shown. "Oh my god, I was in Malaysia at the time and it was 6:00am when it aired in the UK," she admitted. "I looked at my phone and it had gone crazy. What was great was that it hadn't been released that Elvis was going to get killed so it was obviously a massive shock for the audience who follow the story. I just remember that all the women's hearts on Twitter were broken that night."
While I'm not sure I'll ever quite recover from scenes of Elvis basically dying in Georgie's arms (that frantic CPR was just too much), it sounds like the upcoming instalments will have plenty of action to keep us occupied. There'll be a new recruit in the form of Bones (played by Olly Rix), who'll be stepping into Elvis' shoes as head of special forces. Unfortunately his and Georgie's relationship doesn't get off to the most promising start. "You first meet [Bones] when he is undercover. They get off to a rocky start as Georgie sees him in Nigeria where he throws a child out of his way," added Keegan. "But obviously goodie two shoes Georgie won't stand for that and ends up confronting him."
Ooh, I can't wait to see how that particular set-to pans out. I'm backing Georgie all the way.
Our Girl returns at 9pm on June 5 on BBC One.