'Outlander's White Savior Narrative Actually Has A Pretty Simple Fix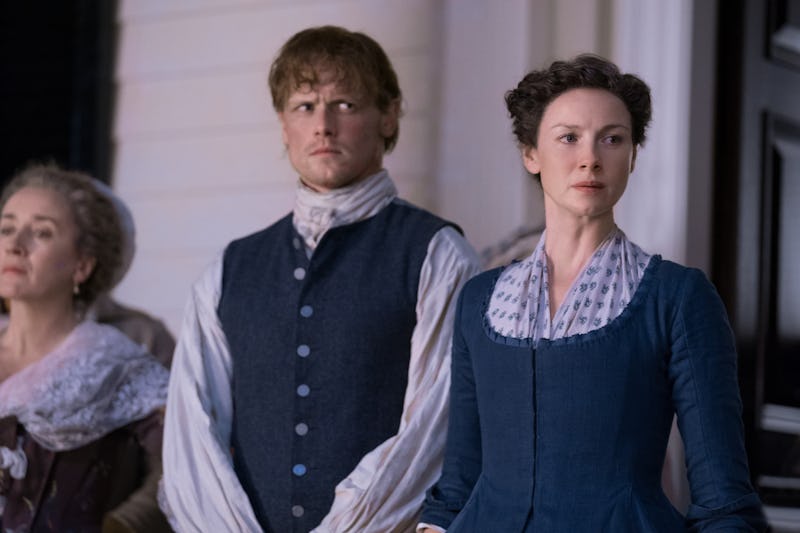 Starz
Spoilers ahead for Outlander Season 4, Episode 2. Jamie and Claire have no money to their names after Stephen Bonnet robbed them, but they do find a home at Aunt Jocasta's plantation in "Do No Harm." And their arrival means that viewers are finally able to see how Outlander addresses slavery in America. Unfortunately, it's not much better than how the show has done so in the past.
Season 3 already established that Claire doesn't support slavery. As a 20th century woman, she wasn't brought up in an era in which it was legal, and when she and Jamie went to Jamaica to rescue Young Ian, she was horrified to see the slave trade firsthand. Ultimately, she ended up purchasing her own slave in order to free him, promising to let him go as soon as they found a safe place to do so. There were, rightfully, several critics who chastised how the story was handled, but the crew stood by it.
"Our only parameter for it was to show it as brutal as it was, and not try to whitewash it, not try to soften everything to be politically correct, because we believe very strongly that would be a disservice to tone it down or make it TV friendly," executive producer Toni Graphia told Entertainment Weekly. "It's in the book. We wanted to do justice to that part of the book."
Season 4 will include some similarly polarizing scenes, as it will cover both slavery in 18th century America and the genocide of Native Americans. "Do No Harm" offers the first glimpse of how these issues will be handled. At the outset of the episode, Claire and Jamie turn up at River Run only to discover that, so long as they stay there, they are complicit in owning slaves. They make their feelings clear to Aunt Jocasta, but otherwise mostly stand by — at least at first.
Just as they did during their voyage to Jamaica, Jamie and Claire attempt to swoop in and save the day, but with conflicting results. After Byrnes, a white overseer, lashes a slave named Rufus, Rufus retaliates by cutting off Byrnes' ear. North Carolina law dictates that Rufus must be executed for his crimes, but when Jamie and Claire arrive at the scene, Byrnes has already taken matters into his own hands. He tortures Rufus by placing a hook in his stomach and lifting him into a tree. Jamie and Claire intervene, and Claire performs an agonizing operation on Rufus back at River Run.
However, the plantation's butler, Ulysses, warns Claire that Rufus will now "face a fate far worse than death." Ulysses is also a slave and knows that the overseers will torture and kill Rufus to set an example. So when the angry mob of slave owners does arrive, Jamie suggests that Claire euthanize Rufus rather than allow him to be tortured. She's resistant, but when Rufus insinuates that he wants her to do this mercy killing, she reluctantly goes through with it. And even though he's dead, the overseers still mutilate Rufus' body. In the end, it seems, Claire only prolonged Rufus' pain.
The level of racism, inhumanity, and hate depicted is realistic, but Outlander often falls into the trappings of a white savior narrative, and "Do No Harm" is no exception. As Outlander is Claire and Jamie's story, the episode mostly focuses on their feelings and interpretation of events. And though it also roughly matches what occurs in the book, Drums of Autumn, the series would greatly benefit from broadening the point of view beyond just past Claire and Jamie's perspective.
Before he dies, Rufus speaks of his sister, but he really serves as a stock character to push Claire and Jamie's story forward, and he along with the other slaves featured are portrayed primarily as victims waiting to be rescued by white heroes; they're given little voice or agency of their own. Certainly, Outlander can't change history, and the series is relegated to the plot points of Drums of Autumn — in which slavery is a touchstone — but they could make more space for their characters of color to be heard.
That feels especially true considering Outlander's team is well aware of this blindspot, and yet placed more importance on staying faithful to the books. "There are certain things from Diana's books that we kind of felt we had to do, because if you don't stay in a certain narrative, you lose your way," executive producer Maril Davis told The New York Times. "So there are certain depictions that are one-sided, but in our own way we tried to balance it a bit more and hopefully show the other side without really hanging a lantern on it."
Caitriona Balfe, who plays Claire, also spoke about this season's focus on slavery with W Magazine. "We were constantly having discussions with the writers about, 'Is what we're doing right now being respectful and telling the story?'" she said. "A lot of the responsibility lies on the writers' heads because they determine what is in the script, but as actors, you definitely try to fight your cause for what you feel is the most respectful as possible narrative."
So far, it seems like Outlander is once again falling short, and as this season has already finished shooting, it's not likely to get better. In the future, though, the series would do well to diversify its writers' room. The books are written by Diana Gabaldon, while Karen Campbell penned "Do No Harm." Both women are white, which makes their perspectives inherently limited. Also, as The Mary Sue noted, Outlander should fix the problematic depictions of colonization and race that exist in Drums of Autumn. The book may have been published 20 years ago, but it's possible to address unjust actions with both historical accuracy and the understanding that society has in 2018.
Claire is a character that genuinely strives to do what she thinks is right, but "Do No Harm" shows that she'll always at least partially fail in her efforts — not just because of the time and place that she lives in, but because she is self-motivated. She's focused on how she feels, rather than truly putting herself in the shoes of those around her. And unless Outlander can somehow course-correct, that means its depiction of slavery will always fall short.