There's Apparently A Whole Treasure Trove Of Trump & Michael Cohen Tapes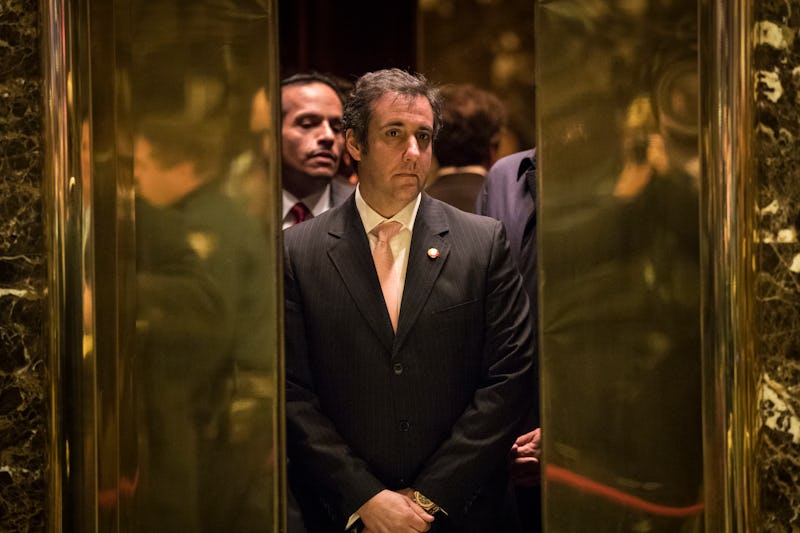 Drew Angerer/Getty Images News/Getty Images
Just wait, there's more. Remember that bombshell tape of Donald Trump and his former personal lawyer discussing payments to former Playboy playmate Karen McDougal? Well, according to The Washington Post, there are at least 100 more Trump and Michael Cohen tapes currently in FBI custody.
One tape, published by CNN on Tuesday, was a secret recording that Cohen made of a conversation with his client, Trump, in September, 2016. According to CNN, Cohen's lawyer Lanny Davis provided them the recording, in which Cohen alludes to a hush money payment that Trump made to McDougal, in order to prevent her from going public with the story of their affair. This tape, and the dozens of others The Post reported on Thursday, are among the materials that the FBI seized from Cohen's office, home, and hotel room in April.
According to The Post's report, the seized recordings are of conversations Cohen had with people that could be related to Trump's business dealings, and with Trump himself. Many are apparently with reporters who met with Cohen during Trump's 2016 campaign. And while Trump's voice appears on several of the recordings, according to The Post the most substantive conversation Cohen recorded with Trump is the recording that Davis released on Tuesday.
"Michael Cohen had the habit of using his phone to record conversations instead of taking notes," Davis told The Post. "He never intended to make use of the recordings and certainly didn't intend to be deceptive."
Whether or not Cohen intended to use the tapes as insurance, the fact that his team released a particularly damning one is a strong indicator that Cohen is no longer willing to protect the president. "I'm the guy who stops the leaks. I'm the guy who protects the president and the family. I'm the guy who would take a bullet for the president," Cohen told Vanity Fair last September.
"He had to hit a reset button," Davis said of Cohen in an interview with The Post. "Ultimately, he said, 'I'm not going to be a punching bag anymore.'"
In the last few months, Cohen's loyalty to Trump has seemed to wane, in part because the president appeared to distance himself from his former fixer. Even before the election, though Cohen appeared to be unwaveringly devoted to Trump, the relationship between them was never a two-way street, according to reports from associates who knew them well.
"Donald goes out of his way to treat [Cohen] like garbage," Roger Stone, the president's longtime advisor told The New York Times in April.
"Trump always treated Michael like a lap dog, as somebody who would perform tasks for him, but not someone he considered a peer or ever really treated with professional respect," Trump biographer Tim O'Brien told The Post.
After the FBI raid in April, Trump called Cohen a "good man" and said "it's a disgraceful situation ... a total witch hunt." But by June he was already talking about Cohen in the past tense. "He's not my lawyer anymore," Trump said to a gaggle of reporters outside the White House. "But I always liked Michael, and he's a good person."
When reports of the tapes surfaced this week, it became clear that Cohen no longer felt the same fealty for the president, or counted on his protection in the investigation. The president's response was further evidence of their fractured relationship.
"What kind of a lawyer would tape a client?" Trump tweeted on Wednesday. "So sad!"