Padma Lakshmi Decided To Re-Wear Her Emmys Dress For The Very Best Reason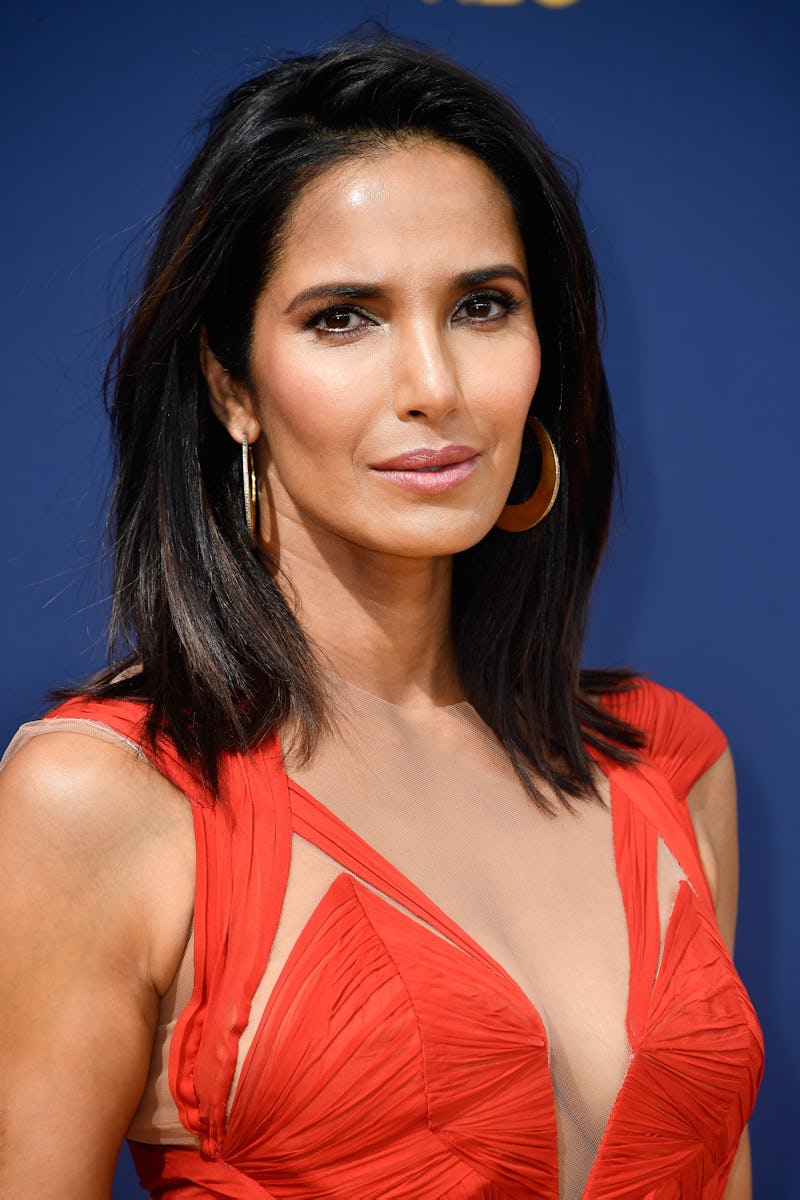 Frazer Harrison/Getty Images Entertainment/Getty Images
Padma Lakshmi looked stunning at the 2018 Emmy Awards, which should come as a surprise to no one. What may be surprising is that Padma Lakshmi re-wore her Emmys dress from another ceremony, as Hollywood Life reported. And she had a very cool reason for her fashion statement.
On Sept. 17, the Top Chef host explained she was pulling a maverick move for the awards show with her choice of outfit. In her caption on Instagram, which featured the gorgeous, red J. Mendel gown, she said that this was the second time she was wearing the dress. Lakshmi last wore it during the Vogue India Women of the Year Awards in September 2017, which she also noted on Instagram.
It wasn't just a practical fashion choice for Lakshmi, it was also an incredibly meaningful one, as she explained:
"I think we should stop sending the message to young women and girls that we all have these endless closets of couture we're never allowed to wear more than once. It seems wasteful not to enjoy these dresses. The hours that it takes, the artisans' labor and the gorgeous fabrics all deserve to be worn again and treasured."
Not only was Lakshmi one of the best dressed on the Emmys red carpet, but she also made a super positive statement to boot with her re-worn dress. Is there anything more iconic than that?
Lakshmi spoke about her fashion statement once again during a red carpet interview with People. She largely echoed her sentiments from her Instagram, where she said there shouldn't be so much pressure to wear a brand-new gown to every single event. Instead, she believes that the work that the honorees are nominated for (she received a nomination for producing Top Chef) should take priority.
The reality TV host also would rather focus on her family life (with her daughter, Krishna) than worry about wearing a repeat outfit. She told the publication:
"What matters is the work that got us here to the Emmys. Instead of fretting so much over what to wear, I'd rather go to the park and throw a ball with #littlehands or tinker in the kitchen with her bonding over delicious food. I want to teach her that there is more to life."
As previously mentioned, Lakshmi last wore this J. Mendel gown at Vogue India's Women of the Year Awards in September 2017. She posted numerous photos and videos featuring her incredible look when she first donned the dress, including a short boomerang video where she thanked the designers, J. and Gilles Mendel, for the dress. At the event, the Top Chef host was honored by the publication, even sharing part of her acceptance speech on Instagram.
It's always cool to see a celebrity pull a practical wardrobe move like this, with a very meaningful message behind it to boot. No matter whether she's re-wearing designer gowns or not though, you can always count on Lakshmi to make a powerful (and chic) statement on the red carpet.