Padma Lakshmi Tweets An Emotional Message About 'Top Chef's Fatima's Terminal Cancer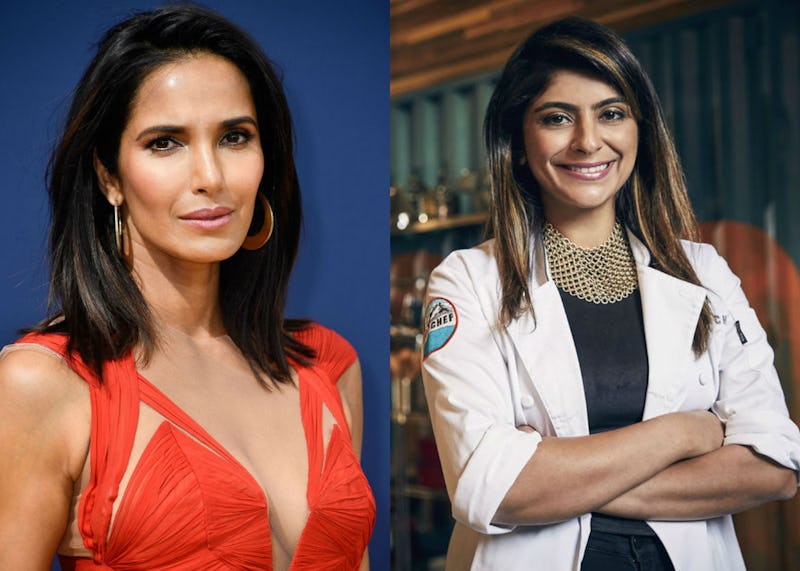 Frazer Harrison/Getty Images Entertainment/Getty Images; Tommy Garcia/Bravo
If you haven't heard the sad news, Top Chef Season 15 contestant Fatima Ali has one year to live as the result of Ewing's Sarcoma, bone cancer, she revealed Tuesday in an essay for Bon Appetit. There have been many emotional reactions to the chef's diagnosis, including Padma Lakshmi's response to Ali's terminal cancer. The Top Chef host shared a lengthy Twitter thread on Wednesday, praising Ali's amazing strength and the inspiring individual she is to this day. Lakshmi's post also shines a light on her friendship with Ali, one they formed after meeting on the Bravo competition series.
"A thread: Dear friends, I have seen @cheffati grow and blossom every day I walked into the @bravotopchef kitchen," Lakshmi began her thread. "I have seen her ambition sharpen over weeks of competition, seen Fatima soar along with all of you."
She continued,
"Most of you will read @cheffati's writing for the first time in this @bonappetit piece. Since her diagnosis I have been fortunate enough to get to know her deeper and in a new light. Over these months, I have come to know her family. Her mother has shown me her older writing which is just as poignant. I am pleased to share my friend's story with you all today. I am so proud of her. I can tell you that in these months I have not only seen her continue to find her voice, but been inspired by her exponentially."
The Bravolebrity went onto to discuss how she considers Ali's family as her "own" and how thankful she's been to have the former Bravo star by her side, including when Lakshmi wrote an essay about sexual assault for The New York Times in September.
"The day after my @nytimes piece came out, I went to see her, and she cheered me on by holding my hand from the hospital bed, assuring me I had not flayed myself in vain," the 48-year-old wrote.
Lakshmi continues to stand with Ali, as she tweeted, "I was with her last night as she went in for radiation and she still turned back to smile at her mother and me when the nurse with the wheelchair came. I hope that this year brings her as much as she can hope for."
Then, Lakshmi concluded her thread by showing exactly how much Ali has impacted her life. She beautifully wrote,
"You've said on @BravoTopChef that growing up I inspired you. But Fati, now, it's you who inspire me. Everyday. I love you, @cheffati."
What's so powerful about Lakshmi's thread is how she didn't make Ali's cancer the sole focus, but she turned the horrible situation into something positive by showcasing their beautiful friendship and Ali's fight.
In December 2017, Ali opened up about finding a tumor in her shoulder and then revealed in February the cancer had been removed and that she was cancer free. Unfortunately, as she revealed in her essay published on Oct. 10, her cancer has returned, this time in her left hip and femur bone.
Ali wrote on Bon Appetit,
"My oncologist has told me that I have a year to live, with or without the new chemotherapy regimen. I was looking forward to being 30, flirty, and thriving. Guess I have to step it up on the flirting. I have no time to lose."
In her essay, Ali revealed she never got to own her dream restaurant, but that she would be "making reservations at the world's best restaurants" and spending time with loved ones. The 29-year-old even admitted she was "scared" and doesn't think she has much time left. "They think I'm brave, but really, I'm not," Ali emotionally wrote. "I'm scared. I suspect I won't last very long. There's a faint feeling deep inside my gut like a rumble of passing air, ever expanding and filling slowly until, one day, I'll pop."
Since her cancer diagnosis, Lakshmi has been there for Ali by sitting with her during chemotherapy treatments and showing up on the day Ali underwent surgery to remove the tumor. She's been a true friend to Ali.
There's no denying the chef means the world to Lakshmi. Their friendship is beautiful, and it's clear Lakshmi wants the world to know just how inspiring her friend is and has always been.