Padma Lakshmi's Tweets Highlight Exactly Why Louis C.K.'s Return To Comedy Is An Issue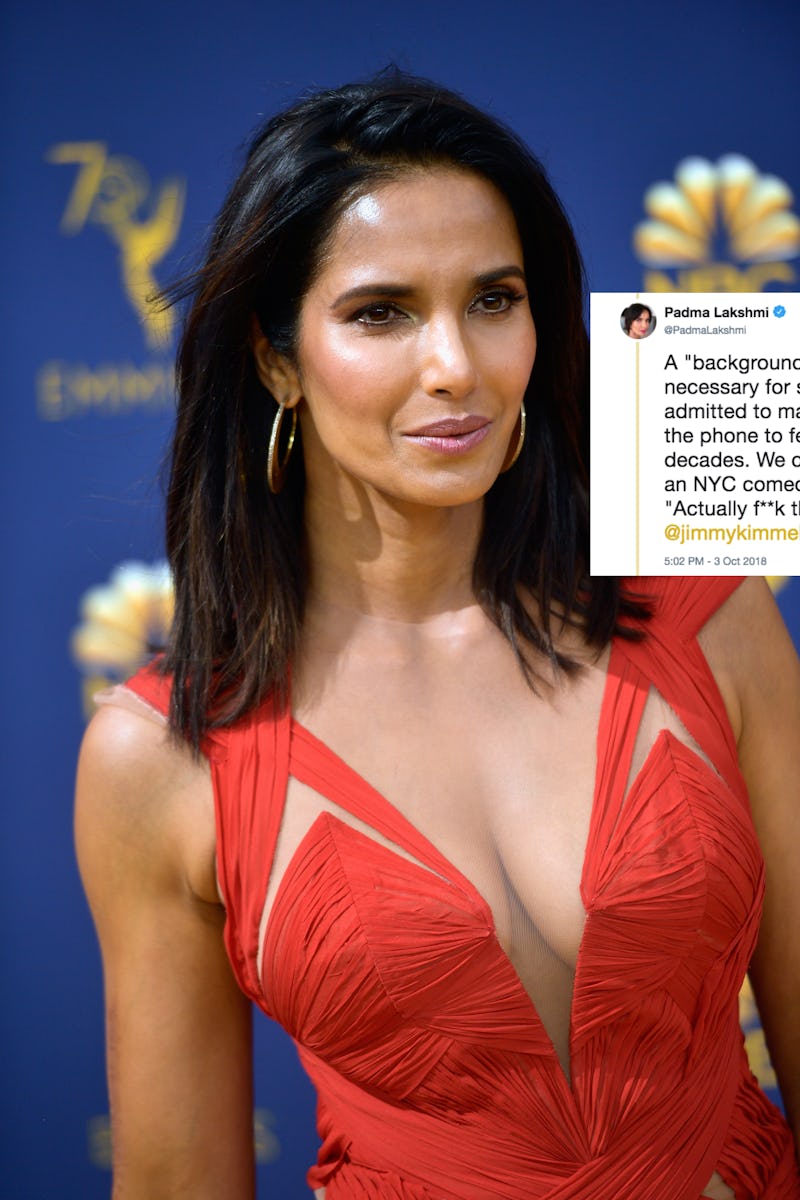 Matt Winkelmeyer/Getty Images Entertainment/Getty Images; Padma Lakshmi/Twitter
As you might have heard, Louis C.K. made a return back to the Comedy Cellar in August. That controversial move prompted many comedians, such as Jimmy Kimmel, to speak out on the issue. It has also prompted Padma Lakshmi to discuss Louis C.K.'s potential comeback, and she is not holding back her feelings on the subject.
In response to C.K.'s return to the public stage, Kimmel told The Hollywood Reporter that it's up to the audience to decide whether to welcome back disgraced comedians. He also said, "If we get into the business of sanitizing every comedian and doing a thorough background check before they walk through the door, it's going to be a very empty stage."
These comments didn't sit right with Lakshmi, who responded to Kimmel on Twitter on Oct. 3 and highlighted exactly why so many have an issue with C.K.'s presumed comeback. In her first tweet, Lakshmi wrote:
"Love you @jimmykimmel but the comedy community can also evolve their culture so that a known abuser who sexually humiliated women & silenced them for decades isn't welcomed back w/ open arms by @ComedyCellarUSA. I know a lot of standups who are NOT ok with sharing a bill with him."
She followed this up with another tweet in which she said that there doesn't need to be a "background check" on someone such as C.K. since he admitted to committing the actions in question. Lakshmi wrote, "A 'background check' isn't really necessary for someone who openly admitted to masturbating in front of/on the phone to female colleagues for decades. We should just, as a culture and an NYC comedy community say, 'Actually f**k that.'"
Bustle reached out to Kimmel's reps for comment on Lakshmi's tweets, as well as the backlash in general, but did not receive an immediate response.
The Top Chef host ended her series of tweets with a direct message to the Comedy Cellar, in which she described exactly why welcoming back C.K. is such a poor move. She wrote,
"The real issue here is that Noam Dworman and the @ComedyCellarUSA have an opportunity to stop giving an admitted (repeated) sexual abuser a platform and they won't. By protecting/enabling abusers you are part of the problem: it doesn't just go away."
The Comedy Cellar has not responded to Lakshmi's tweets directly. (Bustle reached out to the venue for comment, but did not receive an immediate response.) However, Brooklyn Vegan did note on Twitter that the club recently added a new "swim at your own risk" disclaimer at the venue in which they said patrons are allowed to leave, with their checks on the house, if they're not comfortable with any unannounced guests.
As previously mentioned, C.K. made a surprise return to the Comedy Cellar in late August, which didn't sit well with many, given his previous admissions. According to Page Six, he made yet another trip to the venue on Sept. 30. His return to the public eye came nearly a year after he admitted to committing several acts of sexual misconduct.
After five women accused him of sexual misconduct, as initially reported by The New York Times, C.K. released a statement, through his rep, to Bustle regarding the report in November 2017:
"I want to address the stories told to the New York Times by five women named Abby, Rebecca, Dana, Julia who felt able to name themselves and one who did not.
These stories are true. At the time, I said to myself that what I did was okay because I never showed a woman my dick without asking first, which is also true. But what I learned later in life, too late, is that when you have power over another person, asking them to look at your dick isn't a question. It's a predicament for them. The power I had over these women is that they admired me. And I wielded that power irresponsibly."
The comedy community, and the community at large, should definitely take heed of Lakshmi's latest statements. Given that C.K. admitted to committing sexual misconduct, like the Top Chef host said, welcoming him back into the spotlight with open arms isn't exactly the way to go.
If you or someone you know has been sexually assaulted, call the National Sexual Assault Telephone Hotline at 800-656-HOPE (4673) or visit online.rainn.org.