Brendon Urie Just Came Out As Pansexual In A Super Casual, But Important Way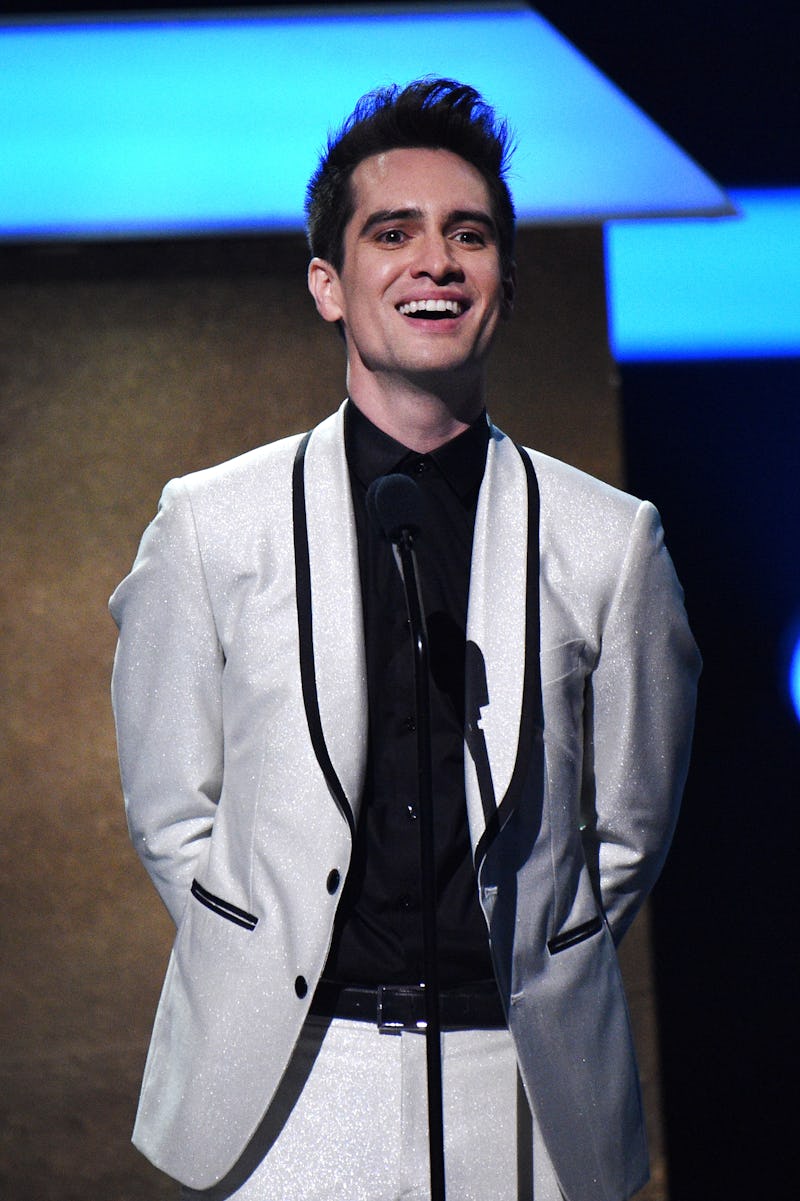 Kevork Djansezian/Getty Images Entertainment/Getty Images
Panic! At The Disco vocalist Brendon Urie has long defied gender norms, and many of the group's songs have become queer anthems. And while he's hinted at his attraction to men in the past, on Friday, in an interview with PAPER magazine, Urie came out as pansexual in the most chill way, stating that gender-identity is not a major factor for him when it comes to attraction. And it's incredibly refreshing.
"Yeah I guess you could qualify me as pansexual because I really don't care," Urie told the magazine. "If a person is great, then a person is great. I just like good people, if your heart's in the right place. I'm definitely attracted to men. It's just people that I am attracted to."
Urie, who married Sarah Orzechowski in 2013, said he never considered sexual experimentation taboo. The band's 2013 song "Girls, Girls, Boys" — which features lyrics like, "Never did I think that I would be caught in the way you got me / But girls love girls and boys / And love is not a choice" — was inspired by a threesome he had when he was a teenager, but it later took on a separate meaning for the band's LGBTQ fans, which Urie found inspiring.
"That song was about my first threesome but they made it about coming out and accepting who you are as person which I thought, what a way better message," he told the magazine. "Taking this thing that I wrote about and then changing it to be more inspiring for your own purposes, what a beautiful idea."
Urie, who released his most recent record with Panic! At The Disco, Pray For The Wicked, in June, has discussed his attraction to men in the past, but previously stated that he primarily found himself attracted to women. He told PrideSource in 2013,
I find myself being attracted to dudes all the time. I'm like, "Wow, that's a beautiful man." There's no shame in it; that's how I feel. To stifle that would probably bring on stress and probably make somebody homophobic... I guess if I had to classify myself, I'd say I'm straight. But I have, in the past, experimented in other realms of homosexuality and bisexuality. Overall I'm more attracted to women.
At the time, many fans perceived Urie's statement as a declaration of his bisexuality, but in 2014 he told the The Advocate that he had been mislabeled. "It's interesting because it's what people do when they don't have a way to label something," he told the publication. "They freak out and have this need to separate everything into predetermined boxes. But life isn't always that simple."
The singer told the publication that he preferred to describe his sexual identity in less concrete terms, stating, "I feel like [sexual fluidity] should be celebrated. There's no shame in it. And if I can help shed some light on that fact, then great."
For all the talk about his sex life, Urie told People in 2017 that he did not mind talking about his sexual identity and, again, expressed his hope his openness might help others.
"It doesn't freak me out," Urie told the magazine. "Why does it matter who I'm f**king? I've gotten so many amazing letters and tweets from fans saying, 'I didn't have the courage to tell my parents, but I had you to fall back on.' I want to create a support system."
Both onstage and off, Urie has pushed the traditionally defined boundaries of masculinity and participated in an important dialogue surrounding sexual identity and the ways that identity can be fluid. And while his coming out was relatively nonchalant, by doing so he continued to partake in an important conversation, and will no doubt inspire fans to do the same.