A Father Of Parkland Survivors Was Killed & These Memories Of Him Are Heartbreaking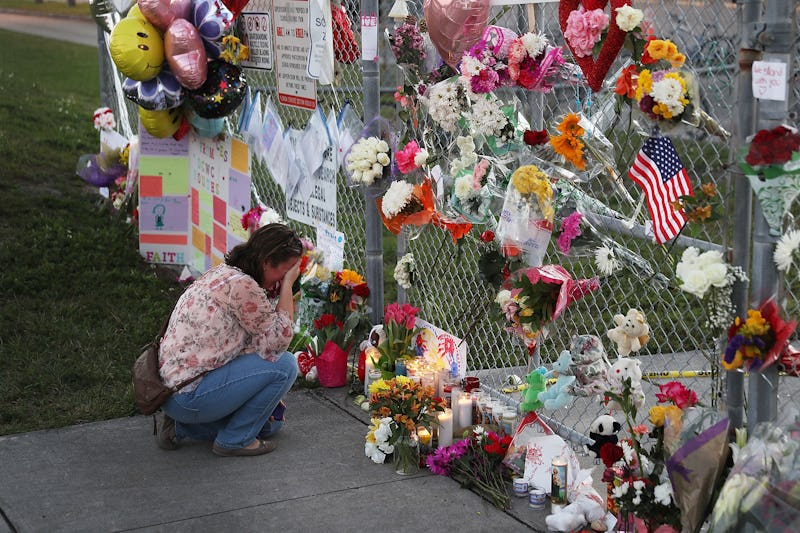 Joe Raedle/Getty Images News/Getty Images
Ayub Ali, 61, the father of two Parkland shooting survivors, was shot and killed Friday during a robbery at the convenience store he owned in North Lauderdale, according to CNN. After his death, friends and family have shared emotional memories of the man who was known as a kind, hardworking father to his community.
According to surveillance footage of the incident, a young man entered Aunt Molly's Food Store, pointed a gun at Ali's back, and demanded money. Once the suspect received the money, he went into an office room, came out, and then took Ali back to the office, where he reportedly shot Ali, according to ABC13. A conflicting report from WSVN, a local Miami affiliate, said the suspect left the store after he robbed Ali, then returned and opened fire.
Ali was reportedly alive and injured when authorities arrived, but was later pronounced dead at Broward Health Medical Center, according to WSVN. The suspect turned himself in on Friday and was arrested on one count of murder and armed robbery, WSVN reported.
Ali was a father of four, with his youngest son at just 22 months old, was the sole breadwinner for his family, and encouraged his daughter Elama Ali's activism after she and one of her brothers survived the shooting at Marjory Stoneman Douglas High, according to CNN.
Elama told CNN on Friday that her father provided the family stability and support. "My dad would take care of everything in the house, all the bills," Elama told CNN. Feeling powerless after the shooting, he also stood by her decision to attend the March for Our Lives in Washington D.C. "He took me where I wanted to go. When I was in Washington, he asked about it. He watched it on TV."
Community members visited the store after Ali's death to leave flowers and cards, WSVN reported. Ali immigrated to the U.S. from Bangladesh in the '90s, according to CNN, and his friends described him as well-liked and kind. "Mr. Ali, he was a very nice person. He was in our community, a jolly person," his friend Arshad Ali told WSVN.
The local Muslim community held a service for Ali at a mosque on Saturday night, where more friends remembered him. "He was a very friendly man," Anis Rahmon told WSVN. "Worked with the people, helped people. This happened."
His friend Monir Hossain described the store where Ali was ultimately shot: "He'd bought it 40 years ago, and he was working seven days a week. He was so hardworking."
The shooting has not only impacted Ali's community — it has reportedly terrified business owners. "It's not only our communities, it's the people around there, and the people who do this kind of business," Arshad Ali told WSVN. "Everybody got nervous."
But there's no doubt that Ali's family will be most affected by his loss. His wife, Farhana Ali, "has been overcome with grief," WPLG explained. Farhana told CNN, "If you came for the money, take the money and go," she said. "Why did you have to kill my husband?"
And Ali's children have yet again faced loss from gun violence. "This is the biggest part that hurts me. They have to be without their dad for the rest of their life," Alex Rios, Ali's friend, told NBC 6.
So far, the family has turned to the only place they can to find support: their community. Elama told CNN, "We're trying to be strong, but it's overwhelming."