Parkland Students Are Starting A New School Year & Here's How They Want You To Support Them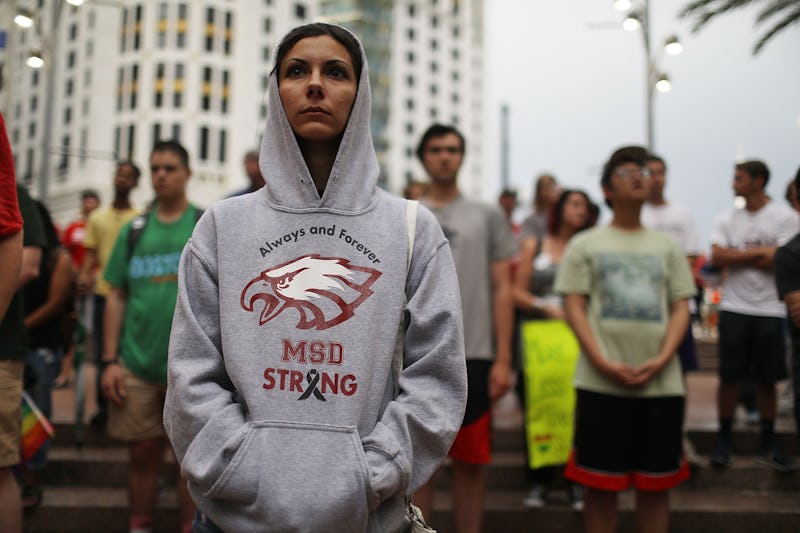 Joe Raedle/Getty Images News/Getty Images
School's starting back up again for students across the country, and you might imagine that things would be more difficult for one group of students — specifically, those at Marjorie Stoneman Douglas High School, who are going back to a place where they suffered an immeasurable tragedy last year. As Parkland students start classes again on Wednesday, though, there's one way that the school's student activists would definitely like you to support them: by registering to vote.
According to Mother Jones, Parkland's student activists spent their summers driving around America on their "Road to Change" bus tour. The tour had several goals — they specifically chose to visit places that see gun violence on a regular basis, for example — but the overarching aim was to motivate people to get politically active. And they weren't just targeting any group of people — they were targeting their peers. They recognize that turnout among young voters is very low, as the Public Religion Research Institute revealed in a survey — and they want to change that.
"It's all about making civic engagement cool," said March For Our Lives co-founder Jaclyn Corin at a round table session that Mother Jones hosted. "[Young people] see people that are the same age as them getting up there and actually doing amazing things around the country and say, 'Oh, these kids are my age and are getting out there and doing all this amazing work, so why can't I?'"
This is an issue that the Parkland student activists have ben engaging with since the very beginning of their public lives. NBC News reported back in March that they got thousands of people to register to vote all over the country at the initial March For Our Lives event, and the movement is getting some pretty serious success. For example, the Miami Herald reported in July that youth voter registration had risen by 41 percent since the Parkland shooting, and what they'd really like is for all of those newly registered young people to exercise their democratic right to the vote by voting in the midterms.
Corin spoke to Bustle about March For Our Lives' plan to get young people motivated before the midterms, and they won't be working alone. Instead, they'll be working with local groups in over 70 districts that are already trying to get out the vote and helping to spread information on how people can register, especially in low income communities.
One thing helping them, fellow student activist Matt Dietsch told Bustle, is their massive — and hugely successful — online presence. According to Dietsch, their social media platforms are "just another tool to help communicate the reality of what America is going through right now."
"For the most part, the people who aren't engaged tend to lack the information on what is actually important," Dietsch said. For that reason, he said, the Parkland students have been working to educate potential voters on how they can materially affect the gun violence prevention issue by electing officials who will support their goals.
So if it's crossed your mind that the Marjorie Stoneman Douglas students are going back to school and you're looking for a way to support their work, then there's something you can do that's even more productive than donating money or posting a supportive message on Twitter. If you're not registered to vote, then go do that now — you can do it online, and it only takes a few minutes.. And if you are, then get out and register a fellow young person.